Obscure originators department
Billy Graves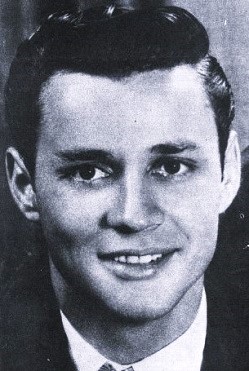 John D. Loudermilk's composition Midnight Bus was well known in Australia in the 1960s through the local version by Betty McQuade.
Released in 1961 and again in 1965, her record topped the charts in Perth, reached #6 in Melbourne, and made Top 20 in Brisbane. Another Australian version by Johnny Chester had some chart success in 1972.
As Loudermilk aficionado Kees van der Hoeven puts it, McQuade recorded the definitive killer version … a rock & roll classic. Loudermilk had no knowledge of this Australian version until Kees told him about it in the early 2000s.
Loudermilk's own recording of Midnight Bus came out in 1960 and charted modestly and uniquely in Brisbane (#27) the year before Betty McQuade's release.
Loudermilk's version wasn't the original, though. Delaware-born singer-guitarist Billy Graves released it first, in 1959.
Before that, Graves and army music buddy Dick Flood appeared on Country music TV shows and released a couple of singles as The Country Lads. A Billy Graves solo single (one of a handful 1958-66) underbubbled at #53 Billboard.
Billy Graves later led Wanda Jackson's band then worked in Nashville as a session musician, songwriter, A&R man and producer, as well as managing the Nashville branch of a music publisher.
---
Dave Duggan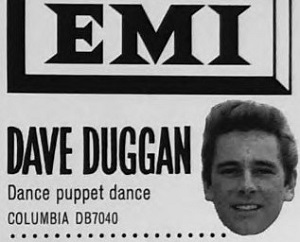 These days I'm reluctant to say an artist has disappeared just because they stopped releasing records (I've explained why in a recent blogpost).
It is tempting, though, in the case of Dave Duggan. He released one record, the original version of Dance Puppet Dance (1963). It wasn't a success, and Dave seems to have gone back to… just what or where, we don't know.
In Australia the song Dance Puppet Dance lived on. Down here it is identified with Sydney singing star Little Pattie who in 1965 made it her own on national TV and had a modest chart hit with it.
Dave Duggan's recording of Dance Puppet Dance had good credentials, written by a top British songwriter, Les Vandyke, and recorded with Geoff Love's orchestra for a major label. It was reviewed in the pop magazines, played on the BBC, and performed on at least one TV pop show. Thanks to an EMI ad for the single in Pop Weekly, we have a photo of Dave, even if it is severely cropped to show just his head.
A rare Dave Duggan sighting is in a 1963 Nottingham newspaper column (possibly syndicated) which at least tells us his age at the time, 21 (so, born c.1942). Apart from that, his hobby was body-building, and there are a few words of appreciation about his voice.
"Dave Duggan" is one of those names that throw up lots of red herrings in search results. For example, a lad born c.1942 might have been too young in 1957 to have been playing with the Dave Duggan Skiffle Group in the pubs and skiffle clubs of Islington, London.
Until someone (maybe Dave) emails, the story of where he came from and where he went will remain a mystery. In the meantime, I promise I have sworn off messaging elderly Dave Duggans found on social media.
---
Our Patch Of Blue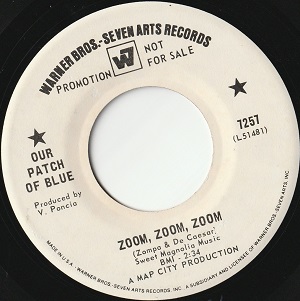 Zoom Zoom Zoom (1969) was not a big hit for Melbourne's Cam-pact, but it was a favourite of mine and a highlight of the band's live sets. Cam-pact's well-known founding member Keith Glass had already left when it was recorded in Sydney, but he told me he was in the studio doing "something - bashed a tamborine or made some sort of noise". The single charted #38 in Melbourne.
Not unusually for that time, I assumed it was an original, local composition. Years later, when I had learnt not to assume that about Australian records of the era, I tracked down a second-hand 45 of Zoom Zoom Zoom by Our Patch Of Blue (1968) to confirm my suspicion that it was the same song. (If that seems like a lot of trouble to go to, this was before the days of instant label shots from 45Cat and instant audio from YouTube.)
Our Patch of Blue, known to its fans as The Patch, was from Rhode Island. Zoom Zoom Zoom was written by the band's Bernie de Cesare (heard on vocals and guitar) and Pat Zompa. It was produced by Rhode Islander Vini Poncia who notably wrote, recorded and produced with Pete Anders and later wrote with Ringo Starr. (See my Anders & Poncia playlist at Spotify.)
Details about The Patch are hard to find. They released an EP in Mexico under the band name Los Parches Azules, and Zompa & de Cesare wrote some songs that were recorded by Fats Domino and by Tiny Tim, and that's about all I know.
At YouTube, look for tantalisingly brief comments on their songs by Pat Zompa. Under Fats DomIno's Honest Papas Love Their Mamas Better he types: Just saw this on YouTube after writing it with my partner Bernard Decesare in 1967. If anyone knows of Mr. Decesare's whereabouts, please comment.
---
The Megatrons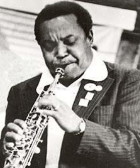 In the 50s and into the 60s, a radio deejay might use an instrumental record as a theme to their program. It would often continue in the background, faded in and out between records.
Thanks to this convention Velvet Waters (1959), a record by US session band The Megatrons, became known to many Australians. This was despite the record not being released in Australia.
Velvet Waters was used as a theme by Pete Smith on 3AR Melbourne. Pete would say, "Ah, that theme!" and mischievously remind his listeners that they couldn't buy it. It was also heard as a theme on 3KZ Melbourne during the summer of 1959-60.
Up in Sydney on 2UE, John Laws was also playing Velvet Waters in the background, off an acetate copy. Sydney-based singer Bruce Gillespie wanted to record it, so he and his manager borrowed the acetate and arranged to have professional lyricist Dorothy Dodd write words to the song.
Bruce's vocal version (1960) wasn't a hit, but when Tony Worsley later recorded Dorothy's lyrics (1965) Velvet Waters became known to a far wider audience. Even without the haunting clarinet of The Megatrons' original, it charted #1 Brisbane, #3 Adelaide, #5 Sydney, and #9 Melbourne.
---
The Megatrons were a studio band whose biggest charting record was Velvet Waters at #51 in the US. Not much is known about the members apart from Heywood Henry, an experienced reeds player and session musician credited on the label for his clarinet. Composer William Plunkett is also heard on the record, but details about him are elusive apart from a handful of writer credits, some of them with co-writers.
William Plunkett's composition really made an impression on some Australians. The notable Australian author Gerald Murnane wrote a story called "Velvet Waters". The main character recalls hearing the Megatrons' record on Melbourne radio, relayed over loudspeakers at St Kilda beach in December 1959. The story was published in a collection that was also called Velvet Waters (1990).
---
The Rag Dolls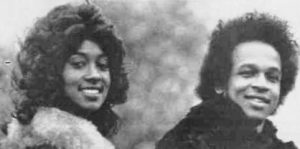 The Rag Dolls are often confused with the American girl group of the same name who recorded with The Four Seasons' producer Bob Crewe.
But no, this is London group The Rag Dolls. They were the first to release My Old Man's A Groovy Old Man, known to Australians through the 1969 version by The Valentines.
The group remains obscure but one member, Katie Kissoon (b. 1951), later became well-known in brother-and-sister duo Mac And Katie Kissoon. Some sources say brother Mac (b. 1943) was in The Rag Dolls too, but I'm not convinced.
Mac And Katie Kissoon (real surname Farthing) had five UK Top 50 hits 1971-76 including Sugar Candy Kisses (1975, #3) and Don't Do It Baby (1975, #9). Their version of Chirpy Chirpy Cheep Cheep also charted in the US (1971, #20 USA, #41 UK), and they had some chart success in other European countries.
During their long careers Katie and Mac have been in other groups and recorded under their own names. Katie is known for her session work for the likes of Van Morrison, George Harrison and Elton John.
My Old Man's A Groovy Old Man was written by Harry Vanda & George Young of The Easybeats who recorded it first, in 1967, but it wasn't released until October 1969, after the Rag Dolls UK version (March 1968, earning it original status). Between those releases came the Australian hit version by The Valentines (February 1969).
The singer on My Old Man's A Groovy Old Man is Bon Scott, later famous with George Young's brothers Angus and Malcolm in AC/DC, a band that owed much to the Vanda-Young production and songwriting partnership.
Image: Katie and Mac Kissoon during their success in the 1970s as a duo.
---
The Senators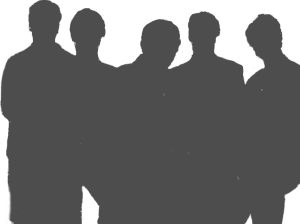 New Zealand band Ray Columbus And The Invaders understood what the Beatles were told to do in Hamburg: Mach schau! or Make show! In other words, Put on a show!*
The Invaders' TV clip of She's A Mod (1964) is still a delight, with Ray Columbus's startling dance moves out front of a committed, energetic band whose schau includes an animated performance from drummer Jimmy Hill.
She's A Mod was a chart-topping hit in Australia in 1964. (New Zealand charts hadn't quite got off the ground then, but it's not controversial to say it was also a hit in NZ.) I probably wasn't alone back then when I assumed that She's A Mod was a New Zealand composition. Dispelling assumptions like that became the premise of this website.
She's A Mod turned out to be a cover version of a song first recorded by The Senators for the album Brum Beat (1964). This was a sampler album of tracks by upcoming Birmingham groups, in a similar vein to an earlier album called Mersey Beat. She's A Mod was also released in the UK on a single but was not a hit. The track is notable for the participation of the band's new drummer John Bonham, later of Led Zeppelin.
The composer of She's A Mod was The Senators' lead singer Terry Beale. Ray Columbus openly acknowledged the source of She's A Mod, and spoke warmly about meeting Terry Beale in later years.
The song is sometimes misattributed to Bobby Child whom Terry Beale replaced in The Senators. When Terry Beale joined he used the name of his predecessor for a while, partly because the band's van still had Bobby Child professionally painted on it.
*There are varying accounts of the Mach Schau! story. I've gone with the spelling and brevity of Craig Brown in One, Two, Three, Four: The Beatles in Time (2020)
---
Johnny Curtis [Bobby Kerr]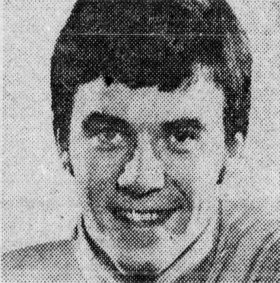 The serene and introspective Picking Up Pebbles was a big hit in Australia for Matt Flinders in 1969, proving once more that late 1960s radio wasn't all folk-rock, garage bands and psychedelia.
It was first recorded by its composer Johnny Curtis on UK label Major Minor. For a long time I couldn't find out anything about Johnny Curtis. It's one of those names that throws up lots of irrelevant search results (don't get me going on multiple Bob Wilsons).
Was he the Irish folkie called Johnny Curtis, or Johnny Curtis the Native American gospel singer? Surely the composer of Picking Up Pebbles couldn't be the same Johnny Curtis who was in UK soul duo Frankie & Johnny with Maggie Bell?
Eventually, though, someone emails. Then I had Johnny's real name, Bobby Kerr, and confirmation that he was indeed in Frankie & Johnny. Their fabulous Northern Soul-friendly I'll Hold You was already familiar to me (1966 YouTube). It's quite a contrast to Picking Up Pebbles.
The stories of Bobby Kerr and his musical associates were now easier to find. The end of Bobby's story is too sad and it came too soon, but that's what you find when you go looking for people's stories.
---
The Russ Hallett Trio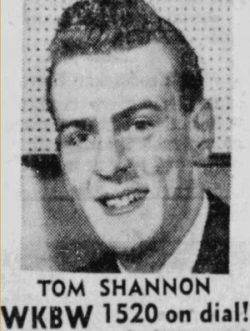 The Thunderbirds were one of Melbourne's most popular live bands over many years. Their instrumental Wild Weekend was well-known in Melbourne where it charted twice. In 1960 it reached #13, then it was reissued and made it to #31 in 1963.
This mirrors the history of the original release by Buffalo NY band The Rebels. Their version first came out in 1960 but didn't chart nationally until it was reissued late in 1962. Soon after, it was reissued again using the name The Rockin' Rebels.
That was the first release, on a record. The true original, by The Russ Hallett Trio, was heard only on radio, as a jingle for Tom Shannon's deejay show on WKBW in Buffalo. Being a jingle, it had words: Top tunes, news and weather, This is the spot where things get better, On the Tom Shannon Show…
The Rebels cleverly took the melody and arranged it as the instrumental that Victorians of my age know so well through the Thunderbirds' cover.
---
Dave Justin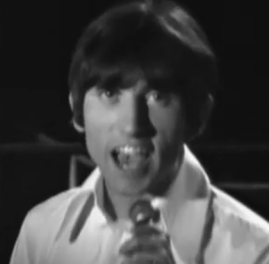 Eventually, someone emails.
For years I had listed Russell Morris's recording of Rachel (1969) as the original version. It was written by an Englishman, Raymond Froggatt, and Morris had picked the song up in England, but his Australian version seemed to be the earliest release.
If I get something wrong, eventually someone emails. This time it was Phil Barton, alerting me to an earlier version of Rachel by Dave Justin on an obscure UK single on Polydor in 1968.
If this were a book, the error would still be on the shelf awaiting a second edition, but at a website you can fix it straight away.
Dave Justin, real name Dave Forey, released four singles 1967-68. Before that he was in Justin And Karlsson with John Woolsgrove for one single in 1966.
The Beat-Club channel at YouTube notes that he moved to Cornwall, married and raised two children and formed a group called Finger in the 1970s.
---
Barbara Mills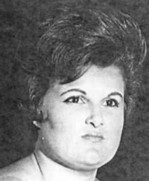 Little Pattie's Australian version of Little Things Like That opened Side 2 of her 1967 album Little Things Like This. Not only did this boost the song's prominence, it also meant that the wording on the Side 2 label went like this:
2 LITTLE THINGS LIKE THIS
1: LITTLE THINGS LIKE THAT.
By this time, the song had been recorded by at least four other singers. Another Australian singer, Donna Gaye, had already released it in 1966 as a follow-up single to her minor novelty hit Norman-"Normie".
One of the earlier versions was by Linda Lloyd (1966), an obscurity to most of us, but known in her hometown of Pensecola FA and possibly in Dallas, where she had a day job for a while before moving to Hollywood and releasing three singles on Columbia 1964-66. I have found no obvious trace of her after that.
Suzy Wallis, who also released Little Things Like That (December 1965), was no obscurity in St Louis MO where she hosted Suzy's Playroom on local TV at the age of 10. Her version of Little Things Like That was arranged by David Gates, not yet in Bread but still working on a body of mostly obscure recordings that are treasured by aficionadoes of the era.
The original version of Little Things Like That (November 1965) is by Texan singer Barbara Mills on Nashville label Hickory. It was produced by her brother Larry Henley, well-known as the falsetto lead singer of The Newbeats and as co-writer of The Wind Beneath My Winds. It isn't on YouTube or any streaming service that I use, but it is on a recent CD from Teensville.
Another Barbara Mills song, Queen of Fools (1965), has become much better known and easy to find. For this we can thank Northern Soul, that British music and dance movement renowned for its boosting of obscure records.
---
The Casuals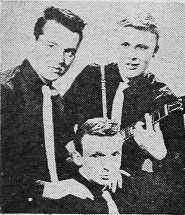 Three recordings of So Tough were released in the US 1957-58 but it was never a big hit and the artists remained obscure.
In Australia, Johnny O'Keefe made it his own. His July 1958 version was a hit, and one of his greatest records. It sounds as if it were written for him, a perfect match of song and singer.
If all four versions are still worth a listen today, it's down in no small part to the composer Gary Mears, lead singer on the original version by Dallas vocal group The Casuals in October 1957.
The subsequent history of So Tough isn't straightforward. The Casuals soon re-released their original as The Original Casuals, and around the same time there were versions by The Kuf-linx and The Cufflinx, not to be confused with their contemporaries The Cuff Links (aka The Cufflinks) who never recorded So Tough. And if a song called Tracey from 1969 comes to mind, those Cuff Links are something altogether different.
At my page on So Tough I have boiled it down to a few paragraphs, with links to the real experts if you want to dig more deeply.
---
Rusty & Doug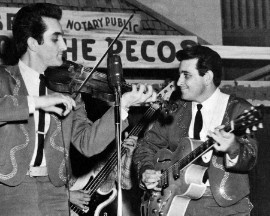 Obscurity is a relative term: one person's obscurity is another's celebrity.
Rusty & Doug, the Kershaw brothers, were probably unknown to most fans of Australian Top 40 radio, but an aficionado of 50s Cajun or Country music would recognise their names.
Certainly, Doug Kershaw is no obscurity to the Louisiana Music Hall of Fame where he is an inductee. The same goes for the fans who put his singles onto the Country charts, and for the music stars whose records he played on.
The audiences of deejay shows in 1950s Australia might have been oblivious of all that, but they would almost certainly recognise Hey Sheriff, a Felice & Boudleaux Bryant composition recorded by Rusty & Doug.
Their version was the original, but here in Australia Johnny Rebb made it his own with a fine local cover version.
It wasn't a huge hit, but it was such a staple of Australian radio that many Australians would be surprised to learn that it originated with a duo of brothers from Cameron Parish, Louisiana. That's what happens when we answer the perennial question, Where did they get that song?
---
Bobby Corrado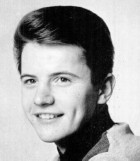 A sensational young star is born with a smashing debut single said the Billboard display ad when 17-year-old Arnie Corrado released his first record in 1966.
His singles on Date and its parent Columbia 1966-67 carried some notable credits. Four Seasons arranger Charlie Calello arranged six sides, and produced five of them. The writers include Toni Wine, Carol Bayer-Sager, Artie Resnick, and Joey Levine.
None of these records made Arnie a household name. I recommend How Many Times (Will I Send You Kisses), a great song with a strong performance by Arnie, and terrific orchestration and pop production values thanks to Calello. Maybe it was a little old-school for 1966, but I love it all the same. It's at YouTube.
Arnie next appeared on Mercury, with his name tweaked to Bobby Corrado. The record is I Can't Get Sunday Out Of My Mind (1969), and the writers are Alan Bernstein & Victor Millrose who wrote Gary Puckett's hit This Girl Is A Woman Now.
Again, no hit, but Arnie aka Bobby released the track again the following year on Capitol, this time using the name Chris Holland (1970).
The song also earns Arnie an inconspicuous footnote in Australasian pop history, because I Can't Get Sunday Out Of My Mind became known down here thanks to versions by NZ band Chapta (1972), and by Rod Kirkham for a modest Australian hit (1973).
There was one more Chris Holland single, with T-Bone, on Motown's Rare Earth label (1972). After that, Arnie Corrado returned to work with his dad Ralph in his famous Rosie's Diner in Little Ferry, New Jersey, so renamed after Nancy Walker was filmed there as Rosie the Waitress in a series of TV ads for Bounty paper towels.
The diner has a rich history of its own, well documented in newspaper archives and by diner aficionados, and Arnie is often mentioned.
---
Portuguese Joe With The Tennessee Rockabillys

There are many songs called Starlight Starbright (thanks to the nursery rhyme) but the one that most Australian Baby Boomers recognise was a hit for Lonnie Lee in 1960.
It was written by John Marascelco who is far from obscure to those who know their songwriters. Good Golly Miss Molly is one of his.
More obscure is Portuguese Joe who recorded the original of Starlight Starbright, a B-side, with The Tennessee Rockabillys. His entire discography is made up of two singles in 1957. After that, no sightings.
The A-side, Teen Age Riot, is co-written by Joseph Alvez, and the consensus is that he was Portuguese Joe. Some sources say that he is the same Joe Alvez (b.1936) the art director and designer who worked on Jaws and Close Encounters of the Third Kind. Yet to be confirmed, in my view.
---
George Weston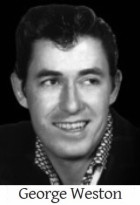 Obscurity is a recurring theme in the history of Well, Don't You Know, a 1965 hit in Melbourne for Colin Cook.
Well, Don't You Know had already been a Top 10 hit in Australia in 1960 for US singer Crash Craddock. Years later he was famous in country music, but at that time he was an obscurity in the US and a star in Australia, thanks to his first #1 hit down here with Boom Boom Baby (1959).
Even more obscure was the originator, George Weston from Littlerock CA, who recorded on obscure labels in nearby Palmdale and in Bakersfield.
Weston wrote Well, Don't You Know (1958) and travelled to Hollywood to record the original at Jackpot Records, a small, obscure label part-owned by singing cowboy Gene Autrey.
George Weston is remembered by those who knew him as a charming and talented singer-songwriter-guitarist who unjustly remained, well, obscure.
---
The Roosters

The Roosters were formed in 1964 by high school friends in the Los Angeles suburb of Westchester. In December 1967 they released their their fourth single, Love Machine.
Their previous singles had been on minor labels with songs written by band members, but this one was on Philips, written and produced by regular collaborators Michael Gordon and Jimmy Griffin, and arranged by the notable producer-arranger-composer Al Capps.
The Roosters' single pops up on a scattering of US radio surveys in 1968 (#2 in Ogden, Utah, is pretty good), but it made only #106 on Billboard's national chart, and this was their most successful single.
Later in 1968, Love Machine charted at least Top 20 in all of Australia's state capitals when a one-off studio band called Pastoral Symphony released a version. It was rearranged by Johnny Hawker, whose band played on the record along with The Twilights. The lead singer was Terry Walker, who would be heard later in the year on The Strangers' classic Happy Without You.
---
Brent Edwards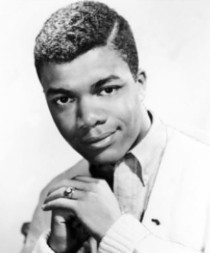 Ray Brown & The Whispers had a hit in 1965 with Pride, a song that had already been recorded by Billy Thorpe, Playschool's Don Spencer, and Billy J. Kramer.
Before them all, in 1963, came Brent Edwards, a singer from Philadelphia who was in a vocal group called The Lavenders. Leon Huff, later of Gamble & Huff, the Philly Soul masterminds, played piano for The Lavenders.
Johnny Madara and Dave White, who wrote the song as Pride Is Such A Little Word, later wrote Johnny Farnham's big hit Sadie The Cleaning Lady with a third writer.
---
Al Lucas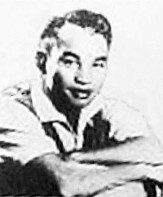 This Hawaiian singer, little-known outside his home state, released the original version of She's My Baby in 1959. A few months later, Johnny O'Keefe released his version that became one of his biggest hits and and a classic oldie in Australia.
JO'K heard of the song through one of its co-writers, Scott Turner, a Canadian-born singer-songwriter-guitarist who was touring Australia with Tommy Sands. He would later play on JO'K's recording session for the song at Gold Star Studios in Los Angeles.
---
Kerri Downs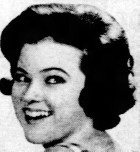 In 1963 Kerri Downs released the original version of 4,003,221 Tears From Now. Her record didn't chart, but in 1964 Judy Stone covered the song, making it one of the most familiar Australian oldies of the 1960s
Kerri Downs was later in US girl group The Angels, although she joined after their hit My Boyfriend's Back. She was married to producer Gerry Granahan, co-creator and lead singer of Dicky Doo And The Don'ts.
---
Roosevelt Grier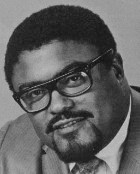 He might be obscure to many Australians, but American football fans would know Roosevelt 'Rosey' Grier as a star of the New York Giants and the Los Angeles Rams in the 1950s and 60s. He later went into films and TV, and is well enough known to have appeared as himself in an episode of The Simpsons
In 1964 he recorded Fool, Fool, Fool, produced by Bobby Darin, a song that would become a #1 hit in 1965 for major Australian pop group Ray Brown & The Whispers.
Later, he wrote a book about needlepoint crafts, and became a minister of religion. As a bodyguard for Robert Kennedy, he subdued and disarmed Kennedy's assassin in 1968.
You might not know of Roosevelt Grier, but you probably know Fool Fool Fool if you were listening to Australian pop music in 1965.
---
The Sound Judgment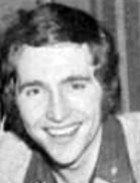 Joe McGovern was a US college athlete who fronted The Sound Judgment. They were an eight-piece band of students from Penn State University, joined by one of their instructors.
Some of the band members quit their studies when their first and only single Happy Without You was released in 1968. The single went nowhere in the USA, and lead singer McGovern continued performing as Cody Marshall.
Later in the same year Melbourne band The Strangers released a rearranged version that charted in Melbourne, Brisbane, and Perth. It is now a fondly remembered oldie in Australia, especially in The Strangers' home city where it charted at #8.
---
Gil Hamilton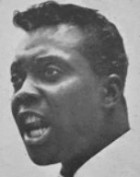 In 1962 Gil Hamilton released the original version of a song called Move & Groove.
Johnny O'Keefe's version, an Australian hit in 1963, used the title Move Baby Move.
Another original version by Gil Hamilton was Tell Her (1962), a hit for The Exciters as Tell Him.
There never was a Gil Hamilton hit, but he didn't remain in obscurity. He changed his name to Johnny Thunder, charted #4 in the USA with Loop De Loop (1963), and had a long and successful career with his new name.
---
Saturday Morning Cartoon Show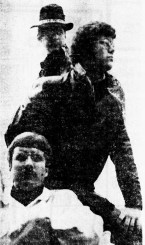 In 1969 The Saturday Morning Cartoon Show recorded two singles in Nashville that were both covered by one Sydney band.
Neither song was a hit for the original artists but the Australian versions of Hayride and La La by Flying Circus did well, reaching #1 in some cities.
The Saturday Morning Cartoon Show were produced by distinguished Nashville music figures Buzz Cason and Mac Gayden who also wrote both songs.
The blurry photo is from an old newspaper. I can find nothing about their identity or the band's history. Perhaps two of them were named Cason or Gaydon, but I'm only guessing.
It was a cute name for a band, but Internet searches for them tend to give you results for, well, Saturday morning cartoon shows.
---
Sonny Williams

Country music artist Sonny Williams was probably little known outside of Wisconsin. The singer-songwriter-guitarist (1933-2008) was a hard-working live performer over many years in Milwaukee and other cities.
In 1958 he released Bye Bye Baby Goodbye, written by Chicago songwriter Frank McNulty and recorded with an all-star studio band in Nashville. It wasn't a hit for Sonny, although it charted modestly in Milwaukee when he re-recorded it there in 1973.
In Australia Col Joye recorded the song for his first single in 1959. It was one of Col's biggest hits, now a classic Australian oldie.
---
Willy And Ruth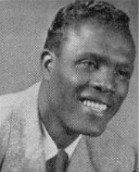 Willy & Ruth recorded the original version of Come A Little Bit Closer (1954), a well-known oldie in Australia through the local hit version by The Delltones (1959).
Come A Little Bit Closer was written by Jerry Leiber and Mike Stoller. It was the first release on their own label, Spark.
Also on Spark soon after was Willy & Ruth's Love Me (1954), later a hit for Elvis Presley, also written by Leiber & Stoller.
Willy Headen and Ruth were both in a gospel quintet called The Honey Bears who were recording for Spark. Willy sang lead, and Ruth was married to the bass singer.
Willy went on to release some records of his own, but nothing more seems to be known about Ruth, not even her surname.
Maybe someone will read this and let us know more. In the meantime, see the history of the song at this page