Single on RCA Victor [USA] August 1967 and on Viking [New Zealand & Australia] September 1967 by New Zealand singer from Morrinsville (b. Marina Devcich, 1946). It was on the Viking album Maria Dallas In Nashville (NZ & Australia, 1967) and the RCA Victor album Tumblin' Down (USA & NZ 1968).
Ambush was recorded in Nashville with Felton Jarvis (1934-1981), a notable producer known for his work with many big names including Elvis Presley.
A star in New Zealand, Maria Dallas was also popular in Australia where she worked for a while before going to Nashville.
---
---
You Don't Treat Me Right (1968, #21 NZ, #11 Brisbane) co-charted in Brisbane with its B-side It's Such A Pretty World Today, a cover of the Wynn Stewart US country hit.
Maria's biggest hit in NZ was Pinocchio (1970, #1 NZ) but Ambush, her biggest Australian hit, did not chart in New Zealand.
Further reading (Maria Dallas):
1. Maria Dallas story at Bruce Sergent's NZ Music site.
2. Maria Dallas profile at NZ music site Audio Culture.
3. "NZ singer intends to head US charts", The Age (Melbourne), 9 July 1968 [image].
4 Maria Dallas session dates (NZ and USA) at Prague Frank's country music site sorts out the two recordings of 'Tumblin' Down'.
---
Where did they get that song? The short answer: in Nashville.

Ambush was written by country music duo Bobbie & Dude who appear not to have recorded it themselves. They were sisters, Bobbie and Elizabeth "Dude" Brown, from Moody, Texas but based in Nashville.

From an early age they had sung in country-gospel trio The Brown Sisters with another sister, Bettie. They had a busy schedule performing at community events and on radio and TV around Texas and beyond, often singing their own compositions. They recorded at least one single, on the TPG label, Seems Like (1965), written by Bobbie and Dude.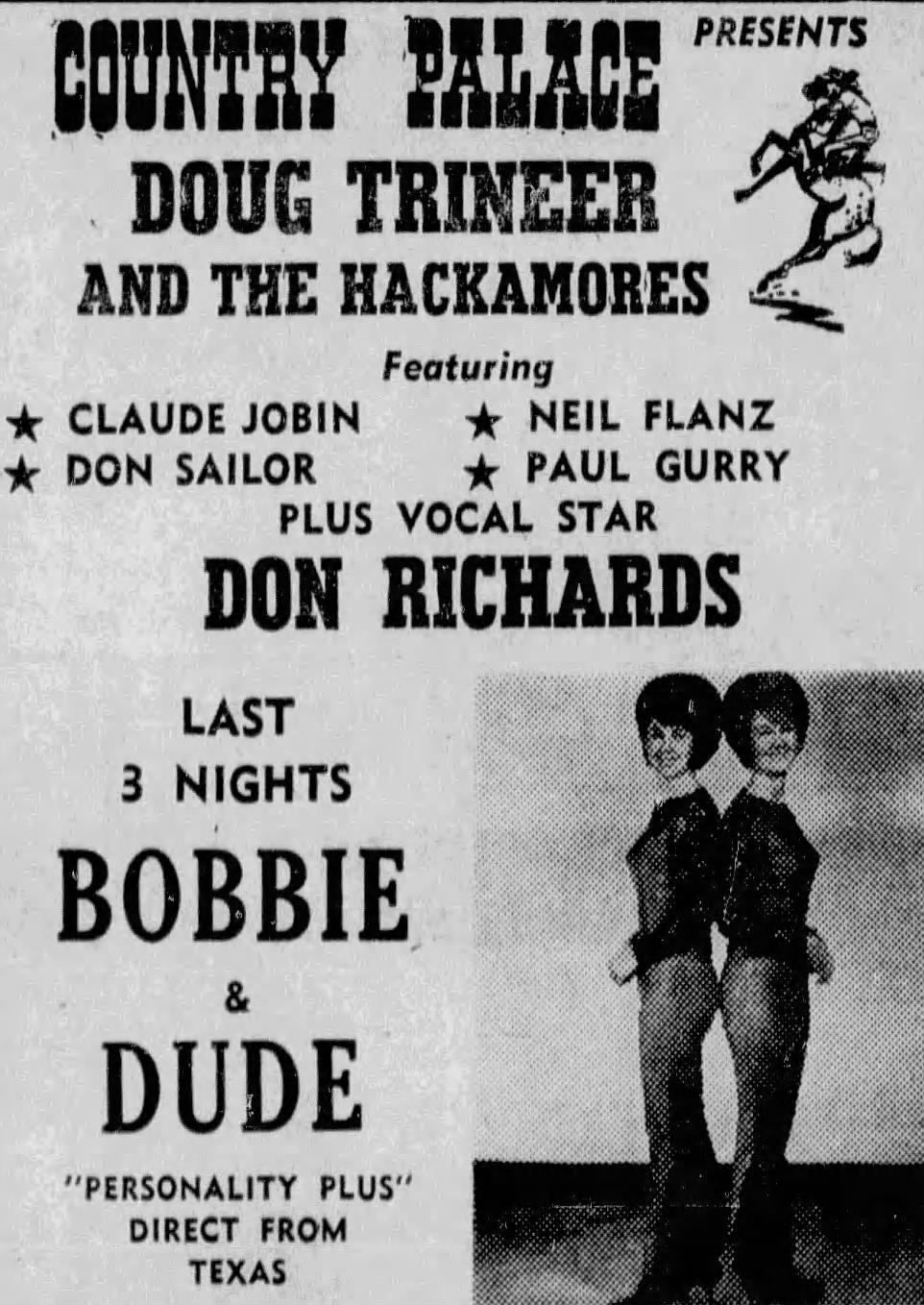 Dude Brown has commented that she and Bobbie were protégées of country star Marty Robbins who signed the duo to his agency Big M. They were also signed to Jim Reeves's publishing company Acclaim Music and registered a handful of songs for copyright. In 1967 they were signed by Liberty Records but as far as I can see just one single was released, Carnival Man / I'm Gonna Go Get My Puppy Love, produced by country music luminary Buddy Mize.
The Browns' profile included extensive touring that took in "fairs, conventions and roadshows" where they appeared with numerous big names in country music.
They went to Canada during Expo '67 and appeared regularly at the Country Palace venue in Montréal. The flipside of their London single, also released in Canada, was on the playlist of at least one Quebec station, CKCH, in August 1967.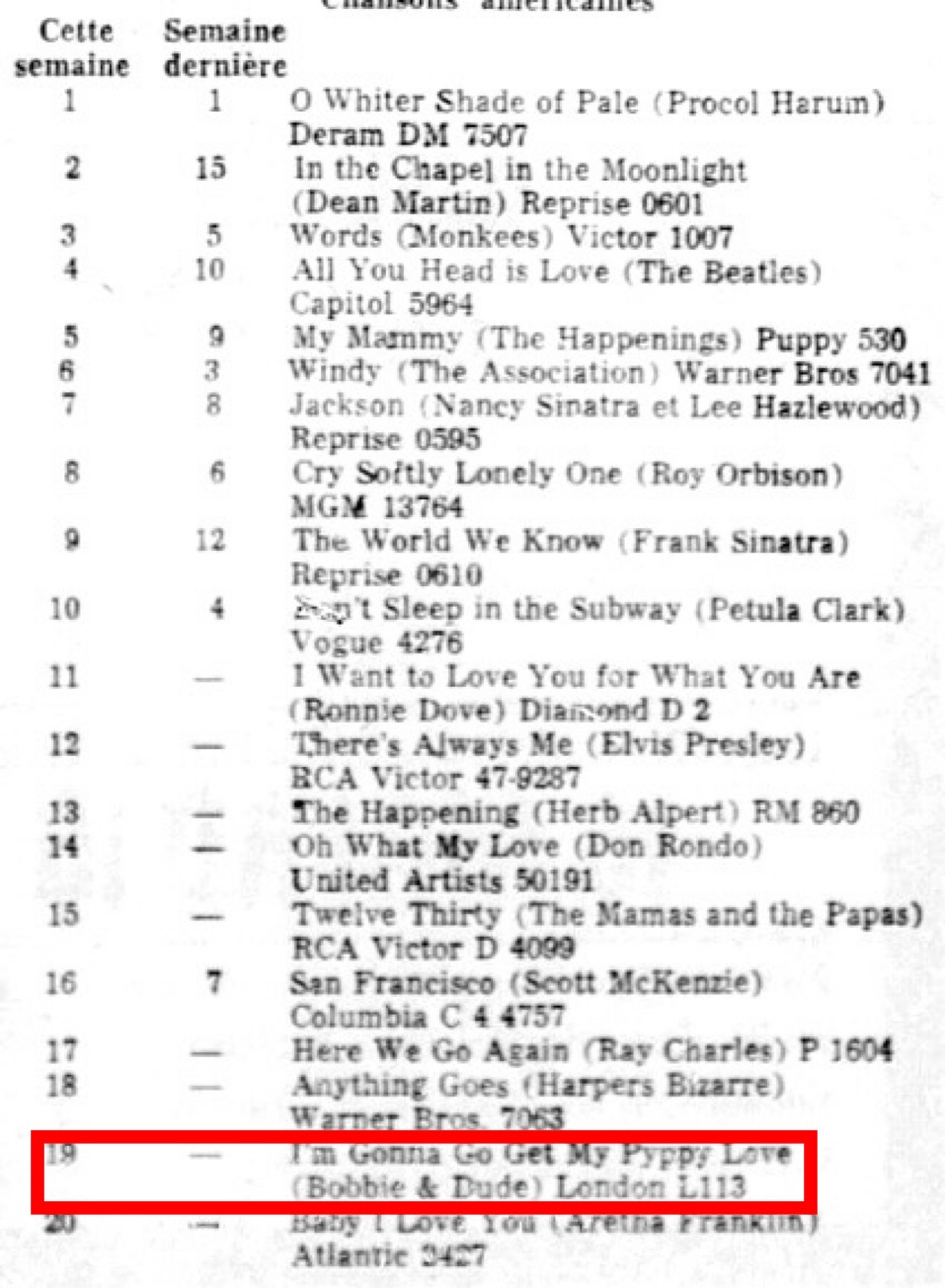 Bobbie and Dude created a catchy song that was familiar on Australian radio in the late 60s. That brisk, rhythmic line that ends verse and chorus in Ambush stood out for its inventiveness. Your kissin' leavin' good-time days are dead. Nice work!
---
Sources (Bobbie & Dude):
1. "Singing Brown Sisters Gain Fame In Western and Gospel Music Field", (The Brown Sisters trio) Gatesville Messenger and Star-Forum, 20 August 1965
2. "Singing Centex Sisters", Wako Tribune Herald, 6 August 1967.
3. Multiple Bobbie & Dude gig notices in The Gazette, Montreal (example).
4. Chart by radio station CKCH (Hull, Quebec) in Le Droit newspaper (Gatineau, Quebec), 26 August 1967 (see digitised copy at Bibliotheque et Archives nationales du Quebec)
5. Comment by Dude Brown (2015) at Tompall Glaser tribute page.
6. Catalog of Copyright Entries: Third series (July-Dec 1967 edition: see screenshot above).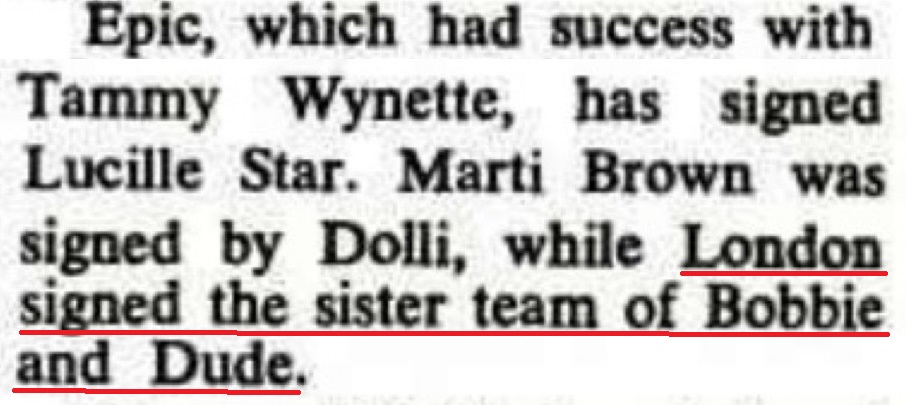 Suggestion from Terry Stacey.
Thanks to Chris.
---
Copyright mix-up: In Elizabeth 'Dude' Brown's repertoire at BMI, songs by two other Elizabeth Browns are mistakenly listed. "Bundles For Britain" is from 1941, and "Just For A While", is a 1921 English version of a 1920 German song.
Teresa Brewer - Ambush (1975)
On Signature album Unliberated Woman by versatile pop-country-jazz-novelty singer (Theresa Breuer, 1931-2007) who was often on the US charts 1950-1960. Her biggest hits were Till I Waltz Again with You (1952, #1 USA), and the song she is most identified with, Music, Music, Music (1950, #1) with its familiar refrain Put another nickel in, in the nickelodeon.
Here's a coincidence: Teresa Brewer has a song called Since You've Gone on her album Heart-Touching Love Songs (1985) but is not the Since You've Gone written by Bobbie & Dude Brown. It's the Smokey Rogers song Gone, a country hit for Ferlin Husky (1956).