Rock'n'roll star Lonnie Lee, born David Lawrence Rix in western New South Wales in 1940, had his first hit in 1959, Ain't It So, written with Johnny O'Keefe. With his backing band The Leemen, he followed this with a number of national hits. In Sydney, for example, he charted eight times from 1959 to 1962, notably with I Found A New Love (#2 1960). Like many early Aussie rockers, he moved on to country music.
In 2005 Lonnie Lee released a new John Marascalco co-composition, Can't You See It In My Eyes. See also When The Bells Stop Ringing.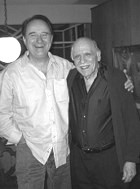 Photo: Lonnie Lee & John Marascalco, Hollywood, 2004. © Lonnie Lee and Starlite International Pty Ltd.
Further reading: 1. LonnieLee.com. 2. Lonnie Lee page from Howlspace [archived].
Thanks to Colin Purssey and Graeme Freeland for research, and thanks to Gary Myers and Mike Rashkow.
---
Portuguese Joe With The Tennessee Rockabillys - Star Light Star Bright (1957)

B-side on Surf November 1957, produced by the writer of Starlight Starbright, John Marascalco. Rockin' Country Style has a label shot and audio clip of the 45. Lonnie Lee rearranged the song considerably for his Australian hit version.
Other songs by John Marascalco (b.1931) include the Little Richard hits Good Golly Miss Molly and Rip It Up, both written with Robert 'Bumps' Blackwell, and he wrote Fats Domino's hit Be My Guest with Domino and Tommy Boyce.
Marascalco wrote Johnny O'Keefe's 1960 hit Don't You Know (Pretty Baby). Surprisingly, Lonnie Lee's 1962 recording with that title was a different song.
There's not much information about Portuguese Joe. (Web searches for "Portuguese Joe" will mainly throw up the British Columbian whaling pioneer of the same nickname.)
There are two singles by Portuguese Joe With The Tennessee Rockabillys listed at 45cat.com. His other single was another John Marascalco song on Surf in 1957, Miss Ping Pong. RCS has an audio clip and label shot.
These days, Portuguese Joe is possibly best known for Teen Age Riot (the A-side of Star Light Star Bright), copyrighted by Joseph Alves (words) and Joseph E Osterbosch (as East, music). The consensus is that Alves was Portuguese Joe.
---
More research? The book Too Cool (1993) mentions the "only screen appearance of rockabilly cult-cat Portuguese Joe" in a film called Martian Crime Wave (1957), where he "belts" his song Teenage Riot. The film, a "super grade-Z laugh-fest" is directed by Bill Dennison, a "first (and only) time writer-star-director". However a book review in Psychotronic Video magazine (1993) says that Too Cool includes "at least one made up title, the movie, Martian Crime Wave". I haven't found any other sources that even mention the film.
Even more research? Some claim – and some doubt – that "Portuguese Joe" Alves is the same Joe Alves (b.1936) who is now known as an art director and production designer on many well-known films, including several with Steven Spielberg (Jaws, Close Encounters…). The original source seems to be Gary E. Myers (Surf Records at Top Shelf Oldies) although some doubts are expressed in the 45cat.com comments here. The English Wikipedia entry on Alves does not mention Portuguese Joe, but German Wikipedia's Joe Alves entry does (albeit without references): 1957 veröffentlichte er unter dem Interpretennamen "Portuguese Joe" zwei Singles auf dem kleinen Label Surf Records, die kommerziell aber erfolglos blieben. Certainly, Portuguese Joe's Teenage Riot was co-written by Joseph Alves, but is it the same Joe Alves of movie-making fame?
---
Further reading: Biography of John Marascalco at All Music Guide.
Some sources: 1. Surf Records by Gary E. Myers discusses Portuguese Joe-Joe Alves. 2. Gene Sculatti (ed.) Too Cool p.67. At the Internet Archive you can read Too Cool (1993) and its predecessor, the Sculatti-edited Catalog of Cool (1987). The Catalog of Cool website is defunct but archived at Internet Archive. 3. Psychotronic Video #15 (Spring 1993), p.14, facsimile at Internet Archive. (The magazine is defunct but creator Michael J. Weldon keeps the concept alive at his website Psychotronic.com.) 4. For copyright details of 'Teen Age Riot', see Catalog of Copyright Entries, 1957, Music, Jan-June.
---
Nan Castle - Starlight Starbright (1957)
Same title but not the same song as 'Starlight Starbright' by Lonnie Lee.

Single on RCA-Victor, June 1957. See details and audio clip at Rockin' Country Style.
*The single apparently credits Sylvia Hicks alone but Nan Castle (Castleberry) is co-credited at BMI. But Peter Miller emails:
My grandmother (Sylvia Hicks) wrote that many years ago in the middle of the night about her soon-to-be husband, Jack. Nan Castle lives in Greenville, TX (a half hour drive from where our family lives). Nan Castle sang but did not write it. It was so popular locally there was an article in the paper I have stored somewhere.

---
Luther Bond & The Emeralds - Starlight Starbright (1954)
Same title but not the same song as 'Starlight Starbright' by Lonnie Lee.

78 rpm record on Savoy label.
---
David Seville - Starlight Starbright (1957)
Same title but not the same song as 'Starlight Starbright' by Lonnie Lee.
Single on Liberty by artist born Ross Bagdasarian. As David Seville, he had a #1 hit in 1958 with the novelty song Witch Doctor, and topped the charts again in 1959 with The Chipmunk Song.
---
[Nursery rhyme] - Star Light Star Bright
Star light, star bright,

First star I see tonight

I wish I may, I wish I might,

Have the wish I wish tonight.
– Baring-Gould & Baring-Gould, The Annotated Mother Goose, 1962
Clearly the source of the title, though not the lyrics, of Starlight Starbright.

The phrase has often been used in popular music, and there are numerous pop songs entitled Starlight Starbright or Star Light Star Bright, notably Linda Scott's Starlight Starbright which charted somewhat in Australia (see below).
---
Linda Scott - Starlight Starbright (1961)
Same title but not the same song as 'Starlight Starbright' by Lonnie Lee.
Double-sided hit in Adelaide with Don't Bet Money Honey. In Sydney and Brisbane, it was Don't Bet Money Honey that charted (#20, #28).

---
Jimmy Dean - Starlight Starbright (1958)
Same title but not the same song as 'Starlight Starbright' by Lonnie Lee.
Pop single on Columbia label, January 1958, by country singer, TV host and actor who crossed over to the pop charts several times, notably with the hits Big Bad John and PT 109. He later formed The Jimmy Dean Meat Company.
For more about Jimmy Dean see Born To Be By Your Side.
---
---