Johnny Farnham - Friday Kind Of Monday (1968)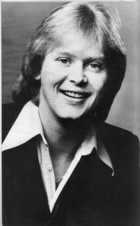 B-side on Columbia, February 1968.
Double-sided hit in most cities with the A-side Underneath the Arches.
Johnny Farnham: enduring Melbourne pop star whose career took off after his first single, the neo-vaudeville novelty Sadie The Cleaning Lady, was skilfully publicised and became the best-selling Australian single of the 60s. He had a run of hits into the first half of the 70s, and branched out into TV and stage drama.
In the early 80s, by then known as John Farnham, he had a further hit with a powered-up version of the Beatles' Help, and he fronted the Little River Band for a time. His real career revival came in 1986 with the hugely popular contemporary album Whispering Jack and its three hit singles including the #1 You're The Voice.
Further reading: Milesago's John Farnham page. The official site is at JohnFarnham.com.au.
---
Finders Keepers - Friday Kind Of Monday (1967)
Single on Fontana label.
Finders Keepers were from Wolverhampton. Glenn Hughes, of Deep Purple fame, was a member. See, however, the Finders Keepers singles discography at the Glenn Hughes Electronic Fanzine, where it is noted that his involvement with the recording of the band's singles was minimal.
There seems to be a Finders Keepers-Johnny Farnham thing going on here: see Sadie The Cleaning Lady.
Thanks to Phil Chapman.
---
The Meantime - Friday Kind Of Monday (1967)
Single on Atco, a Barry-Greenwich project: the lead singer is Ellie Greenwich.
(Ellie Greenwich… Greenwich Mean Time… The Meantime?)
❝ The Meantime featuring Ellie Greenwich was a 1967 attempt to resurrect and update The Raindrops, the 1963-65 studio group comprised of Jeff and Ellie's multitracked voices.❞
– Don Charles, Shout My Name: The Jeff Barry Story at Spectropop
---