Little Pattie - Little Things Like That (1967)

Track on 1967 HMV album, almost but not quite the title track: the album was Little Things Like This. The artist's name appeared on this album as simply Pattie.
Teenaged pop star Little Pattie's real name was Patricia Amphlett (she is a cousin of Divinyls singer Chrissie Amphlett). Her career kicked off at the end of 1963 with a double-sided surf craze hit, He's My Blonde-Headed, Stompie Wompie, Real Gone Surfer Boy backed with Stompin' At Maroubra. She later moved on from the surf novelty with a number of well-chosen and well-produced songs: see, for example, her recordings of the Crewe-Linzer-Randell song Pushin' A Good Thing Too Far and Les Vandyke's Dance Puppet Dance.
Further reading: 1. The definitive source on Little Pattie is Graeme Browne's booklet on her career, available through OzMusicBooks. 2. Little Pattie: Stories and Highlights at Long Way to the Top [archived]. 3. Little Pattie entry at Wikipedia. 4. Patricia Thelma 'Little Pattie' Amphlett, OAM at Australian War Memorial's Who's Who in Australian Military History. 5. Citation for OAM for services to the entertainment industry, 2003.
---
Linda Lloyd - Little Things Like That (1966)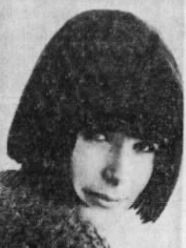 Single on Columbia, January 1966, produced by Ed Kleban, arranged by Don Costa, B-side of Breakaway.
Linda Lloyd (nee Huggins, b. c.1940) was a rock'n'roll singer from Pensacola, Florida. After collegeshe lived in Dallas where she worked as a model for Neiman-Marcus stores. She and her husband Rodney produced a single that was released on independent label Imco in 1963 with both sides written by Linda. They moved to California after Linda was signed to Columbia where she released three singles 1964-66.
Most of those tracks were produced by Ed Kleban, better known as Edward Kleban (1939-1987) the New York composer-lyricist who wrote the lyrics for A Chorus Line (1975). He worked as a producer at Columbia in Los Angeles for several years until the late 60s.
The artist biography is my work, based on original research. If you use it, please credit me or this website.
©Lyn Nuttall 2018
References: 1. "Linda Lloyd's Initial Recording, 'I'm Gonna Love That Guy' Released", Pensacola News Journal, Feb 23, 1964, p.24 [view clipping at Newspapers.com]. 2.Linda Lloyd discography at 45cat. 3. Edward Kleban obituary, New York Times, Dec 30, 1987.
---
Suzy Wallis - Little Things Like That (1965)
Single on RCA, December 1965, B-side of Be My Man, both sides arranged by David Gates, later famous for his group Bread.
Singer-guitarist-puppeteer Suzy Wallis (born Suzanne Wallach c.1951) was on TV as a 10-year-old hosting her own Suzy's Playroom on KTVI-TV St Louis, Missouri. In her teens she appeared in Las Vegas in the live show of Bonanza star Lorne Greene, and cut her first record at the age of 14. In the early 2000s, as Suzy Wallach, she was in cabaret singing group The Goils.
Essential reading: Anthony Reichardt's notes on this track at YouTube.
References: 1. Suzy Wallis biography and music at last.fm. 2. Extensive early profile in "Suzy – The Princess of Puppetown", St Louis Post-Dispatch, August 23, 1962 [read at Newspapers.com]. 3. Burbank Examiner update on Suzy Wallach 2001 (no longer online or archived).
---
Barbara Mills - Little Things Like That (1965)
Single on Hickory, November 1965, B-side of You Better Believe Me, by Barbara Mills (b. Henley). Produced by her brother, Larry Henley of Hickory recording group The Newbeats. Recorded in May' 65, the song itself goes back further, copyrighted in May 1964.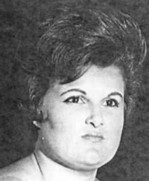 Barbara Mills (1938-2018) was born in Tyler, Texas as Barbara Henley, grew up in Odessa Texas, and in later years moved to Detroit, Michigan. Brother Larry's birthplace was the smaller town of Arp, Texas, 18 miles from Tyler.

An old but informative Newbeats page [archived] has a section on Barbara Mills which includes session dates, discography, Billboard reviews and a photo [cropped, right].

Brother Larry (1937-2014) was best known in the 60s as the falsetto lead on the Newbeats' hits (Bread And Butter, Break Away [From That Boy]), but he is equally remembered as a songwriter, notably as co-writer of The Wind Beneath My Wings (1982).
Co-writer Russ Titelman is probably best known as a producer for the likes of Eric Clapton, Little Feat, George Harrison, and Brian Wilson. He wrote a number of choice but often overlooked songs in the 60s, notably the sublime What Am I Gonna Do With You (Hey Baby), written with Gerry Goffin and recorded by The Inspirations, The Chiffons, Lesley Gore and Skeeter Davis.
More on Russ Titelman:
• A Spectropop post by Declan Meehan has a list of Titelman's compositions. For Declan, he is one of the greatest unsung co-writers or writers… especially in the girl group genre;
• A later post by Mike Edwards notes further Titelman compositions and co-writers;
• A Spanish radio show dedicated to Titelman productions and compositions has posted its annotated playlist;
• Yes I Will by Australian band The Twilights is a Titelman co-composition.
• Timothy White interviews Russ Titelman (Billboard, 1996, reprinted at Spectropop.com)
Lyricist Larry Kolber also wrote a number of songs with Barry Mann. The Spector-produced Paris Sisters hit I Love How You Love Me (1961, #5 USA) is a Mann-Kolber song.
---
Another Barbara Mills song, Queen Of Fools [YouTube], has been reissued thanks to the Northern Soul movement. Little Things Like That is harder to find.
Further reading: 1. Brief biography of Barbara Mills at Last.fm, details repeated elsewhere online. 2. Barbara Mills at Discogs.com.
---
Donna Gaye - Little Things Like That (1966)
Single on Kommotion, the follow-up to Donna Gaye's best known single, Norman – Normie. See also Untrue, Unfaithful.
Sydney singer Donna Gaye was discovered and produced by rock'n'roll veteran Lonnie Lee for Ivan Dayman's Kommotion label. Donna retired from singing when she married Dennis Annable, formerly of Brisbane band The Escorts.