Single on Leedon, released October 1958, charted January-February 1959. Officially the B-side, this is the side that charted and is remembered as the classic Johnny Rebb track. The A-side was an original, Noelene.
Johnny Rebb (b. Dellbridge), known as The Gentleman of Rock'n'Roll, was signed by EMI for one single on Columbia in 1958 before joining Sydney entrepreneur Lee Gordon's Leedon and Lee Gordon labels. Noelene/Hey Sheriff was his first Leedon single, released at the end of 1958, and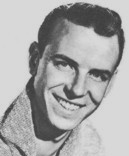 gave him his first charting single early in 1959. He became a regular on Johnny O'Keefe's Six O'Clock Rock, even filling in as host in JO'K's absence.
See also: Highway of Love (1959), and I Put A Spell On You (1966) by Australian surf instrumental band The Atlantics, recorded when Rebb had become their lead singer later in the 60s.
Johnny Rebb had been retired from the music business for many years when he died in July 2014.
Disambiguation: This is not the Johnny Rebb who released at least one single on New Orleans label Flame in 1959.
Further reading: 1. Johnny Rebb obituary at Sydney Morning Herald. 2. Johnny Rebb at Wikipedia.
Thanks to Terry Gordon at Rockin' Country Style for details and clarification on Johnny Rebb, Rusty & Doug, and Hoots Roberts.
---
Rusty & Doug - Hey, Sheriff (1958)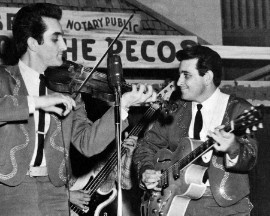 Single on Hickory, Nashville, #1083, B-side of Sweet Thing (Tell Me That You Love Me).
Brothers Rusty & Doug Kershaw were a Cajun and Country duo from Cameron Parish, Louisiana who joined the Grand Old Opry in 1958.
Doug (b.1936), a multi-instrumental violinist, taught guitar to Rusty (Russell, 1938-2001). Their country hits included So Lovely, Baby (1955, #14 Country), Love Me To Pieces (1957, #14), and Louisiana Man (1961, #10, written by Doug) which was played by astronaut Pete Conrad on his way to the moon on Apollo 12, November 1969.
From the late 60s Doug Kershaw pursued a solo career. He appeared on The Johnny Cash Show and opened for Derek & The Dominoes at New York's Fillmore East. His biggest hit was Hello Woman (1981, #29 Country). He was also heard on records by other notable artists including Bob Dylan (Self Portrait) and Loudon Wainwright III (Attempted Mustache).
Rusty Kershaw was less prolific than his brother but his well-regarded recordings of Cajun music continued into the 90s when his album Now & Then included guest appearances by Neil Young, Art Neville and others.
---
The songwriting credit of Felice & Boudleaux Bryant appeared on many classic records, including Buddy Holly's Raining In My Heart. They are particularly associated with The Everly Brothers through such hits as hits as Bye Bye Love, Wake Up Little Susie, All I Have to Do Is Dream, and Bird Dog.
---
References: 1. Release details at Rockin' Country Style (includes label shot and audio). 2. Doug Kershaw page at Louisiana Music Hall of Fame. 3. Craig Harris's biography of Doug and Stephen Thomas Erlewine's of Rusty, in All Music Guide to Country (2nd edition, n.d.) pp.408-9. See also Erlewine's somewhat expanded account of Doug at All Music's website. 4. Doug Kershaw at Wikipedia (source of chart placings). 5. Example of a contemporary account from the Desert Sun of Apollo 12's journey. There are others at newspaper archive sites (e.g. The Courier-Post, Camden NJ, 15 Nov 1969, p.8, at newspaperarchive.com). Newspaper reports, published before the moon landing, mention "Louisiana Man" being played en route to the moon. 6. Selected list of Bryant compositions at Wikipedia.
Further reading: . 2. Felice & Boudeleaux Bryant: The Marriage That Became a Hit Factory at Rockabilly Hall of Fame.
---
Hoot Roberts And The Night Hawks - Hey, Sheriff (1963)
Single on the Owl label, Wausau, Wisconsin, owned by Hoot Roberts, country singer who had his own shows on local radio (WHVF) and TV.
Also recorded in the 1990s by Aussie rockabilly band The SatelliteV.
Further reading: Hoots typewrites to "Billboard" from WHVF, December 1962.
---
Reg Lindsay And Farmer Gilmour And The Colt Breakers - Hey, Sheriff (1958)
Single on Columbia, November 1958 (Johnny Rebb's was in October), B-side of Tom Dooley which was a cover of The Kingston Trio's current hit.
The artist name on the A-side differs slightly: Reg Lindsay And His Colt Breakers, and there's no Farmer Gilmour.
For more on Australian country music star Reg Lindsay, see his 1971 hit with the John Stewart song Armstrong.