The Strangers - Happy Without You (1968)
Single on Philips, November 1968, arranged by Strangers guitarist Peter Robinson.
Vocals are by Terry Walker, formerly with Perth bands The Hi-Five and The Times. He was also the vocalist on Pastoral Symphony's Love Machine.
Peter Robinson
recalls that his arrangement, using french horns, trombone, bass trombone and eight strings, was a complete reworking of a recording given to the band by
Ron Tudor
. The arrangement drew on a number of influences: Peter's favourite elements of the horn parts from the
Fifth Dimension's
Up, Up And Away
(which he had just finished work on for a TAA airlines jingle); the vocals on the
Beach Boys'
The Little Girl I Once Knew
; and the style of the rhythm section on the
Foundations'
Baby, Now That I've Found You
. All of this supported the newly acquired Wilson Pickett-influenced vocals of
Terry Walker
. (Peter Robinson, email to PopArchives, February 2005.)
The Strangers: Melbourne band, formed in 1961, started out playing instrumentals after the fashion of The Shadows but went through several stylistic and personnel changes until breaking up in the mid-70s. The Strangers backed numerous local and Australian artists, notably Colin Cook with whom they released the LP Colin Cook and the Strangers (1964). In 1966 they became resident backing band on the TV pop show Go!!.
One of The Strangers' better known alumni is John Farrar, who joined British post-Shadows guitar group Marvin, Welch and Farrar and later produced and wrote for Olivia Newton-John. In Grease (1978), Olivia performed You're The One That I Want and Hopelessly Devoted To You, John Farrar's additional songs for the movie version of the musical.
See also: Johnny Cooper – Farmer John.
---
Founding member Peter Robinson, who was earlier with The Thunderbirds, was also an active producer, arranger and session musician, and went on to replace Athol Guy in The Seekers from the late 70s. More recently, Peter has been in The Beach Buddies, and the Melbourne-based British 60s revival band The Substitutes.
---
Thanks to Peter Robinson.
References/Further reading: 1. Ian McFarlane's Encyclopedia of Australian Rock & Pop (1999), pp.610-611. 2. Strangers history by Geoff Jermy (2000) with Peter Robinson (read or download pdf). 3. Milesago's Strangers page. 4. Chris Spencer et al, The Australian Rock Discography 1956-1969.
The Sound Judgment - Happy Without You (1968)
Listen: The Sound Judgment – Happy Without You.mp3
Single on Kapp #914. Produced and arranged by Joe Renzetti, lead vocals by Joe McGovern (later known as Cody Marshall).
At 45cat.com the release is dated April 1968. It was advertised as a new release in Billboard on 1 June 1968 [image below].
The Sound Judgment was an eight-piece band from West Philadelphia, formed by students from Penn State University along with an instructor from the Business faculty.
Lead singer Joe McGovern, a college basketball star from New Jersey, had previously been in a band called The Encores. The rest of the line-up was Steve Delach (vocals), Tom Wareham (guitar), Kenny Coombs (organ), Fred Saylor (vocals & trumpet), Jim Emminger (sax), Bob Shay (drums), and Lenny Martin (the college instructor, instrument unknown). Some of the members were putting their studies on hold to concentrate on the band. Happy Without You, with the B-side Baby It's You, was their only release.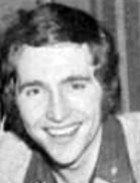 After The Sound Judgment, lead singer Joe McGovern, by then known as Cody Marshall, led a new band, Cody Marshall And The Circle Of Friends that had a run at Shepheard's discotheque at the Drake in Manhattan, with gigs in other locations including Las Vegas and northern New Jersey.
Sometimes billed (to his later regret) as "the new Tom Jones", Cody Marshall settled in Atlanta, Georgia in the early 70s, where he ran his own club for a while and performed at various venues up until at least the early 80s.


There were at least three Cody Marshall singles on the Wizdom label (1970, 1972, 1973), the first of which carrried producing, arranging and writing credits for Joe Renzetti, arranger and producer of the Sound Judgment single. The other two Wizdom singles were produced and arranged by label owner Jimmy Wisner* who is co-credited with McGovern as writer of one A-side.
In 1975 Joe Renzetti arranged and co-produced (with Marshall) another Cody Marshall single, The Thought Of Loving You. This remake of a 1968 single by The Crystal Mansion was on a label called Sound Judgment (#SJ-1002, probably a one-off). Thanks to its rearrangement with an up-to-date disco dance groove, Marshall's version gained some turntable play in British Northern Soul venues including the Wigan Casino. YouTube
McGovern/Marshall is seen in a 2016 photo at Penn State Basketball's Facebook page: Welcome home to 1965 #PSUMBB team captain Joe McGovern, visiting yesterday from Atlanta…
* Classically trained Wizdom label owner Jimmy Wisner (sometimes Wizner) was an experienced jazz musician, and a prolific and resourceful pop talent. At the tip of his iceberg, he worked up some Grieg and recorded it as Asia Minor (as Kokomo, 1961, #8 USA), and he and his regular writing partner Billy Jackson wrote Don't Throw Your Love Away, the Searchers' #1 UK hit (1964), originally by The Orlons (1963). He arranged Spanky & Our Gang's Sunday Will Never Be The Same (1967, #9 USA). Wisner and his associate Joe Renzetti both played on that record which was produced by Jerry Ross. All three – Wisner, Renzetti and Ross – were from Philadelphia, and two or three of their names often appear together on record label credits.
This history of The Sound Judgment and Cody Marshall is my work, based on my research. If you use it, please credit me or my website. ©Lyn Nuttall 2019
Joe Renzetti's long career as composer, arranger and guitarist includes arranging Bobby Hebb's Sunny (1966, #2 USA), Keith's 98.6 (1967, #7), Jay & The Techniques' Apples, Peaches, Pumpkin Pie (1967, #6), and Barry Manilow's Mandy (1975, #1). As house guitarist for Cameo-Parkway in Philadelphia he played on hit records by Chubby Checker, Dee Dee Sharp and Freddy Cannon. See his entry at IMDb for a list of his film and TV scores.
---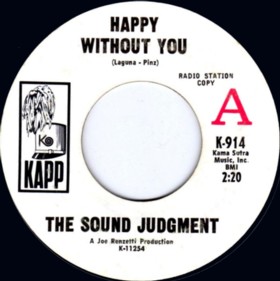 Lyricist Shelley Pinz (born Rochelle Pinz, aka Shelly) also wrote Green Tambourine and Rice Is Nice with Paul Leka for the Lemon Pipers on Buddah, the Kama Sutra label spin-off. (And let's not forget Jelly Jungle and Pink Lemonade!) Another song she wrote with Paul Leka is You Are The One I Love, recorded in the US by Adam's Apples and covered in Australia by The Groove.
Shelley Pinz (1944-2004) was introduced to songwriting, and to her collaborator Paul Leka, while she was still a student poet at Queens

College. She held a masters degree in social work from Adelphi University, and practised (as Rochelle Pinz) as a psychotherapist specialising in the use of poetry, music and art. In the late 90s she published Courage To Think, a book of poetry and lyrics. More on Shelley Pinz the psychotherapist and poet at HVTC Music [archived page]. Shelley Pinz tells of her early career as a songwriter, and the writing of Green Tambourine, at StocksandNews.com [archived page].
Happy Without You co-writer Kenny Laguna was also involved with the bubblegum movement at Buddah, where he wrote songs for Ohio Express and The Lemon Pipers. Another co-writer credit of his is for Groovin' With Mr Bloe. He later became a vital creative associate of Joan Jett.
The song, published by Kama Sutra publishing, has an alternative title, Baby I'm Happy Without You.
References, further reading:
1. Joe Renzetti's website at joerenzetti.net focuses on his more recent work, especially in the cinema. A brief career summary can be read here [archived page].
2. The Sound Judgment in 1968: "Extracurricular Activity", Philadelphia Daily News, February 9, 1968, p.22.
3. Profiles of Cody Marshall in Atlanta press 1976-1982:
(i) "This Is A Man On The Road To Bigtime; Will He Make It?", Atlanta Journal & Constitution, December 4, 1976, p.22-T;
(ii) "Shaking A Tom Jones Image", Atlanta Journal & Constitution, November 24, 1979, p.98;
(iii) "Cody Marshall figures it's time to test his caliber", Atlanta Journal & Constitution, February 13, 1982, p.86 [this extensive profile took up over two pages and rated a teaser above the front page masthead of the paper's weekend edition].
Thanks to Joe Renzetti, Margaret G. Still, Davie Gordon, and Ellen.