Matt Flinders - Picking Up Pebbles (1969)
Single on Astor produced by Ron Tudor. The B-side was Susan Walks Away, an original by Aussie songwriter Peter Best, also the B-side in the US (see below).
Matt Flinders: singer, bassist, band leader and TV entertainer, born in Egypt of French-Italian-British background, in Australia since 1951. Formerly known as Louis Bonett, his adopted name would sound familiar to most Australians through the name of the explorer and chartmaker Matthew Flinders (1774-1814).
References: 1. Jerden discography at Global Dog. 2. Matt Flinders by Matt Flinders [archived page]. 3. Australian sheet music listing (various online dealers).
Further reading: Matt Flinders at Wikipedia.
Thanks to Terry Stacey, and to Tony through The Originals Problemsolving Forum.
---
Released in the USA on Jerden label, Seattle, #J914, 1969. See Global Dog for an accurate Jerden discography. Other online Jerden discographies dating this record as 1967 are wrong. Australian Sheet music shows 1967, but this is the copyright date of the song.
---
Cornelia - Picking Up Pebbles (1968)
Single on RCA Victor late 1968 by Cornelia Muller, born in Hamburg, Germany in 1950, in South Africa since early childhood.
This was the #2 best-selling song in South Africa for 1968 (see South Africa's Rock Lists).
Also released in 1968 in the USA on RCA.
Further reading: Cornelia biography at reverbnation.com. (One point: Johnny Curtis-Bobby Kerr was from Glasgow, not an Australian. Regardless, some fitting words in tribute to him at that page.)
---
Johnny Curtis [Bobby Kerr] - Pickin' Up Pebbles (1968)
Single on Major Minor April 1968, the British label owned by pirate station Radio Caroline, set up in 1966 by Caroline board member Phil Solomon. Major Minor records were heavily plugged on Radio Caroline, often to the annoyance of its disc jockeys.
The song was copyrighted in 1967, according to the sheet music. In the US the copyright was registered to Robert Kerr in January 1969.
Produced by Nick Firth who also produced two earlier Johnny Curtis singles released on Parlophone: Our Love's Disintegrating / (I'd Be) A Legend In My Own Time (1966), and Jack In The Beanstalk / Go On Back (1967). Go On Back, a cover of a 1966 Dan Folger song, was also released in the US on Nashville label Hickory. Firth was London manager for Acuff-Rose, owner of Hickory (see below).
---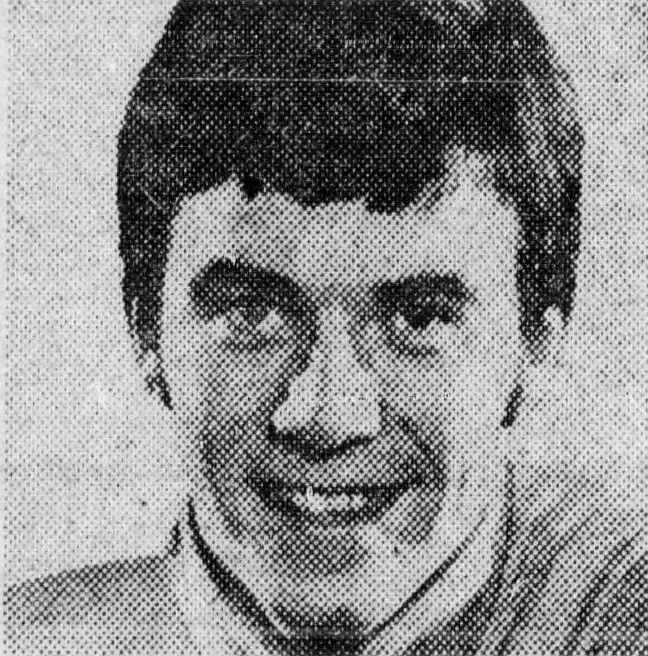 Johnny Curtis was the name used by Glasgow singer-songwriter Bobby Kerr (Robert Neil Kerr c.1947-1969) when he embarked on a solo career. When Picking Up Pebbles was released he was singing with BBC regulars Bob Miller And His Millermen, a position he held throughout 1968 until his death in February 1969.
Bobby had previously been one of the two lead singers of Glasgow band the Kinning Park Ramblers. The Ramblers' other singer was future Scottish soul star Maggie Bell.
Maggie Bell and Bobby Kerr released two singles as Frankie & Johnny (1966) including I'll Hold You which was taken up by Northern Soul fans and is now considered a British soul classic. [YouTube]. The duo wrote the song with a third writer credited as Patterson, probably Hugh Patterson who co-produced the duo's second single.*
After Bobby had left the duo for a solo career as Johnny Curtis, Maggie formed Stone The Crows with Leslie Harvey who had also been in The Kinning Park Ramblers.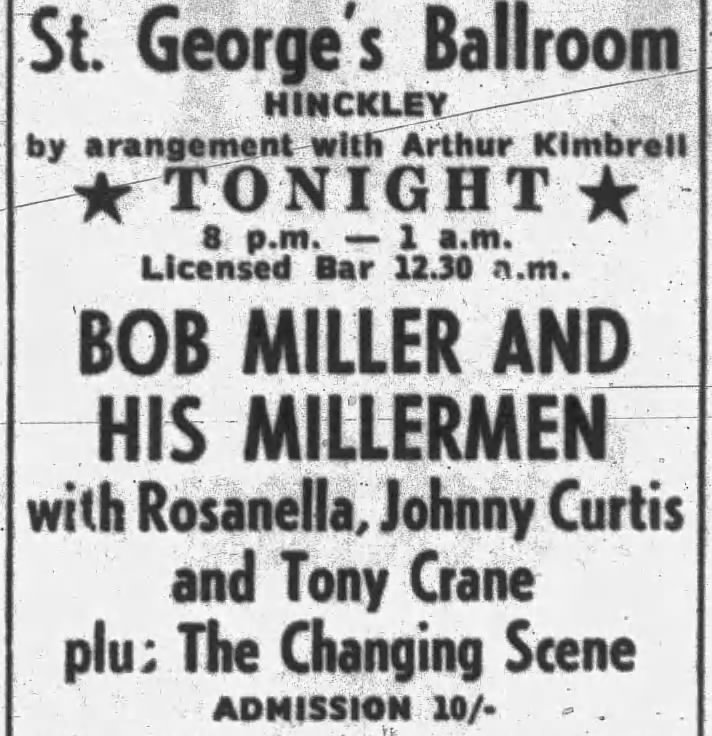 Bobby Kerr was returning from a gig in early February 1969 when he was killed, probably in a collision between his moped and a hit-and-run driver.
Selected references, further reading:
1. Frankie & Johnny entry in M.C. Strong, The great Scots musicography : the complete guide to Scotland's music makers (2002), p.149 [digitised book]
2. "Caledonia dreaming: Follow the sensational story of Scottish rock", The Herald (Glasgow), 15 July 2018 [limited free articles then paywalled].
3. Tragic news story in The Evening Standard (London), 1 February 1969, p.8.
4. Johnny Curtis's UK releases at 45Cat.com.
*Patterson, the third co-writer of I'll Hold You: The credits on one US pressing of I'll Hold You on Hickory shows G. Paterson but it gets Bobby Kerr's middle initial wrong so it's probably unreliable. Hugh Patterson who co-produced Frankie & Johnny's second single, was a songwriter, producer and a protégé of Mickie Most.
---
The producer of Pickin' Up Pebbles, Nick Firth, was the general manager in London of Acuff-Rose, the Nashville music publisher that also owned the Nashville record label Hickory. The musical director was Lew Warburton, credited on many British records as composer, conductor or arranger.
Following the launch of Acuff-Rose's London office in 1965, the company went into independent record production, with Nick Firth himself producing some British recordings of Acuff-Rose songs. These resulted in single releases by Mia Lewis and Jeff And Jon on Parlophone, The Cuppa T on Deram, The Art Movement on Decca, and Vincent Zarra on Columbia.
Nick Firth is the grandson of Louis Dreyfus, co-founder of Chappell & Co, Acuff-Rose's affiliate in the UK. He later became a prominent music publishing executive, notably as head of BMG Music Publishing Worldwide.
References, further reading:
1. Singles produced by Nick Firth, listed at 45Cat.com.
2. Billboard, 15 May 1965, "UK's Acuff-Rose Starts Rolling" and 27 April 1968, Acuff-Rose's Nick Firth produced current singles by the Art Movement, Cuppa T and Johnny Curtis.
3. Profile of Nick Firth (2002) from SongwriterUniverse [archived page] and Nicholas Firth entry at Wikipedia.
4. Major Minor Records entry at Wikipedia and Major Minor Records at IrishRock.org. (The label had an Irish owner and recorded a number of Irish artists, including The Dubliners.)
Thank you to Joop Jansen, Kees van der Hoeven, Brian Lee and snowiebowie.
Thanks to Jacqui for solving the mystery for me.
---
---
Pat Boone - Picking Up Pebbles (1970)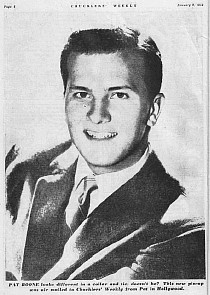 Single on Capitol YouTube by popular clean-cut 50s teen idol who had his first #1 hit in 1955 with a crooning version of Fats Domino's Ain't That A Shame. He finished his chart run in 1962 with Speedy Gonzales (#6 USA), his 38th Billboard Top 40 appearance, a cover of the more raucous original from the year before by David Dante, one of the song's writers.
Image: Pat Boone from Australia's Chuckler's Weekly: see my blog.
Further reading: 1. Label shot of German issue of the single at discogs.com. 2. Wikipedia's Pat Boone entry.
---
Val Ross - Pickin' Up Pebbles (2013)
2013 revival by a close friend of Johnny Curtis (Bobby Kerr), released as a YouTube presentation.
Further reading: Val Ross's commentary at her YouTube video. See also her website.
Thanks to Jacqui for leading me to Val's YouTube video.
---
Carmen Silva - Adeus Solidao (1969)
Portuguese-language version of Picking Up Pebbles (Adeus Solidão = Goodbye Loneliness).
Single on RCA Victor. Charted in 1970. This release from Portugal is on a 1969 EP.
Adeus Solidão was a breakthrough in the career of popular Brazilian singer Carmen Silva (1945-2016) after she won a major Brazilian TV contest Um Cantor por um Milhão, um Milhão por uma Canção ("A Singer for a Million, a Million for a Song").
Still a fondly remembered song in Brazil, going by the number of comments in Portuguese under the Matt Flinders version at YouTube.
Further reading: Carmen Silva at Portuguese Wikipedia.
Disambiguation: This is not the Brazilian actress Carmen Silva, aka Carmem Silva, who died in 2008 at the age of 92.
---
#1 Brazil? Seems likely. I don't have weekly chart runs for Brazil but Billboard has this at #1 in Sao Paulo and #4 in Rio de Janeiro in its edition of 1 August 1970. Playback.fm has it at #39 in Brazil for 1970 and it made their 1971 chart as well.
---
Chitãozinho & Xororó - Adeus Solidao (1988)
On Copacabana album Nossas Canções Preferidas by successful Brazilian duo Chitãozinho & Xororó, formed in 1969 by brothers José De Lima Sobrinho and Durval De Lima from the small inland city of Astorga, west of São Paulo. They are exponents of sertanejo, Brazil's favourite popular music style. .
This is the Portuguese-language version recorded earlier by Carmen Silva (1969) with words by Newton Miranda.
Source: Chitãozinho & Xororó page at Discogs.com.
Further reading: Chitãozinho & Xororó at Wikipedia.