Roosevelt Grier - Fool, Fool, Fool (1964)
Single on RIC, April 1964, also on the album Soul City, released around February 1965 [Billboard], produced by Bobby Darin and arranged by Jack Nitzsche. Two of the songs on the album were written by Darin.
Roosevelt Grier (b.1932): American football star better known as 'Rosey' Grier whose recording career began with A Records in 1960. He recorded for several labels throughout the 60s and into the 70s, but he also diversified into acting and sewing crafts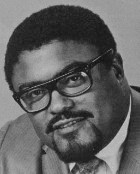 (he published Rosey Grier's Needlepoint for Men in 1973).
Grier worked as a bodyguard for Robert Kennedy and is known for subduing and disarming Kennedy's assassin in 1968. He was ordained as a minister in the 80s.
He has been in many TV series over the years, including appearances as himself in The Larry Sanders Show (1998) and The Simpsons (1999).
---
The writer
Rudy Clark (b.1935) was an associate of Bobby Darin, the producer of Roosevelt Grier's Soul City. Darin owned Trio Music, the company that published Fool, Fool, Fool.
Clark's compositions include The Shoop Shoop Song (It's In His Kiss) (Betty Everett and others), Good Lovin' (The Young Rascals, The Olympics) and James Ray's I've Got My Mind Set On You, best known through George Harrison's version, Got My Mind Set On You.
---
Thanks to Walter for helping to nail this one.
Essential viewing: Roosevelt Grier sings 'Fool, Fool, Fool' on Bandstand, June 1964, with interview by Dick Clark at the end. Click PLAY button above or go to YouTube.
References, further reading: 1. Roosevelt Grier entry at All Music Guide. 2. Roosevelt Grier article at Wikipedia is good on Grier's careers in football and TV other areas, not so much on the music. 3 Rosey Grier's filmography at IMDb. 4. Bobby Darin Produces Roosevelt Grier's Album at bobbydarin.net 5. Rudy Clark: There's not much about him online. Try Discogs.com (brief bio and a long discography), Wikipedia (brief page with some good details) and Songwriters Hall of Fame (one paragraph for an apparently unsuccessful nomination).
The Clovers - Fool, Fool, Fool (1951)

SAME TITLE BUT NOT THE SAME SONG AS
'FOOL, FOOL, FOOL' BY RAY BROWN & THE WHISPERS.
Also recorded by Kay Starr (USA 1952), Wilma Reading (Australia 1960) and by Elvis Presley at Sun Records.
Joey & The Flips - Fool, Fool, Fool (1964)
Single on Cameo, June 1964 by Philadelphia doo-wop group led by Joey Hall, best remembered for Bongo Stomp (1962, #33 USA). Also known as Little Joey & The Flips
Further reading: 1. Little Joey & The Flips biography at All Music. 2. Photo, personnel and discography at Doo-wop Groups and Discography.
Thanks to Phil Chapman.
The A-Cads - Fool, Fool, Fool (1965)
Single on RCA Victor (SA) YouTube, the band's follow-up to their #1 hit Hungry For Love.
Johannesburg band formed 1965 who had an impact on South African music comparable to that of The Easybeats in Australia (see Beat Merchants and the Underground Legends at SA's Rock Legends).
There is an official A-Cads site that includes discography, biography and a family tree of group membership.
Thanks to Tertius Loew.