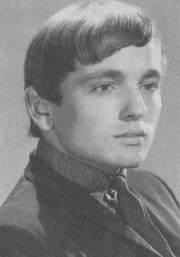 Vocal version, solo release by British-born Brisbane singer who had recorded with The Fabulous Blue Jays from 1964.
♫ Listen at YouTube
The lyrics are by Dorothy Dodd, first recorded by Bruce Gillespie (see below).
See also Missing You, Just A Little Bit and Dance With A Dolly.
Further reading: 1. Tony Worsley & The Fabulous Blue Jays at Milesago. 2. David Kilby interviews Tony Worsley on ABC Radio,1999 , transcript at Milesago.
---
Bruce Gillespie - Velvet Waters (1960)

Velvet Waters, first recorded as an instrumental by The Megatrons (1959), may be better known in Australia as a song by Tony Worsley (1965) with words by the Australian lyricist Dorothy Dodd. The lyrics were written for Bruce Gillespie who recorded them first, in 1960.
♫ Listen at YouTube
---
Dorothy Dodd's lyrics
Bruce Gillespie and his manager Lyall Richardson had unsuccessfully sought lyrics to The Megatrons' Velvet Waters when Sydney disc jockey John Laws was playing it as a background theme on 2UE. After contacting Laws and finding that the tune was available only as an instrumental, they went to Jack Argent at music publishers Southern Music, taking with them an acetate of the Megatrons track acquired from Laws.
As a result, Dorothy Dodd was commissioned by Southern Music to write the lyrics for Gillespie's Velvet Waters. Dodd is best known for writing the standard English lyrics to Granada, recorded by Frank Sinatra, Bing Crosby and Frankie Laine, among others.
---
Gillespie's recording was made independently in Sydney and released by HMV, one of several record companies that were approached. Personnel on the session – mainly Sydney jazz musicians – included Mike Nock (piano), Peter Beasley (guitar), Freddie Logan (bass), Chris Karan (drums, later with The Dudley Moore Trio), and Abe Jensen (vibes). Vocal group The Delltones were paid £5:00 each for the session. ("Just pay us; don't put our name on it," said one Delltone.)
The B-side of Velvet Waters was Teen Age Love, Gillespie's only songwriting credit (an unidentified Maurice is credited as co-writer), but it seems that all the loving care went into the A-side.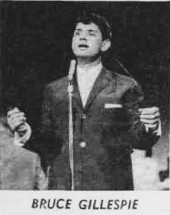 Bruce Gillespie (b.1941), an Anglo-Indian, came to Australia from Mount Abu in northwestern India when he was fourteen. He started singing as a teenager with dance bands in his home city of Melbourne, at venues such as the Coburg Town Hall. This was in the late 1950s, the era of the 60-40, a variety dance program that mixed old-time with current dance styles.
Gillespie left home for Brisbane to appear in the Theatre Royal's variety shows, then Sydney where he was contracted by Sammy Lee to appear at his Latin Quarter nightclub in Pitt Street.
At this time, Gillespie also appeared on TV music shows, mainly on Johnny O'Keefe's Six O'Clock Rock but also on Bandstand and Teen Time. Because of his voice and appearance, Gillespie was often asked to sing current hits by such black American stars as Sam Cooke and Brook Benton.
He released a further single on HMV, In All The World / Look Over The Hill (1960). He then recorded two singles in Melbourne under the direction of Bruce Clarke at W&G: Jenny, Oh Jenny / They Really Don't Know You (1960) and M'magine Me Thinking / Two By Two (1960).
Bruce Gillespie made no further recordings, but he built a succesful career as a club singer in Australia, Southeast Asia and the Pacific, including five years based in the Phillipines. In 1978 he left music for other business pursuits, and by the early 2010s he was living in retirement in Queensland.
At YouTube: Bruce Gillespie sings Look Over The Hill on Six O'Clock Rock, 1960, introduced by Johnny O'Keefe.
References: 1. Bruce Gillespie, conversation with me, June 2011. 2. Singles discography in ScreenSound Australia's First Wave.
Further reading: 1. Profile of Bruce Gillespie in Australian Women's Weekly's "Teenagers' Weekly" pages in 1960 [Trove archive]. 2. The story of Dorothy Dodd's 'Granada' lyrics, Sydney Morning Herald column by Tony Withers from 1961 [Google News Archive]. 3. Dorothy Dodd, article at Wikipedia, has some interesting links to further reading..
Thanks to Bruce Gillespie.
---
The Megatrons - Velvet Waters (1959)
Single on Acousticon March 1959, then on Audicon in May when the label changed its name. It was also released on Laurie for distribution purposes. Laurie reissued it in 1965.
Released in New Zealand on Top Rank, but not released in Australia.
---
Instrumental by New York studio band, one of whose members was William Plunkett, composer of Velvet Waters. Jazz saxophonist and session musician Heywood Henry is credited on the single for his clarinet solo, and may have been responsible for the session.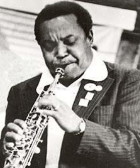 Heywood Henry (1913-1994, full name Frank Haywood Henry, aka Haywood Henry or Frank Henry) was a member of The Erskine Hawkins Orchestra from the 1930s through to the 50s, and sometimes substituted in the Duke Ellington Orchestra. He became an active session man from the 50s, and played on numerous rock, pop and jazz records. See the entry at AllMusic Guide where Scott Yarrow calls him "one of the finest baritone saxophonists of the swing era". He played, for example, on sessions for Aretha Franklin, Ray Charles, Billy Holiday, Big Maybelle, James Brown, Screamin' Jay Hawkins, and Mickey Baker of Mickey & Sylvia.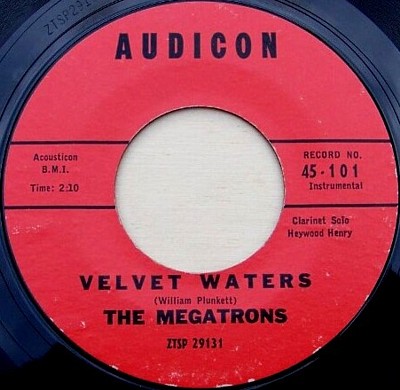 Mike Rashkow, producer and songwriter recalls: Henry was a regular first, second or third call Baritone Sax man during my few years in the NYC studios… I saw him on a lot of dates – low key guy, very professional. (Spectropop, 25 Sept 2004.)
Sylvia of Mickey & Sylvia recorded with the Heywood Henry Orchestra in 1951 as Little Sylvia: see label shot at Brian Lee's Mickey & Sylvia page.
Although the Megatrons record wasn't released here, it was played on Australian radio.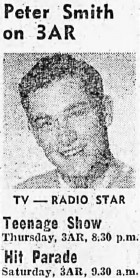 John Laws on Sydney station 2UE used it as a theme, as did Melbourne disc jockey Peter Smith on his ABC Radio show Hit Parade on 3AR. As it played, Smith would mischievously remind his listeners that they couldn't buy the record locally. (This is Pete Smith who went on to be a star of commercial TV on the Nine Network.)
Although Australians could not buy the Megatrons' record, a New Zealand version by Garth Young & Trio worked as a substitute for some fans in Adelaide where it charted modestly (see above).
---
From Melbourne, Bruce R. Gillespie adds:
Gerald Murnane, Australian writer, wrote his story "Velvet Waters", the lead story in his 1990 collection "Velvet Waters", based on a memory of hearing the Megatrons version of the tune played continually over the loudspeakers at a beach resort in the early sixties. This was the year when Stan Rofe and Keith Livingstone played it as a continual theme during their summer program on [Melbourne radio station] 3KZ, when they DJed all day every day for several weeks.
– Bruce R. Gillespie, editor of Scratch Pad at eFanzines.com (not Bruce Gillespie the singer)

---
References: 1. Frank Haywood Henry at Discogs.com. 2. Haywood Henry biography at All Music Guide.
Thanks to Tony Watson, Mike Rashkow, Country Paul and Bruce R. Gillespie for additional information.
Label shot by Richard Coffelt.
---
Garth Young & Trio - Velvet Waters (1959)
Single on Viking (NZ) and on Teen (Australia) by trio led by Wellington-based jazz pianist Garth Young. This follows the original Megatrons arrangement but with Young's piano nicely replacing the clarinet.
♫ Listen at YouTube
---
Verrill Keene - Velvet Waters (1969)
Single on Show Town with the clarinet of renowned record producer and owner of Del-Fi records Bob Keene (more often spelt Keane). His full birth name was Robert Verrill Kuhn (1922-2009).
♫ Listen at YouTube
References, further reading: Bob Keane biographies at All Music and Wikipedia.
---
---
---
Howard Morrison Quartet - Velvet Waters (1963)
Single on La Gloria, B-side of Gypsy Caravan, by distinguished Rotorua-born singer-entertainer Howard Morrison and his popular quartet, formed as the Ohinemutu Quartet in the mid-50s. Sir Howard (1935-2009) was knighted in the 1990 Queens Birthday Honours list.
♫ Listen at YouTube
Further reading: Howard Morrison Profile at Audio Culture.
---
Col Nolan & The Soul Syndicate - Velvet Waters (1966)
On CBS album Crazy Crotchet, produced by Sven Libaek.
Col Nolan: known as the Grandfather of Hammond on the Sydney scene [and] arguably Australia's hardest swinging jazz pianist. (Australian Jazz Real Book).
Further reading: 1. Five Hammond Hits Featuring Col Nolan (inc. Crazy Crotchet) at Sonic Archaeology (tribute upon Col Nolan's death, June 2019). 2 Col Nolan at Australian Jazz Real Book. 3. Col Nolan – Sydney's answer to Jimmy McGriff! at the Aussie Funk blog. 4. Videos of Col Nolan & Soul Syndicate at YouTube (no 'Velvet Waters, though).
---
Allan Gardiner & His Accordion Band - Velvet Waters [medley with The Carnival Is Over and Arriverderci Roma]
c.1966
Old-time dance version on Favourite Pops! one of a series of LPs with arrangements of well-known songs.
Allan Gardiner was from Blenheim in the Marlborough region. He set up the original NZ Modern School of Music in Blenheim in 1952. He also released a 33⅓ LP album in 1952, quite early in the history of the format introduced in 1948.
♫ Listen at YouTube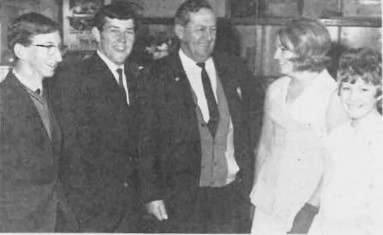 "Off to Wellington again for another L.P. is the Allan Gardiner accordion band. This was the 11th record Mr Gardiner has made.[Mr Gardiner, centre]" – The Marlborough Pictorial, December 1968, from facsimile at Marlborough Museum, Blenheim, with permission.
Further reading: Alan Gardiner LP from 1952 at Marlborough Museum