The Valentines - My Old Man's A Groovy Old Man (1969)
Single on Phillips, February 1969, B-side of Ebeneezer.
Formed in 1966, The Valentines were a popular Perth band favouring soul and British mod sounds. They had a local hit with Arthur Alexander's Every Day I Have To Cry (1967, #4 Perth). In 1967 they went to the national finals of Hoadleys' Battle of the Sounds in Melbourne (The Groop won) and moved there later in the year. They eventually became national teenybopper idols after the success of My Old Man's A Groovy Old Man. In a similar vein, Nick Nack Paddy Wack followed later in 1969 (#33 Melbourne, #20 Brisbane, #8 Adelaide).
The band featured notable co-lead vocalists: Bon Scott (1946-1980), later famous as AC/DC's lead singer from 1974, and Vince Lovegrove (1947-2012), journalist, TV presenter, booking agent and film maker.
---
The Valentines also recorded the Vanda & Young compositions She Said (1967, #24 Perth: see the B-side To Know You Is To Love You) and Peculiar Hole In The Sky (1968: see the A-side, Love Makes Sweet Music).
---
Reference: Ian McFarlane, Encyclopedia of Australian Rock & Pop (1999), pp.660-661
The Rag Dolls - My Old Man's A Groovy Old Man (1968)
Disambigution: These British Rag Dolls are not the American girl-group The Rag Dolls (lead singer Jean Thomas) who recorded with Bob Crewe 1964-65, notably on a couple of answer songs to Four Seasons tracks: Dusty (from Dawn) and Society's Girl (from Rag Doll). Easy to spot the British Rag Dolls: they have a bloke singing lead. (Record Mirror 6 June 1973 p.8 wrongly places Katie in the US group, just one example of the confusion.)
Other examples of groups called The Rag Dolls will appear in search results: here's one from 2015.
---
Single on Columbia, March 1968.
Although the Easybeats recorded it earlier (see below) this was the first released version of the song.
London group The Rag Dolls included Ealing singer Katie Kissoon (b.1951, aka Kathy), but sources disagree about whether Kate's brother Mac Kissoon (b.1943) was also in The Rag Dolls. In mid-70s profiles, the narrative is that while Katie was in The Rag Dolls, Mac was working in clubs and cabaret, before they got together as a successful duo. Still, My Old Man does have a male on lead vocals. See clippings here (1975) and here (1976) and list of conflicting sources below.
The Kissoons' real surname is Farthing. They are the children of Trinidadian parents who migrated to the UK early in the 60s. Both Katie and Mac Kissoon have had long and successful careers in music, in their own names and in sessions and concerts for other artists.
In the mid-60s Mac and Katie were both in The Marionettes, a quartet that released a number of singles on Decca (produced by Marty Wilde) and Parlophone (1965-66). Around this time Katie also recorded as Peanut and later under her own name.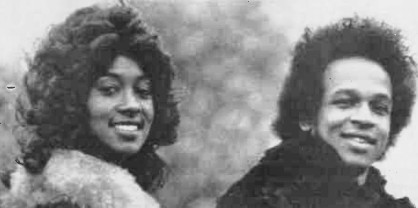 Success came when the siblings recorded as a duo. Mac & Katie Kissoon charted in the USA with their version of Chirpy Chirpy Cheep Cheep (1971, #20 USA, #41 UK). They had four charting records in the UK including Sugar Candy Kisses (1975, # 3 UK) and charted several times in Europe, including #1 hits in Belgium, The Netherlands and Sweden.
Mac also recorded solo from the 60s to the 80s, sometimes varying his name as Mack Kissoon or McFarthing Kissoon, and had solo hits in The Netherlands. In 1981 a single was released by Mac Kissoon And Family (Mac, Katie, Mother And Kids).
They are less well known in Australia, although one of their singles charted here. Pigeon (1975, #17 Adelaide) was written by British team Guy Fletcher and Australian-born Doug Flett (see Wind And Rain and Scratchin' Ma Head).
Both Kissoons sang with James Last beginning in the 80s, and Katie's sessions have been for such notable artists as Van Morrison, George Harrison and Elton John.
---
Conflicting sources about whether both the Kissoons or Katie alone were in The Rag Dolls:
• Wikipedia: Mac and Katie Kissoon: Katie… was later a member of the Rag Dolls
• Joynson's Tapestry of Delights (1996 edition): vocal group (that) included Katie Kissoon
• 45cat: The Rag Dolls [UK]… Including Mac And Katie Kissoon
• Apple Music: The siblings were later part of The Rag Dolls
Further reading: Of the sources linked above, Wikipedia is most comprehensive (although tagged for poor references), while Apple Music is the most succinct and gives a convincing overview. The Tapestry of Delights is first rate, but I have access only to the 1996 edition and it's been updated since then. See also: Discogs.com's brief but useful pages on Mac and on Katie; and the All Music lists of Katie's and Mac's impressive recording credits. Searching the archived UK Music magazines at World Radio History reveals such gems as He's Not Hubby He's My Brother, a May 1975 profile of Katie Kissoon from Record Mirror.
---
Arranged and conducted by Tony Meehan (1943-2005) who had quit as The Shadows' drummer in 1961 and started a long career as a producer and arranger. He also played on other people's records and had three Top 5 British instrumental hits in 1963 with bassist Jet Harris, his former bandmate from The Shadows' rhythm section. Meehan's credits include Louise Cordet's 1963 UK #13 I'm Just a Baby, and her charming up-tempo version of Don't Let The Sun Catch You Crying YouTube, released a few months before the hit version by the writers of the song, Gerry & The Pacemakers. Meehan produced and arranged all three of the 1963 Jet Harris & Tony Meehan hits, Diamonds (#1 UK), Scarlett O'Hara (#2) and Applejack (#5). The extent of his talents can be seen in the liner notes for Tim Hardin's 1973 album Painted Head, where he is credited for six instruments, production, and arrangements for brass, strings, woodwind and choir.
Further reading on Tony Meehan: Biography by Bruce Eder at All Music.
The Easybeats - My Old Man's A Groovy Old Man (1969)
Recorded 1967, released October 1969 on The Best of The Easybeats Volume 2.
The Easybeats recorded My Old Man's A Groovy Old Man during 1967 sessions for a planned album, never released, which would have been the band's second album. Some other songs from the scrapped album later turned up on Vigil (1968), and on the compilation The Shame Just Drained (1977), but My Old Man's A Groovy Old Man was on The Best of The Easybeats Volume 2 (1969).
Source: Wikipedia's article on Vigil has this information in one handy place. See the section Scrapped 2nd album for United Artist Records). It cites John Tait's Vanda & Young: Inside Australia's Hit Factory (2010).