Colin Cook - Well, Don't You Know (1965)
Single on W&G by Melbourne singer-saxophonist who had been in The Sapphires and The Thunderbirds before going solo.
Colin Cook was on the Melbourne charts seven times 1963-66, notably with It's Up To You (#9 1963, the Ricky Nelson hit), the Mann-Weil song Heart (#8 1964), and Blue Ribbon Baby (#15 1965), all on W&G. He recorded with The Strangers at W&G, including on the LP Colin Cook and the Strangers (1964). His last single on the Melbourne charts was Pocketful Of Rainbows on Clarion in 1967.
From the late 60s until the early 80s Colin Cook worked variously in the UK, including time in the London casts of Hair and Jesus Christ Superstar and in The Jealous Guys, a band largely made up of Australian expats.
Reference: Ian McFarlane, Encyclopedia of Australian Rock & Pop.
Thanks to Terry Stacey for suggestion and version search. This one was a ripper!
---
Robin Luke - Well Oh, Well Oh (Don't You Know) (1960)
Single on Dot, May 1960.
Robin Luke (b. Los Angeles 1942) was in his mid-teens when he wrote his only hit, Susie Darling (1959 #5 USA), dedicated to his younger sister and recorded in Hawaii where his family was stationed at the time.
After music, Robin Luke followed a career as an academic in Business Administration, eventually becoming head of Marketing and Quantitative Analysis at Missouri State University.
References: 1. Biography at RobinLuke.com. 2. Story on Dr Robin Luke (2006) from Missouri State University's website [archived page].
---
Crash Craddock - Well, Don't You Know (1960)
Single on Australian label Coronet, released April 1960, by American pop-rock singer who at this stage of his career was a success in Australia but not in the US.
Crash Craddock was groomed by Columbia as a would-be teen pop idol, but although he had some hits in Australia, he never made the US charts. He abandoned music for a few years in the 60s before re-emerging as a successful country artist. As Billy 'Crash' Craddock, he had three #1 Billboard country hits in the 70s, including two that crossed over to the Top 40.
Well, Don't You Know was recorded in Nashville in August 1959 at the same session as Crash Craddock's Boom Boom Baby, a big hit in Australia that didn't chart in the US. Well, Don't You Know remained unreleased at the time in the US but was released in Australia (and in NZ) following the success of Boom Boom Baby.
References: 1. Session details from In The Can [archived page]. 2. Billy 'Crash' Craddock biography at All Music.
---
Eddie Howell With Ben Tawhiti And The Matonaires - Well, Don't You Know (1960)
Eddie Howell was from Whakatane on New Zealand's North Island. After a time on the family farm he tried his luck as a musician in Auckland where he became popular at local venues. He cut several singles for Zodiac including an EP, Introducing Mister Excitement. According to Adam Gifford at AudioCulture, Howell was a substantial and quite incendiary live drawcard, filling halls and clubs. He was active from 1959 to 1961 when he quit the music business for good and went back to Whakatane.
Guitarist Ben Tawhiti (1934-2012) grew up in a musical family on Matakana Island in the Bay of Plenty. He picked up the steel guitar when he was still in primary school, and began performing at local dances in the 1940s. During a long career he played in several groups including the Ben Tawhiti Quartet and – for many years – the Mariners Showband. He backed many artists as a session guitarist, and is particularly remembered for his guitar on Haka Boogie by Morgan Clarke With Benny's Five (1957; YouTube):
Sources, recommended reading: I am indebted to these excellent pages at AudioCulture which deserve to be read in full: 1. Eddie Howell page by Adam Gifford. 2. Ben Tawhiti page which draws on Suzanne Ormsby's MA thesis on Maori music of the 1960s. Both pages feature brilliant collections of images.
See also this page, where guitarist Buddy Williams recalls playing in various settings with Ben Tawhiti over several decades, notably in the long-lasting Mariners Showband.
---
George Weston - Well, Don't You Know (1958)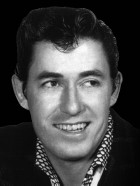 Single on Jackpot. The title is Well Don't You Know, without the comma that was added on later versions.
George Weston (1931-2006) was a singer-songwriter from Southern California. He was born in Los Angeles but lived most of his life at Littlerock, in the Antelope Valley near Palmdale, about 100 miles south-east of Bakersfield and 60 miles north of Los Angeles.
Weston released at least eight singles: one record on the Bakersfield label Tally (1958), three on Hollywood label Jackpot and its parent label Challenge (1958-60), and two on Glenn (1964-65), a local label in Palmdale where he worked for his friend Glen MacArthur.
Merrell Fankhauser, the cult surf instrumentalist of The Impacts and other bands, recalls meeting Weston and seeing him in the control room at Glenn in the mid-60s. Fankhauser's band Merrell And The Exiles recorded a George Weston composition at Glenn, 13th Child, which was unreleased at the time.
Although never a household name, George Weston was by all accounts a prolific and talented singer, guitarist and songwriter who wrote or co-wrote all of the songs he recorded.
References: 1. George Weston's daughter Carla has led a revival of interest in his career. See "Remembering George…", Auburn Citizen, Nov 3 2013. 2. A George Weston tribute site appears to be offline (2019) but can be accessed at the Internet Archive. 3. Brian Lee's page at ColorRadio.com has comprehensive label shots and commentary on the label and its artists, including George Weston. 4. Rockin' Country Style has details, with audio and label shots, of selected Jackpot label releases, including four tracks by George Weston.
Essential reading: Memories of George Weston by fellow musician William (Pat) Patterson, plus a song list with mp3s.
Thanks to Carla Weston Skaggs.