The Groove - You Are The One I Love (1968)
Single on Columbia, October or November 1968 (charted in November).
Soul-oriented band formed in Melbourne in 1967. The Groove was something of a supergroup, its members having worked with The Clefs (Tweed Harris), Max Merritt & the Meteors (Peter Williams), The Librettos and The Playboys (Rod Stone), Black Pearls and Running Jumping Standing Still (Jamie Byrne), and Steve & the Board (Geoff Bridgford).
See also Soothe Me, Simon Says and What Is Soul.
Further reading: 1. For a thorough account of The Groove, see Paul Culnane's article at Milesago which draws on the recollections of Groove guitarist Rod Stone. 2. Wikepedia entry on The Groove.
Harlem Jonns Reshuffle - You Are The One I Love (1968)
Single on Fontana, September 1968, produced by Irving Martin.
Harlem Jonns Reshuffle was active around the western Lancashire area in the late 60s and released two singles and an album. Most of the band had been in TNT & The Dynamites.
"Harlem Jonns" was lead singer Stuart Widdall who later fronted Manchester's Soul Brothers Band into the 2000s.
Reference: Harlem Jonns Reshuffle at Manchester Beat.
Further reading: 1. Irving Martin Productions page by Martin Roberts. 2. The Soul Brothers Band website is defunct but archived here.
Thanks to Rod Stone of The Groove for the version alert.
Adam's Apples - You Are The One I Love (1968)
Listen: Adams Apples – You Are The One I Love.mp3
Single by New Brunswick NJ group on Chicago-based label Brunswick, until 1970 a subsidiary of New York label Decca which in the late 50s had revived the old Brunswick label name.
March 1968, B-side of A Stop Along The Way.
Produced by co-writer Paul Leka and Mike Jacobs, with arranging and conducting by Leka. Later in the year Leka rearranged the song and produced it for The Leaders on Blue Rock (see below).
More recently, You Are The One I Love and another Adam's Apples single, Don't Take It Out On This World, have been anthologised under the Northern Soul umbrella.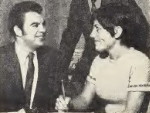 The songwriters Shelley Pinz (born Rochelle Pinz, aka Shelly) and Paul Leka also wrote The Lemon Pipers' hits Green Tambourine and Rice Is Nice, and Shelley Pinz co-wrote The Strangers' Happy Without You.
Shelley Pinz (1944-2004) was introduced to songwriting, and to her collaborator Paul Leka, while she was still a student poet at Queens College. She held a masters degree in social work from Adelphi University, and practised (as Rochelle Pinz) as a psychotherapist specialising in the use of poetry, music and art. In the late 90s she published Courage To Think, a book of poetry and lyrics.
References: 1. Brunswick history and album discography at Both Sides Now. 2. This 2016-18 discussion at soul-source.co.uk establishes that Adam's Apples was more than just a studio group.
Further reading: Shelley Pinz at PopArchives: The Blog. More on Shelley Pinz the psychotherapist and poet at HVTC Music [archived page]. Shelley Pinz tells of her early career as a songwriter, and the writing of Green Tambourine, at StocksandNews.com [archived page].
Thanks to Davie Gordon, Rod Stone and mp3z2cd, also to Ellen for further background on Shelley Pinz.
---
A number of soul artists were recording on Brunswick at this time with Carl Davis as A&R man and producer. Jackie Wilson, Brunswick's star since the late 50s, had a late career hit with (Your Love Keeps Lifting Me) Higher And Higher (1967, #6 USA), produced by Davis.
In 1966… the label hired Davis as A&R director. Brunswick [was] one of the most successful independent r&b companies of the 1970s. With such artists as the Chi-lites, Tyrone Davis, Gene Chandler, and Barbara Acklin, the company sustained Chicago as a center of black popular music. The key to Brunswick's success… was Carl Davis.
Robert Pruter, Chicago Soul (1991), p.264
[Google Books]
The Leaders - You Are The One I Love (1968)
Single on Chicago soul label Blue Rock, a subsidiary of Mercury Records, December 1968 (a bit later than The Groove's version).
B-side of It's Funny How Fast You Forget Me, .
Produced and arranged by co-writer Paul Leka. The arrangement differs from the one Leka did for Adams Apples' March 1968 version (see above).
Discogs.com has The Leaders as an alias of Adam's Apples but I can't find any other details.
Further reading: Blue Rock label history in Robert Pruter, Chicago Soul (1991) pp. 294-295 [Google Books view].