---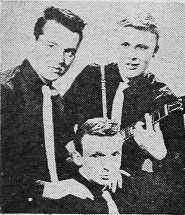 Three recordings of So Tough were released in the US 1957-58 but it was never a big hit and the artists remained obscure.
In Australia, Johnny O'Keefe made it his own. His July 1958 version was a hit, and one of his greatest records. It sounds as if it were written for him, a perfect match of song and singer.
If all four versions are still worth a listen today, it's down in no small part to the composer Gary Mears, lead singer on the original version by Dallas vocal group The Casuals in October 1957.
The subsequent history of So Tough isn't straightforward. The Casuals soon re-released their original as The Original Casuals, and around the same time there were versions by The Kuf-linx and The Cufflinx, not to be confused with their contemporaries The Cuff Links (aka The Cufflinks) who never recorded So Tough. And if a song called Tracey from 1969 comes to mind, those Cuff Links are something altogether different.
At my page on So Tough I have boiled it down to a few paragraphs, with links to the real experts if you want to dig more deeply.
---