---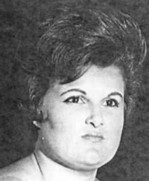 Little Pattie's Australian version of Little Things Like That opened Side 2 of her 1967 album Little Things Like This. Not only did this boost the song's prominence, it also meant that the wording on the Side 2 label went like this:
2 LITTLE THINGS LIKE THIS
1: LITTLE THINGS LIKE THAT.
By this time, the song had been recorded by at least four other singers. Another Australian singer, Donna Gaye, had already released it in 1966 as a follow-up single to her minor novelty hit Norman-"Normie".
One of the earlier versions was by Linda Lloyd (1966), an obscurity to most of us, but known in her hometown of Pensecola FA and possibly in Dallas, where she had a day job for a while before moving to Hollywood and releasing three singles on Columbia 1964-66. I have found no obvious trace of her after that.
Suzy Wallis, who also released Little Things Like That (December 1965), was no obscurity in St Louis MO where she hosted Suzy's Playroom on local TV at the age of 10. Her version of Little Things Like That was arranged by David Gates, not yet in Bread but still working on a body of mostly obscure recordings that are treasured by aficionadoes of the era.
The original version of Little Things Like That (November 1965) is by Texan singer Barbara Mills on Nashville label Hickory. It was produced by her brother Larry Henley, well-known as the falsetto lead singer of The Newbeats and as co-writer of The Wind Beneath My Winds. It isn't on YouTube or any streaming service that I use, but it is on a recent CD from Teensville.
Another Barbara Mills song, Queen of Fools (1965), has become much better known and easy to find. For this we can thank Northern Soul, that British music and dance movement renowned for its boosting of obscure records.
---