---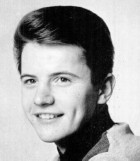 A sensational young star is born with a smashing debut single read the Billboard display ad when 17-year-old Arnie Corrado released his first record in 1966.
His singles on Date and its parent Columbia 1966-67 carried some notable credits. Four Seasons arranger Charlie Calello arranged six sides, and produced five of them. The writers include Toni Wine, Carol Bayer-Sager, Artie Resnick, and Joey Levine.
None of these records made Arnie a household name. I recommend How Many Times (Will I Send You Kisses), a great song with a strong performance by Arnie, and terrific orchestration and pop production values thanks to Calello. Maybe it was a little old-school for 1966, but I love it all the same. It's at YouTube.
Arnie next appeared on Mercury, with his name tweaked to Bobby Corrado. The record is I Can't Get Sunday Out Of My Mind (1969), and the writers are Alan Bernstein & Victor Millrose who wrote Gary Puckett's hit This Girl Is A Woman Now.
Again, no hit, but Arnie aka Bobby released the track again the following year on Capitol, this time using the name Chris Holland (1970).
The song also earns Arnie an inconspicuous footnote in Australasian pop history, because I Can't Get Sunday Out Of My Mind became known down here thanks to versions by NZ band Chapta (1972), and by Rod Kirkham for a modest Australian hit (1973).
There was one more Chris Holland single, with T-Bone, on Motown's Rare Earth label (1972). After that, Arnie Corrado returned to work with his dad Ralph in his famous Rosie's Diner in Little Ferry, New Jersey, so renamed after Nancy Walker was filmed there as Rosie the Waitress in a series of TV ads for Bounty paper towels.
The diner has a rich history of its own, well documented in newspaper archives and by diner aficionados, and Arnie is often mentioned.
---