Parachute Express - Dance Puppet Dance (1991)

Same title but not the same song as 'Dance Puppet Dance' by Little Pattie.
On 1991 album Feel The Music, for children, on Disney label.
Dave Duggan - Dance Puppet Dance (1963)
Single on Columbia #7040, with Geoff Love And His Orchestra. B-side: Just One More Dance (wr. Pilgrim).
Audio: Dave Duggan – Dance Puppet Dance.mp3
or
♫ Listen at YouTube
---
Details of Dave Duggan (born c.1942) are maddeningly elusive, and the large number of Dave Duggans to be discovered online is no help.
Four archival sightings: 1. A columnist in a Nottingham paper (possibly syndicated) reviews Dance Puppet Dance favourably and takes two paragraphs to tell us that Dave Duggan used to do body-building (clip below). Nuffink else much! 2. Dave Duggan sang on ITV's Bristol-produced Discs a Go-Go on 1 July 1963 (Season 4, Episode 26). 3. Alan Freeman played Dance Puppet Dance on the BBC's Light Programme, 12 May 1963. 4. An ad for Dance Puppet Dance in Pop Weekly has a severely cropped photo of Dave (above).
Dance Puppet Dance was reviewed in Record Mirror, 18 May 1963, p.9, Pop Weekly 18 May 1963 (np), and NME 17 May 1963 (link to index only). It was mentioned in Cash Box 11 May 1963.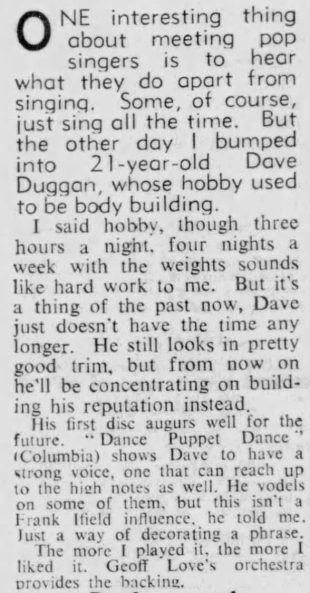 Dave Duggan?
I think it must have been a different musician called Dave Duggan who was active around 1957 in the Islington area of London where his Dave Duggan Skiffle Group played in pubs and in a skiffle club he ran (see here, here, here and here).
---
British songwriter, singer and film composer Les Vandyke (b. Yani Skoradalides, 1931-2021) also used the names John Skoradalides, Johnny Worth and John Worsley. He wrote many well-known songs of the 60s and 70s including significant hits for Adam Faith (What Do You Want, Poor Me) and Eden Kane (Well I Ask You, Forget Me Not). Ex-Shadows Jet Harris & Tony Meehan had a UK hit with his Applejack (1963, #4 UK).
See also Doin' The Mod, a Les Vandyke song covered by Melbourne's Flies.
References, further reading: 1. Les Vandyke bio by Bruce Eder at AllMusic. 2. Account at 45rpm.org.uk's of Les Vandyke's career, including a label shot of his early single, as Johnny Worth, on the UK budget soundalike label Embassy. 3. John Worsley film scores listed at IMDb.
Thanks to Gerard Peet for the discovery, and to Duane Hobden.