Dave Duggan - Dance Puppet Dance (1963)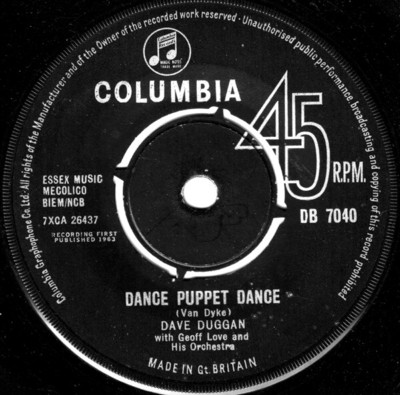 Single on Columbia #7040, with Geoff Love And His Orchestra. B-side: Just One More Dance (wr. Pilgrim).
Reviewed in Record Mirror, 18 May 1963, p.9, Pop Weekly 18 May 1963 (np), NME 17 May 1963 (index only).
Listen: Dave Duggan – Dance Puppet Dance.mp3
British songwriter, singer and film composer Les Vandyke (b. Yani Skoradalides, 1931) also used the names John Skoradalides, Johnny Worth and John Worsley. He wrote many well-known songs of the 60s and 70s including significant hits for Adam Faith (What Do You Want, Poor Me) and Eden Kane (Well I Ask You, Forget Me Not). Ex-Shadows Jet Harris & Tony Meehan had a UK hit with his Applejack (1963, #4 UK).
See also Doin' The Mod, a Les Vandyke song covered by Melbourne's Flies.
---
Dave Duggan? I can't find anything about him. I'm guessing he is not Irish writer Dave Duggan, born 1955, who would've been 7 or 8 when this was released.
Clues?
1. There was a Dave Duggan Skiffle Group active in the late 50s.
• A poster for a jazz concert at the Birmingham Town Hall on 17 October 1957 has The Dave Duggan Skiffle Group supporting The Cy Laurie Jazz Band.
• Michael Dewe in his 1999 PhD dissertation on The Skiffle Craze (a book came later) includes The Dave Duggan Skiffle Group in a long list of "skiffle groups playing in and around London in 1957".
2. Peter Chapman, in Out of Time: 1966 and the End of Old-fashioned Britain (2016): This has a Chris Farlowe reference that is a bit puzzling as it's hard to see where it fits in to his biography. Chapman writes that his uncle knew a Dave Duggan who ran a club in London's Caledonian Road and who formed a band which he fronted until he was replaced by Chris Farlowe.
---
References, further reading: 1. Les Vandyke bio by Bruce Eder at AllMusic. 2. 45rpm.org.uk's account of Les Vandyke's career, including a label shot of his early single, as Johnny Worth, on the UK budget soundalike label Embassy. 3. John Worsley film scores listed at IMDb. 4. Further details from two defunct pages: a dealer's catalogue, and a discussion at Avro community.
Thanks to Gerard Peet, for the discovery, and to Duane Hobden.
Parachute Express - Dance Puppet Dance (1991)

SAME TITLE BUT NOT THE SAME SONG AS 'DANCE PUPPET DANCE' BY LITTLE PATTIE.
On 1991 album Feel The Music, for children, on Disney label.