Single on W&G 1961 by long-lasting rock'n'roll band formed in 1957, popular at dance venues in Melbourne. It was also released in the UK on Oriole (1961) and in the US on the Melbourne label (1963).
Reissued in 1963 when it recharted in Melbourne at the same time as the reissued original version by The Rebels (as The Rockin' Rebels).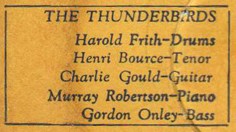 The Thunderbirds were first formed in 1957 by drummer Harold Frith and re-formed in 1958. Over the years its members included Peter Robinson before he became a mainstay of The Strangers, saxman Colin Cook who later had a successful solo career, and Graham Lyall, the notable composer, arranger, producer, music director and teacher. Henri Bource was a Dutch-born saxophonist known through his film Savage Shadows (1969) about surviving a shark attack.
Wild Weekend was on Cane Toad Records' The W & G Instrumental Story (CD, 1993), a compilation from two earlier LPs (1989 and 1990).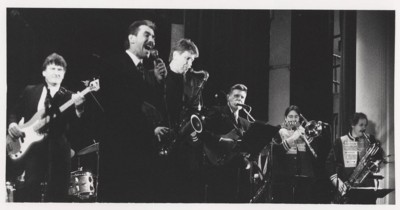 Not the same group as Ron Holden & the Thunderbirds (I Love You So, 1960, #7 USA) who were from Seattle.
Further reading: 1. For a good history and appreciation of The Thunderbirds, see Eddie Leahy's 1998 article from Big Beat of the Fifties [archived page]. 2. Milesago has a detailed Thunderbirds history.
Photo: Peter Robinson.
Thanks to Brian Lee at ColorRadio.com for additional information
---
The Rebels / The Rockin' Rebels - Wild Weekend (1962)
Single on Swan by The Rebels, November 1962, charted January 1963.
This was a reissue on Swan of The Rebels' 1960 instrumental on Marlee. It was soon reissued again, in March 1963, under the name The Rockin' Rebels.
Wild Weekend was reissued in 1962 after disc jockey Jimmy O'Brien used it as his theme on WNDR in Syracuse and it attracted the attention of Philadelphia label Swan. The re-release on Swan became a national hit.
The band's name change to Rockin' Rebels was aimed at avoiding confusion with Duane Eddy's Rebels. With this in mind, The Rebels had appeared on Bandstand in May 1960 as The Buffalo Rebels and they also recorded on Mar Lee in 1960 as The Buffalo Rebels.
---
The Rebels - Wild Weekend (1960)
Single on Marlee (Terry Gordon at RCS estimates July 1960 or earlier). This was one of the labels established by Tom Shannon and Phil Todaro, named after their girlfriends Marva and Lee
The Rebels were a Buffalo NY band who worked up an instrumental version of Tom Shannon's radio show jingle.
They were twin brothers, Mickey Kipler (lead sax) and Jim Kipler (guitar), Paul Balon (bass) and Tom Gorman (drums).
When I heard from Mickey in the early 2000s he told me that the Kipler brothers were still performing at country clubs and functions in the Buffalo area but the other two members were by then deceased.
This release was a local hit in 1960 in some US cities, including Buffalo and Boston. In April of that year Phil Todaro and Tom Shannon copyrighted the song as Tommy Shannon Show Theme (Wild Weekend) (see below under Russ Hallett Trio).
Thanks to Mickey Kipler of The Rebels.
Essential reading: Brian Lee's Rockin' Rebels page at ColorRadio.com which covers the full history of Wild Weekend and The Rebels, with complete label shots (including The Thunderbirds on W&G and Oriole).
---
The Russ Hallett Trio - Tommy Shannon Show Theme (1958)
Unreleased (but often aired) radio jingle recorded for Tom 'Tommy' Shannon, disc jockey at WKBW Buffalo.
The lyrics:
Top tunes, news and weather, This is the spot where things get better, On the Tom Shannon Show… KB Radio, Tommy Shannon show... (repeat to fade).
The Russ Hallett Trio, also known as Russ And The Rockets or The Nomads, were from Binghamton, New York. Russ Hallett was on guitar and vocals, with Aldo Brozzetti on guitar and Jack Sinchaski on drums. They were a successful live rock'n'roll band on the college circuit and at nightclubs in the Catskills. They recorded a number of tracks at Phil Todaro's studio in Buffalo. Only one track was released, on the PhiTom label: Frosty by Tom Shannon And The Russ Hallett Trio, with spoken vocals by Shannon added later.
---

The Tommy Shannon Show Theme (Wild Weekend) was copyrighted in April 1960 by Tom Shannon and his business partner Phil Todaro. They owned the song's publisher Shan-Todd as well as the Shan-Todd, Corsican, PhiTom and Marlee labels.
Origin stories:
• Tom Shannon: During a return stint at WKBW in the mid-80s, Shannon recounted the story of his theme and Wild Weekend: I put together my own little theme song, it was called simply The Tommy Shannon Show Theme and from that came a hit song... [listen here].
• Russ Hallett: In an interview with Brian Lee, Hallett asserts that the jingle was created by the Trio at Tom Shannon's request, but later credited to Shannon and Todaro on the recordings of Wild Weekend: He needed a theme song for his radio show and would we create a theme song for him… It didn't take us long to actually create this theme song for him. [listen here]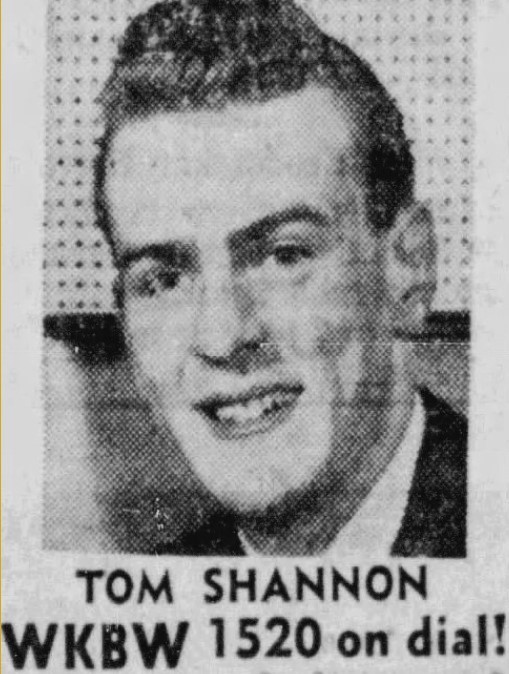 ---
Further reading: It's not hard to find sources on Russ Hallett and his bands, some more reliable than others. Apart from Brian Lee's definitive Wild Weekend page, I have found these two useful and informative:
1. At his WMY.FM blog Bob The Record Guy' Paxon has more background about The Russ Hallett Trio in a feature focusing on the Trio's only single Frosty.
2. Michael Jack Kirby's feature on The Rebels at Way Back Attack takes in the history of Wild Weekend including the Russ Hallett Trio's contribution..
From the defunct WKBW tribute site:
❝ Tom Shannon's career began during his early teens at WXRA Radio in 1955. Shannon soon moved to WKBW and took over 7-to-midnight after Dick Biondi's departure for Chicago. The handsome young man immediately becoming a Buffalo teen heartthrob and one of America's best-known rock jocks via KB's near-total coverage of the East Coast at night…. Tom also did a local "American Bandstand" type show Saturdays at WKBW-TV. ❞
Thanks to Brian Lee.
---
The Surfaris - Wild Weekend (1963)
Track on Dot album Wipe Out And Surfer Joe by Californian surf band famous for Wipe Out (1963, #2 USA ; recharted 1966, #16 USA).
---
NRBQ - It's A Wild Weekend (1989)
Vocal version of Wild Weekend with additional writer credits to NRBQ members Adams, Anderson and Spampinato.
Track 1, Side 1 on Virgin album Wild Weekend, also on Virgin single, by eclectic, versatile and comedic rock band whose first album was released in 1969. The band's name is initialised from New Rhythm and Blues Quartet.
Further reading: NRBQ biography by Mark Deming at All Music.
---
The Ventures - Wild Weekend (1999)
On album Walk Don't Run 2000 by America's greatest guitar instrumental band whose biggest hit was their first, Walk Don't Run (1960, #2 USA).
---
Andy McKay - Wild Weekend (1975)
Single on Island by multi-instrumentalist who played oboe and saxophone in Roxy Music. It also appeared in 1976 on a revised version of Mackay's 1974 album In Search Of Eddie Riff.
---
Joey And The Showmen - Wild Week-end (1964)
On Philips EP Au revoir… Johnny! by band billed on the record as Joey And The Showmen – L'Orchestre de Johnny Hallyday.
Joey Greco was an American guitarist who wrote four of the eight tracks across their two EPs.
The Showmen were formed by Johnny Hallyday late in 1963 when he recruited Joey Greco and bassist Ralph Di Pietro in New York. They joined with drummer Bobbie Clarke (formerly in Vince Taylor's band) and members of Hallyday's previous band Les Golden Strings, first formed around 1960. The Showmen broke up when Johnny Hallyday was drafted in 1964.
Sources: 1. Jean Bachèlerie's page on Les Golden Strings at his site Guitares et Batteries. 2. Joey And The Showmen at fr.wikipedia.
Merci à Philippe de me signaler cet enregistrement.