Recharted in Melbourne in February 1963 at the same time as the reissued original version.
Released in the US on the Melbourne label, #1499 (1963), and in the UK on the Oriole label, #CB-1610.
Single on W&G by long-lasting rock'n'roll band formed in 1957, popular at dance venues in Melbourne.
On CD: The W&G Instrumental Story [Amazon]
Further reading: For a good history and appreciation of The Thunderbirds, see Eddie Leahy's 1998 article from Big Beat of the Fifties [archived page].
Thanks to Brian Lee at ColorRadio.com for additional information.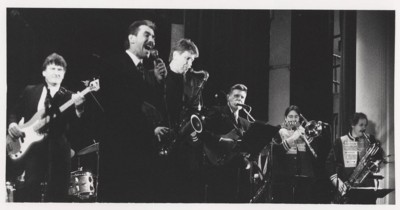 Thunderbirds 1997, at the Preston Town Hall. Photo: Peter Robinson.
Not the same group as Ron Holden & the Thunderbirds (I Love You So, 1960, #7 USA) who were from Seattle.
---
The Rockin' Rebels (also As The Rebels*) - Wild Weekend (1962)
Released at the end of 1962, charted into early 1963.
This was a reissue on Swan of The Rebels' 1959 instrumental on Marlee.
*The first pressings of the single showed the band name as The Rebels, but that was changed to Rockin' Rebels.
Wild Weekend was reissued in 1962 after disc jockey Jimmy O'Brien used it as his theme on WNDR in Syracuse and it attracted the attention of Philadelphia label Swan. The re-release on Swan became a national hit.
The band's name change to Rockin' Rebels was aimed at avoiding confusion with Duane Eddy's Rebels. With this in mind, The Rebels had appeared on Bandstand in May 1960 as The Buffalo Rebels and they also recorded on Mar Lee in 1960 as The Buffalo Rebels.
---
The Rebels - Wild Weekend (1959)
Single on Marlee, one of the labels established by Tom Shannon and Phil Todaro, named after their girlfriends Marva and Lee
The Rebels were a Buffalo NY band who worked up an instrumental version of Tom Shannon's radio show jingle.
This release was a local hit in 1960 in some US cities, including Buffalo and Boston.
The Rebels were twin brothers, Mickey Kipler (lead sax) and Jim Kipler (guitar), Paul Balon (bass) and Tom Gorman (drums). The Kipler brothers still perform at country clubs and functions in the Buffalo area, but the other two members are now deceased.
Thanks to Mickey Kipler of The Rebels.
Essential reading: Brian Lee's Rockin' Rebels page at ColorRadio.com which covers the full history of Wild Weekend and the Rebels, with complete label shots (including the Thunderbirds on W&G and Oriole).
---
Russ Hallett Trio - The Tom Shannon Show Jingle (1958)
Unreleased (but often aired) radio jingle recorded for Tom Shannon, disc jockey at WKBW Buffalo.
The lyrics:
Top tunes, news and weather, This is the spot where things get better, On the Tom Shannon Show… KB Radio, Tommy Shannon show..(repeat to fade).
The Russ Hallett Trio, also known as Russ And The Rockets and The Nomads, were from Binghamton, NY.
The writer credits are to Tom Shannon and his business partner Phil Todaro. Ventures by Shannon and Todaro included a music publishing company, Shan-Todd, and the record labels Shan-Todd, Corsican and Marlee.
See the complete history of this song, including extensive label shots, at Brian Lee's Color Radio website.
Listen to the Tom Shannon jingle.
From the defunct WKBW tribute site:
❝ Tom Shannon's career began during his early teens at WXRA Radio in 1955. Shannon soon moved to WKBW and took over 7-to-midnight after Dick Biondi's departure for Chicago. The handsome young man immediately becoming a Buffalo teen heartthrob and one of America's best-known rock jocks via KB's near-total coverage of the East Coast at night…. Tom also did a local "American Bandstand" type show Saturdays at WKBW-TV. ❞
Thanks to Brian Lee.
---
The Surfaris - Wild Weekend (1963)
Track on Dot album Wipe Out And Surfer Joe YouTube by Californian surf band famous for Wipe Out (1963, #2 USA ; recharted 1966, #16 USA).
---
---
Nrbq - It's A Wild Weekend (1989)
Vocal version of Wild Weekend YouTube with additional writer credits to NRBQ members Adams, Anderson and Spampinato.
Track 1, Side 1 on Virgin album Wild Weekend, also on Virgin single, by eclectic, versatile and comedic rock band whose first album was released in 1969. The band's name is initialised from New Rhythm and Blues Quartet.
Further reading: NRBQ biography by Mark Deming at All Music.
---