---
Chapta - I Can't Get Sunday Out Of My Mind (1972)
Single on HMV by Christchurch group formed 1969 who released two albums and had two charting singles, Say A Prayer and You And I, both in 1971. I Can't Get Sunday Out Of My Mind was their final single. Full story at Bruce Sergent's NZ Music site.
---
Chris Holland - I Can't Get Sunday Out Of My Mind (1970)
CHRIS HOLLAND = Arnie Corrado, aka Bobby Corrado
Single on Capitol #2976, late 1970.
This is a re-release of Bobby Corrado's original I Can't Get Sunday Out Of My Mind (1969). Bobby (real name Arnie Corrado) had begun using the name Chris Holland at this time. (See below under Bobby Corrado for more details.)
He is the same artist who released Get Me Some Help/If Time Could Stand Still on Rare Earth in 1972, as Chris Holland And T-Bone YouTube.
[Not to be confused with British keyboardist Chris Holland of Squeeze, known in Australia as UK Squeeze.]
Thanks to Davie Gordon and Matt Corrado.
---
The Changing Scene - I Can't Get Sunday Out Of My Mind (1970)
On their self-titled album on Avco, mid-1970, and as a single. Arranged and conducted by Don Oriolo, who wrote the track Sit Down Lorraine. Earlier, he wrote and produced a Changing Scene single on Fontana, Is It Really Worth It. At the time, Don Oriolo also worked as a session guitarist.
Today Don Oriolo is known for his work on Felix the Cat TV series and features as writer, producer, voice artist and composer. In this he follows in the footsteps of his father, long-time Felix The Cat artist and producer Joe Oriolo. Don was a creator of Coconut Fred's Fruit Salad Island (2005).
The Changing Scene's album includes another Bernstein-Millrose song, Children Of The Sun, and Sweet And Sour, written by Victor Millrose with Mark (Pretty Flamingo) Barkan, also released as a single.
Don Oriolo recalls The Changing Scene:
They were all from New Jersey. They were like a doowop group. The first record I did with them was Is It Really Worth It / Sing Me Something Pretty on Fontana records. It hit a lot of local radio charts, and the group mini toured for a while fairly successfully. Then I made a deal with Hugo and Luigi at Avco records to do an album with them. Vic and Alan, and Mark Barkan and a lot of the local NYC writers gave me songs for the album. I wrote one or two also… It's hard to believe that was over thirty years ago… I can remember making that record like it was yesterday… (Email, 2005)
Jeff Lemlich writes: The album is pretty tame until the final cut on side two (the Oriolo track Sit Down Lorraine). Things get rather psychedelic, psychotic, and… umm… interesting then. (Spectropop Group, 4 Oct 2005)
---
Bobby Corrado - I Can't Get Sunday Out Of My Mind (1969)
BOBBY CORRADO = Arnie Corrado, aka Chris Holland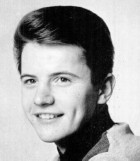 Single on Mercury #7299, December 1969, produced by Bernstein & Millrose. Back-up vocals are by the notable singer-composer-producer Ron Dante (the voice of The Archies and The Cufflinks).
Bobby Corrado (b. c.1949) released some singles on Columbia and its subsidiary Date under his real name Arnie Corrado, 1966-67. He was promoted as a rising star, and cut some nice records, but never had a hit. Two of his three singles on Date were arranged and produced by Four Seasons arranger Charlie Calello YouTube.
By 1969 he was going by Bobby Corrado, then in 1970 he began working as Chris Holland, re-releasing this recording of I Can't Get Sunday Out Of My Mind under that name (see above). A 1972 single on Motown's Rare Earth label by Chris Holland And T-Bone is by the same artist YouTube.
Arnie's father Ralph owned Rosie's Farmland Diner in Little Ferry, New Jersey, a steel diner famous as a location for TV commercials (and an occasional movie, sometimes with Ralph as an extra). "Rosie's" was added to the name when Nancy Walker was filmed there as Rosie the Waitress in a well-known series of ads YouTube.
After his music career faded, Arnie returned to the diner to work beside his father until it was sold in 1990.
Larry Cultrera's Diner Hotline Weblog covers the history of the diner, including photos of Arnie taken in 2019.
Songwriting partners Alan Bernstein and Victor Millrose also recorded, under the name of On The Seventh Day, releasing an album, Number One, in 1970.
They wrote, for example, This Girl Is A Woman Now, the Gary Puckett & The Union Gap hit (1969, #9 USA). Victor Millrose co-wrote Gene Pitney's Last Chance To Turn Around, aka Last Exit To Brooklyn (1965).
Thanks to Matt Corrado, Arnie's son, who connected Arnie, Bobby, and Chris Holland for me. Thanks also to Davie Gordon.