Single on Columbia. See also The Flying Circus – La La
The Flying Circus: Sydney band, formed in 1968, that also worked in Canada from the early 70s (not to be confused, though, with the late-60s Canadian band called The Flying Circus, fronted by Bruce Cockburn).
No connection with Monty Python's Flying Circus (1969): the name appears to be a coincidence.
Further reading: 1. Milesago's comprehensive Flying Circus page. 2. Wikipedia entry on Australian band The Flying Circus.
The Flying Circus covered two songs by Nashville band Saturday Morning Cartoon Show, Hayride and La La, both written by Buzz Cason & Mac Gayden.
---
Saturday Morning Cartoon Show - Hayride (1968)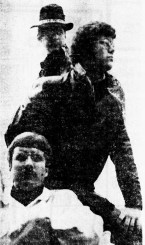 Single on Elf, written and produced by Buzz Cason and Mac Gayden. The label was owned by Cason with country singer and songwriter Bobby Russell.
I have found almost nothing about Saturday Morning Cartoon Show's history. It was probably from Nashville, possibly from Louisville, Kentucky. I wonder whether it could have originated as a studio project, perhaps with performances by Cason or Gayden or both, though I have no evidence for that.
Local press reported at least three live performances by the band, in late 1968 (a WKLO concert in Louisville, Kentucky) and in early 1969 (a WKDA dance, and an auto show for WMAK, both in Nashville).
Hayride appeared on some regional US surveys, including WMAK Nashville, WORC Worcester, Mass and KJR Seattle.
As well as Hayride, Australia's Flying Circus covered La La, another Cason-Gayden song recorded by Saturday Morning Cartoon Show on Elf.
Everlasting Love is a much-recorded Cason-Gayden composition, first released by Robert Knight (1967) on Rising Sons, another label owned by Cason and Russell. It was remade with some chart success by Melbourne band The Town Criers (1968).
Cason and Gayden wrote Candy Love, and Cason wrote Groupie, both charting records in Australia by The New Dream.
See also my story about Buzz Cason's single Adam And Eve (1968), a hit in Australia, at Poparchives: The Blog.
Bobby Russell and I had formed two record companies, Rising Sons and Elf, both releasing the pop and rock product we produced on new uncountry artists… We had hits on both our record labels, all the while producing acts for several major record companies.

Buzz Cason, Living The Rock 'n Roll Dream: The Adventures of Buzz Cason (2004), p.174
Further reading: 1. BuzzCason.com. 2. Cason's autobiography, digital loan at Internet Archive [registration required].
---
Gary Lewis & The Playboys - Hayride (1969)
Gary Lewis, son of actor-comedian–director Jerry, had twelve records in the Billboard Top 40 from 1965 to 1968, including five Top 5 singles in a row beginning with This Diamond Ring (1964, #1 USA 1965, wr. Al Kooper). Most of them were produced by Snuff Garrett and arranged by Leon Russell, with Russell on keyboards and other top session musicians.
Garrett, Russell, Cason and Gayden all worked for Liberty, and two or more of their names often appear together in label credits.
Further reading: 1. "A History of Gary Lewis" at the Gary Lewis & The Playboys website. 2. Jerry Lewis and Gary Lewis together on Hullabaloo, 1965 YouTube. 3. Gary Lewis by Bruce Eder at All Music.
---
The Crickets - Hayride (1973)
The Crickets had already split with with Buddy Holly before his death in 1959, and they were still recording and performing into the 2000s. Jerry Allison was there throughout, with Sonny Curtis and founding member Joe B. Mauldin present for long periods.
They recorded the original version of I Fought The Law (1959), written by Sonny Curtis and remade by The Bobby Fuller Four (1965, #9 USA). Curtis also wrote The Everly Brothers' Walk Right Back (1960, #9 USA), and Love Is All Around (1970), the Mary Tyler Moore Show theme song.
Buzz Cason joined The Crickets as a band member for a 1964 tour of Britain after their Liberty single (They Call Her) La Bamba, produced by Cason, made #21 on the British charts.
Further reading: The Crickets by Mark Deming at All Music, with links to individual members.