Single on Leedon. Also released in USA on GNP Crescendo as a B-side to Fool Fool Fool (a separate release in Australia).
Ray Brown & The Whispers were a chart-topping Sydney band that originated in the surf music scene as The Nocturnes. After acquiring Ray Brown as their lead singer, they went on to become one of the most popular Australian bands of the British Invasion era. The focus was on Ray Brown, who became a major star of the late 60s Australian pop scene.
Johnny Farnham's debut hit Sadie The Cleaning Lady was written by the same writers, with Ray Gilmore.
The Billy J. Kramer album track was apparently the immediate source for Ray Brown's recording, rather than the more obscure original version by Brent Edwards.
Further reading: Ray Brown history at Milesago.
Disambiguation: 1. This is not Ray Brown, the American jazz bassist (1926-2002). 2. These Whispers are not the American R&B vocal group formed in 1964. 3. For more than 20 other Ray Browns in various fields, see Wikipedia's disambiguation page.
---
Billy J. Kramer And The Dakotas - Pride (In Fact A Little Word) aka Pride Is Such A Little Word (1963)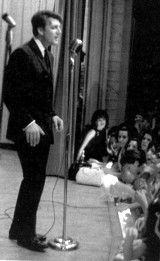 On the 1963 album Listen…
Depending on the issue or the discography, this appears as either Pride (In Fact A Little Word) or Pride Is Such A Little Word (the song's original title).
Billy J. Kramer's first three British chart hits were all written by Lennon & McCartney: Do You Want To Know A Secret (#2), Bad To Me (#1) and I'll Keep You Satisfied (#4), all in 1963.
In common with The Beatles, Kramer was from Liverpool, his manager was Brian Epstein, and he was produced by George Martin on Parlophone.
The Dakotas, teamed with Kramer by Brian Epstein, were from Manchester. They charted in their own right in July 1963 with The Cruel Sea, an original and utterly convincing surf-style instrumental written by lead guitarist Mike Maxfield (#18 UK; audio at Youtube). In the US, The Cruel Sea was released on Liberty as The Cruel Surf and has been recorded by The Ventures. Australia's Aztecs also recorded The Cruel Sea: it appeared on the same album as their version of Pride.
Further reading: 1. Billy J. Kramer bio and singles discography at 45-rpm.co.uk 2. Dakotas bio by Bruce Eder at AMG (Although, to be picky, it's not an "instrumental version of "The Cruel Sea" but an original instrumental called "The Cruel Sea".)
---
Brent Edwards - Pride (1963)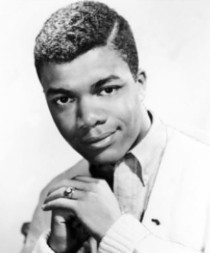 Single on Karen.
Philadelphian singer Brent Edwards was a member of The Lavenders, a group that recorded a single in 1963 with Pride's writers John Madara and Dave White, One More Once/One More Time.
Also in The Lavenders was the later-to-be-famous Leon Huff, who met his Philly Soul songwriting and producing partner Kenny Gamble at this time through John Madara.
Single on Ed Barsky's independent label Karen, formed in Philadelphia, 1962 (not to be confused with Ollie McLoughlin's better known Detroit label). Also released in UK on Pye International.
The song's original registered title is Pride Is Such A Little Word (US Copyright Office Feb. 1962).
Other compositions by Philadelphian songwriters Johnny Madara & Dave White include Danny & the Juniors' At The Hop (White was one of the Juniors) and Lesley Gore's You Don't Own Me. They co-wrote Len Barry's hit One Two Three: a writer credit to Holland-Dozier-Holland was added later after Motown claimed a phrase echoed a Supremes track.
Madara & White, with Ray Gilmore, also wrote Johnny Farnham's debut hit Sadie The Cleaning Lady. Madara, White & Gilmore were The Spokesmen, the group that recorded Dawn Of Correction (1965), an answer to Barry McGuire's Eve Of Destruction. See also Marcie & The Cookies – I Would If I Could.
Billboard 12 May 1962: Philadelphia… Record distributor Ed Barsky announces the launching of an indie label of his own, Karen Records, named for his new-born daughter.
Billboard 2 Feb 1963: Philadelphia… Johnny Madara arranged and conducted a new single on Karen Records for localite Brent Edwards in "Pride" and "Over the Weekend".
Further reading: 1. John Madara and Dave White pages at That Philly Sound. The site also has a Madara & White page. 2. John Madara interview with Mick Patrick at Spectropop. 3. John Madara's Greatest Hits at ForgottenHits.com includes many reminiscences contributed by Madara.
Thanks to Phil Chapman and Mike Edwards for their help with this one through Spectropop (#840, March 2003)
Thanks to John Madara.
Image via TW, thanks.
---
Don Spencer And The LeRoys - Pride Is Such A Little Word (1964)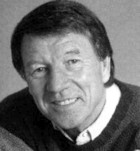 Single on HMV (UK) May 1964 by Tamworth-born singer, songwriter and actor who built a successful career in England in the early 60s but later returned to Australia and became famous as a children's entertainer, notably on ABC-TV's Playschool.
Fireball XL 5, another single by Don Spencer, reached #32 on the UK charts in 1963. It was the theme to a children's TV series by the Andersons who later made Thunderbirds.
---
The LeRoys, also known as The Le Roys, were a UK beat band formed in Walthamstow in Greater London. They released records in their own name and with singers Billie Davis, Mike Sarne, John Leyton, Simon Scott, Don Spencer and Billy Boyle, all of whose singles included the band in the artist name.
---
References: 1. PopMusicInfo data. 2. All UK singles listed for Don Spencer at PopMusicInfo. 3. Vareer biographygraphy at DonSpencer.com.au 4. Don Spencer article at Wikipedia. 5. The LeRoys: Vernon Joynson has a brief entry for them in his Tapestry of Delights. For fuller details see the forum thread at 45cat.com which lists personnel and expands their discography.
---
Billy Thorpe & The Aztecs - Pride (1965)
On the album Billy Thorpe and the Aztecs. The album also included Devoted To You (originally by The Dennisons and also recorded by Ray Brown & The Whispers), and The Cruel Sea (originally by Billy J. Kramer's band The Dakotas).
Version alert from Terry Stacey who points out the close similarity between Billy Thorpe's vocals and those on Ray Brown's hit version. The two artists shared a manager, John Harrigan, at this time, and both launched their careers from Sydney's Surf City where Brown followed Thorpe into residency.
Further reading: 1. For more on Billy Thorpe at this site see, for example, his major Australian hit Poison Ivy. 2. Milesago's Billy Thorpe history.
---
The Forerunners - Pride (Is Such A Little Word) (1964)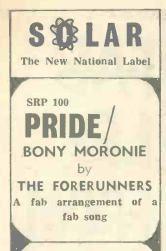 Single on Solar, June 1964. This small northwest London label released a handful of singles in 1964. (Another from 1969, included at 45cat, may be on a different Solar).
The label was set up by Jeff Smith and Robin Leigh using an address which is now a house in a residential street, as it probably would have been in 1964.
The Forerunners remain obscure, a short-lived beat group (Vernon Joynson).