The Delltones - Come A Little Bit Closer (1963)
Single on Leedon. Sydney vocal group The Delltones, featuring the bass of the ironically nicknamed 'Pee Wee' Wilson, were a fixture of the Australian rock'n'roll scene from their formation in 1959. Their official site is at www.delltones.com.
Writers of this song, Leiber & Stoller, produced another Come A Little Bit Closer, for Jay & the Americans, but it was a different song, written by Boyce, Farrell and Hart.
---
Willy And Ruth - Come A Little Bit Closer (1954)
Single on Leiber & Stoller's own Spark label, #101, the label's first release.
Willy & Ruth were members of The Honey Bears who were also signed to Spark.
❝ We had discovered Willy and Ruth with a gospel quintet we'd heard in the Oakland area. We loved the quintet's sound and brought them to LA for a session. We called them The Honeybears… From that same group, we pulled Willy and Ruth to sing duets.❞
Hound Dog: The Leiber and Stoller Autobiography (2009), p.68 [Link]
Willy & Ruth's second single, on Spark #105, was Love Me (1954), another Leiber & Stoller composition that was a hit for Elvis Presley (1956, #2 USA).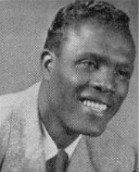 Willy & Ruth
Willy was Willie Headen, lead singer of The Honey Bears. He had also been in The Kansas City Gospel Singers as lead singer (c.1950). After the Willy & Ruth singles (1954), he recorded for Dootsie Williams's Authentic, Dootone and Dooto labels as Willie Headen & The Five Birds (from 1956) and as a solo artist (1957-1961). He released several solo singles and a Dooto LP collection, Blame It On the Blues (1960). Some of his Dooto singles were issued as Willie Hayden.
Of Ruth, nothing much seems to be known except that she was married to The Honey Bears' bass singer.
Ruth's surname? Her husband's name? If there's a full list of the Honey Bears line-up somewhere I haven't found it yet. One other member was Willie Bradford, later in The Hi-Tones.
References, further reading: 1. Willy and Ruth, and Willie Headen, at The Vocal Group Harmony Site. 2. Liner notes to Ace Records' Leiber & Stoller Present The Spark Records Story. The liner notes are here. 3. Willie Headen & The Five Birds at the Doo-Wop blog. 4. Willie Bradford of The Honey Bears and The Hi-Tones: see here and p.44 here. 5. DieterM at Rock'n'roll Schallplatten dismisses the theory that Headen recorded as Clifford Chambers.
Thanks to Tony at the Vocal Group Harmony Site.

Red Herring: Some websites have mistakenly used this photo to illustrate Willy and Ruth. They are husband-and-wife entertainers Ruth Mönch and Willy Seiler who flourished on German TV around the 1960s.

---
Jay And The Americans - Come A Little Bit Closer (1964)

SAME TITLE BUT NOT THE SAME SONG AS
'COME A LITTLE BIT CLOSER' BY THE DELLTONES.
Single on United Artists YouTube. Produced but not written by Leiber and Stoller, writers of the Delltones song Come A Little Bit Closer.
Tommy Boyce & Bobby Hart were regular song-writing partners who also had some success with their own records, including I Wonder What She's Doing Tonight (1968, #8 USA). For more details see under Opportunity (a co-write by Hart).
Wes Farrell (1939-1996) co-wrote Johnny O'Keefe's Australian hit Move Baby Move. See under that song for more on his career.
---
The Four Coins - Come A Little Bit Closer (1962)
In the early 50s, vocal group The Four Coins had been horn players in the band of the young Bobby Vinton who, like them, was from the Pittsburgh suburb of Canonsburg. They charted Top 40 in the US five times 1955-1958. Their biggest hit, and the song they are most remembered for, was Shangri-la (1957, #11).
Reference, further reading: Four Coins at Pittsburgh Music History.
---
Hank Penny & Sue Thompson - Come A Little Bit Closer (1954)
B-side on Decca by Sue Thompson and her then husband, the hillbilly artist Hank Penny. Also on 78 rpm disc.
Sue Thompson was later successful as a solo pop singer on the Hickory label, notably with the John D. Loudermilk songs Sad Movies (Make Me Cry) (1961, #5 USA) and Norman (1962, #3). Her last charting single was with Loudermilk's Paper Tiger in 1965 (#23 USA).
Further reading: 1. For more on Sue Thompson's career, see under Donna Gaye's Australian variation on Norman. 2. Hank Penny article at Wikipedia.