Single on Leedon, July 1965, B-side of the hit Fool Fool Fool (#1 Sydney #4 Melbourne #2 Brisbane #1 Adelaide #1 Perth).
The Whispers were a chart-topping Sydney band that originated in the surf music scene as The Nocturnes. After acquiring Ray Brown as their lead singer, they went on to become one of the most popular Australian bands of the British Invasion era. See full history at Milesago.
This B-side has become something of a cult classic in its own right. See, for example, the Milesago website: …2'15" of pure sonic adventure, one of those rare and extraordinary B-sides that almost eclipses the main event… Go To Him is one of the tracks on Ace Records' Hot Generation: 1960s Punk from Down Under [Amazon
].
---
The Foursights - Go To Him (1963)
Original demo recording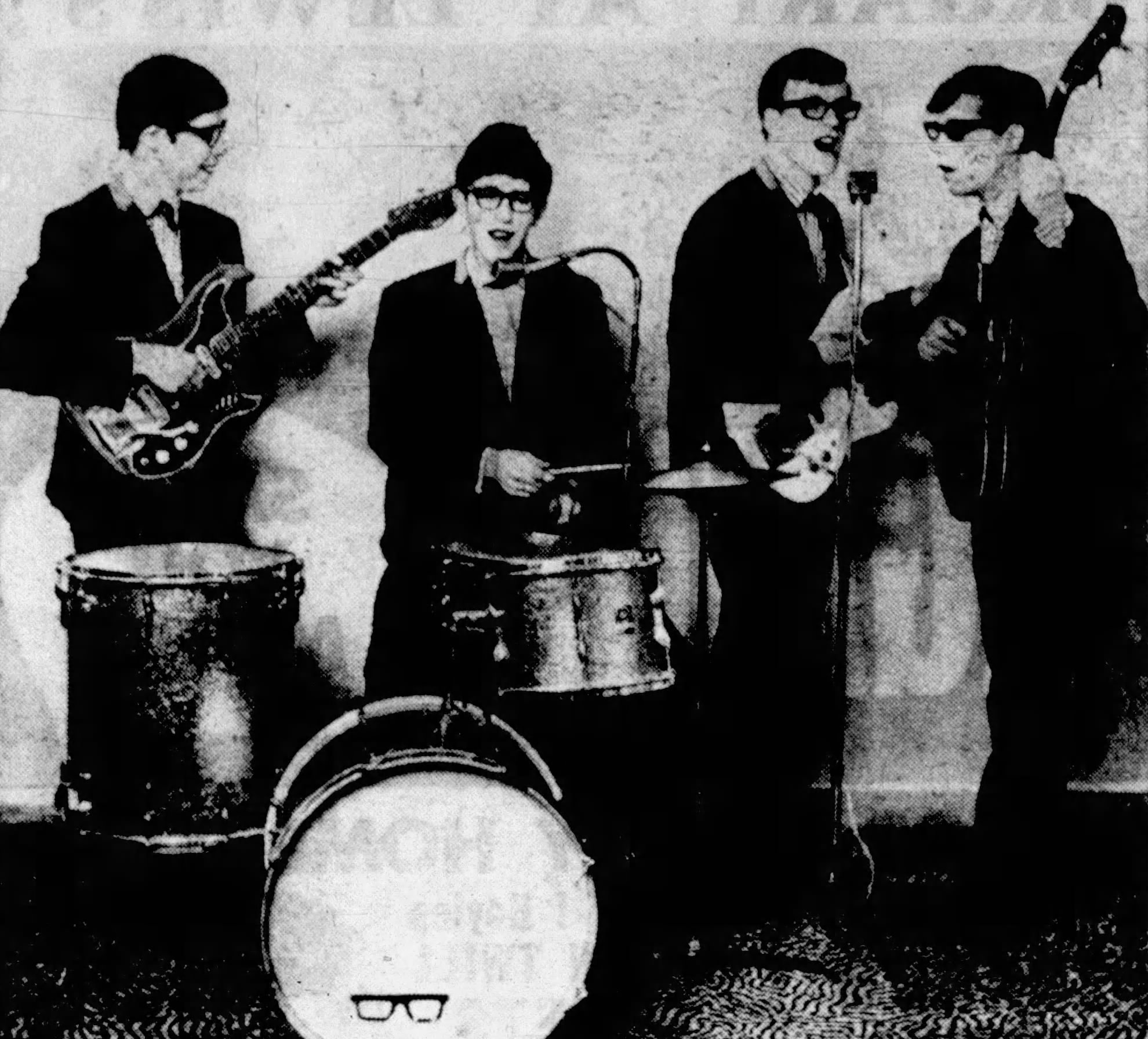 Recorded by British band from the Leicester area at Regent Sound Studios, 4 Denmark Street, London.
The composer is Bess Coleman, sister of Foursights guitarist and keyboardist Bill Coleman.
The Foursights had travelled to London to record some demos, including Go To Him, after winning a talent competition.
One single on Columbia eventuated, But I Can Tell (1964) backed with And I Cry, both written by Bess Coleman.
The record company planned to release two Foursights songs in the US using the name 'The London Knights', presumably to take advantage of the British Invasion craze.
Go To Him, unreleased in the UK, apparently surfaced in 1965 on US label Mike under the band name The London Knights.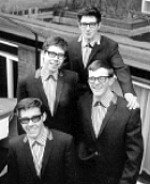 The bespectacled Foursights (aka The Four Sights, originally The Primates) were formed in 1963 with Bill Coleman (lead guitar, keyboards LEFT), Doug Abbott (rhythm guitar, keyboards, vocals RIGHT), Tim Airey (bass guitar FRONT), and David Lindsay (drums,lead vocals BACK).
---
BILL COLEMAN
The Foursights' Bill Coleman was a multi-instrumentalist who later recorded as The Willy Cole on a 1970 instrumental single, Right On / Pretty Good B Side, which he wrote and produced for Boggess-Wayne Productions (i.e. Howard Boggess & Artie Wayne).
He had a rich and varied musical career that included working as musical director for several well-known British artists including Helen Shapiro and Kiki Dee, as bass player with Kenny Ball And His Jazzmen, and as bandleader with Kenny Ball Jnr. He toured for many years with later formations of The Barron Knights and returned to teach instrumental music in Leicester.
This is not American jazz trumpeter Bill Coleman (1904-1981) and Coleman's pseudonym The Willy Cole should not be confused with the names of other artists called Willie Cole, including this one.
---
References, further reading:
1. Tim Airey, the Foursights' bass guitarist (now deceased), reminisced at length about the band on his page at a now-defunct Leicester website. The page can still be read at the Internet Archive, although most of the images are missing. It includes comments by other band members.
2. Alastair Roxburgh has a brief profile of The Foursights at his Telegoons webpages.
3. "Leicester Beat Group Make First Record" in Leicester Mercury, 18 February 1964.
4. "A Leicester Sound for the Top Ten?" in Leicester Mercury, 10 April 1964.
4. "Knight to remember", Bill Coleman profile in Leicester Mercury 30 October 1992
---
The London Knights [The Foursights] - Go To Him (1965)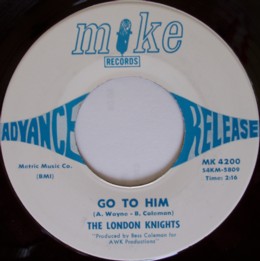 Many discographies wrongly date this as a 1966 release, but the single was reviewed in Billboard on 1 May 1965 (a 4-star "Spotlight Winner of the Week").
April 1965 single on Mike, a small independent label run by Eddie Matthews. This is the first release of the song (see my rules for "original version").
It seems to be rare even as a reissue. It appeared on Cicadelic Sixties Vol 3 which you might get second-hand on Amazon or through a record dealer.
---
THE FOURSIGHTS
It wasn't until the early 2000s that members of Leicester UK band The Foursights, Tim Airey and David Lindsay, heard this recording and confidently identified it as an unreleased demo recording made in London late in 1963.
Until I emailed an mp3 of the London Knights recording to Tim Airey in 2003, he had been unaware of its release, and he was astounded.1 His reaction: I realised immediately that it was, in fact, The Foursights singing on the original demo from 1963. There was no mistaking Dave's voice. Dave, the drummer and lead vocalist, also had no doubt that he was listening to his own singing on this track. In fact, he was certain that the artist on the B-side was a different band, different style with very American accents. (He makes a good point: ♫ Listen at YouTube)
BESS COLEMAN
The original composer of Go To Him was Bess Coleman (c.1942-2014), sister of Foursights guitarist Bill Coleman. Two other Bess Coleman compositions from the same session were released on a Columbia single (UK 1964).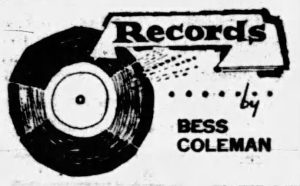 Bess was a journalist with the Leicester Mercury who went on to EMI Records where she wrote the official biographical notes for the newly-signed Beatles. She then worked as press officer for The Beatles and toured America with them in 1964. She covered a second Beatles tour as a journalist in 1966. Her name is often mentioned in Beatles contexts.2
When Bess was working as a Beatles press officer in New York in 1964 she teamed up with US singer-songwriter-producer Artie Wayne, and they wrote a number of songs together at that time.
Bess Coleman moved to Australia in the 1980s and ran a house restoration business with her husband. She died in 2014 in Kurrajong, north-west of Sydney.3
ARTIE WAYNE
US singer-songwriter-producer Artie Wayne is also credited as co-writer on the Mike single along with the original composer, Bess Coleman. At this stage Artie and Bess had met in New York and formed their songwriting partnership.4
When I asked Artie about the record he recalled a 1965 recording session in New York when Bess Coleman produced Go To Him with the participation of her brother Bill Coleman from The Foursights. The last he knew was that the masters were sold to Gene Schwartz at Laurie Records but were not released on Laurie. He referred to the session as being by the London Knights but could not throw any more light on the subject.
Artie Wayne (1942-2019) was a songwriter and producer who also recorded as Art or Artie Wayne, Shadow Mann, and Terry Boyd and the Trends. He co-wrote Judy Stone's Australian hit 4,003,221 Tears From Now and he wrote Marcia Hines's From The Inside. He recorded some of his own songs including Where Does A Rock And Roll Singer Go? (1963) and his own version of From The Inside. He and Ben Raleigh wrote Joey Powers' Midnight Mary (1963, #10 USA). Anyone who (like me) owned a copy of Keith's hit 98.6 (1967, #7 USA) would be familiar with the flipside, The Teeny Bopper Song, written by Artie Wayne & Jerry Ross.

THE SMALL PRINT, AND A LOOSE END
On the London Knights Mike single, the A. Wayne – B. Coleman writer credit matches the song's US copyright which includes Artie Wayne with the original writer Bess Coleman.
The single was released in April 1965 and the copyright registration is dated 24 May 1965.
The production credit on the label is to "Bess Coleman for AWK productions". AWK was a "US production entity related to Artie Wayne", which makes sense for the session with Bill Coleman but not for a Foursights demo recorded in London in 1963. This is a loose end in the story.
ANOTHER MYSTERY
The B-side Dum Diddle Dee is credited to Bess Coleman, Artie Wayne and E. Rose. I can find no copyright registration for the song, and no clues about who E. Rose might be. Artie told me he couldn't remember who they were.
London 1963
New York 1965
Late 1963
• The Foursights record a demo of Go To Him in London. The writer is Bess Coleman, sister of band member Bill Coleman
• The band is told that their demos will be sent to the US for release as The London Knights.
Early 1964
• Two other tracks from the London session, both written by Bess Coleman, are released in the UK on 45.
1965
• Independent US label Mike releases The Foursights' demo under the name of The London Knights.
1965
• Bill Coleman from The Foursights plays on a
recording of Go To Him in New York with the participation of his sister Bess Coleman (producer) and Artie Wayne (now Bess's songwriting partner).
• Go To Him's composition is now copyrighted by Bess Coleman and Artie Wayne.
• The recording is licensed to Laurie Records but never released by Laurie.
Is this a Tale of Two Recordings?
Footnotes
1. Tim Airley's page with his reaction to the mp3 I sent him is archived here. Scroll down to his section on The Mystery of the London Knights. The text of my email to him is there (I was using the alias "Lyndsey Martin", for reasons that made sense at the time).
2. (i) Background on Bess Coleman by her sister Trudy, written for the sale of a signed Beatles photo (essential reading). (ii) Bess Coleman profile and interview: "On Tour With The Fab Four" Leicester Mercury, and
(iii) Bess on the Beatles' 1966 US tour: "John, Paul, George, Ringo – and Bess", Leicester Mercury [reprints from 2007, archived pages]. Neither page mentions The Foursights/Four Sights.
3. "Former Beatles press officer dies, aged 72", Leicester Mercury, 28 July 2014 [archived page].
4. Artie Wayne recalls meeting and writing with Bess Coleman, 2006 blog.
Label shot by Doug Richard.
---
---
The Rattles - Go To Him (1963)

Same title but not the same song as
'Go To Him' by Ray Brown & The Whispers.
---
Don Argo - Go To Him (1966)

Same title but not the same song as
'Go To Him' by Ray Brown & The Whispers.
Single on Hickory, B-side of She's Not A Bad Girl.
Further reading: An anonymous commenter at Kees's Obscure Singers blog offers this: Don Argo also used the name Tex Ashby. He was from Chattanooga, Tennessee. I don't remember his real name. He performed frequently at a club then known as "The Burger Ranch" on Hwy 58 outside Chattanooga. This was in the mid to late 60's.
---
Arthur Alexander - Anna (Go To Him) (1962)

Not to be confused with
'Go To Him' by Ray Brown & The Whispers.
Arthur Alexander (1940-1993) was never a household name, but he was highly regarded as an r&b artist and as a songwriter. Anna (Go To Him) was recorded by The Beatles for their first album Please Please Me, and the Rolling Stones covered his composition You Better Move On, also his only mainstream Top 40 hit.
For more examples see under Till We Kissed, originally recorded (though not written) by Arthur Alexander as Where Have You Been All My Life and covered by a number of artists including New Zealand's Ray Columbus And The Invaders.