Single on Festival, June 1968, by a purpose-formed studio band that included all of The Twilights and The Johnny Hawker Band among others. YouTube
Vocals by Terry Walker, previously with Glen Ingram & The Hi-Five (though not on Skye Boat Song), also heard with The Strangers on Happy Without You.
An unconnected Melbourne band called Pastoral Symphony registered the name, preventing any follow-ups by the Love Machine project.
The Roosters - Love Machine (1967)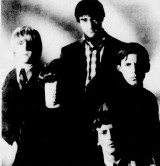 Single on Philips, December 1967, by folk-rock-influenced band formed in 1964 by young high school friends in Westchester, a Los Angeles suburb. The original line-up was Ray Mangigian (lead vocals, harmonica), Levitt Earhart (rhythm guitar), Tim Ward (lead guitar, vocals), Floyd Fletcher (bass, vocals), and Jim Peters (drums). The band continued for a while with replacements for Earhart and Ward after they were drafted in 1968.
The record appeared on regional surveys in a number of US cities, including Muncie Ind., Ogden Utah, and Hartford Conn. but reached only the outer edges of national US charts (90s-100s).
The writers:
Although The Roosters performed and recorded original songs written by band member Tim Ward, Love Machine was written by Michael Z. Gordon, whose credits include The Marketts' surf instrumental The Outer Limits; and James Griffin, later a founding member of Bread.
Gordon and Griffin also wrote for another 1968 Roosters single on Philips and produced it.
Sources, further reading: 1. Details about the band are gleaned from a now unavailable post at Colin Mason's blog Opulent Conception which included a detailed interview with lead vocalist Ray Mangigian along with other content. 2. See also Charles G. Hill's useful notes on The Roosters and this song at his Single File pages (defunct site, archived pages). 3. Roosters singles discography at 45cat.com. 4. Co-writer Michael Gordon has posted the song to YouTube along with his commentary.
Michael Z. Gordon, at YouTube, also mentions a version of Love Machine by 2 Deep but I haven't been able to find it.
The Miracles - Love Machine (Part 1) (1975)

Similar title but not the same song as 'Love Machine' by Pastoral Symphony.
Single on Tamla by group known as Smokey Robinson And The Miracles from 1967, although they were originally formed as The Miracles.
The songwriters are Billy Griffin who became lead singer from 1972 after Smokey Robinson left, and Pete Moore, another member of the group.
---
There are numerous other songs called Love Machine. Copyright database SongView lists over 200. See also 45cat.com search results.
---
James Brown sings Stay on the scene / Like a love machine but that is in his song Sex Machine.