Bob Wilson - And Her Name Is Scarlet* (1960)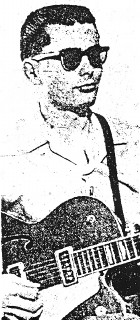 Single on Era, #3027, B-side of Jailer Jailer.
Singer, songwriter and guitar virtuoso Bob Wilson was from Pleasant Hill, California, about 20 miles from Oakland, full name Robert Douglas Wilson (b. c.1940). He was born in Tahlequah, Oklahoma but moved to California as a youngster.
Wilson released three singles on Era, all in 1960 [image, right]. Not long after that he took up a lifelong career as a high school teacher, but he kept up the guitar seriously in his spare time, practising, performing, and occasionally recording.
In 1968 Wilson appeared on John Fahey's Takoma label when folk artist Janet Smith released her album Vol I,The Unicorn and Other Songs Both Old and New With Musical Assistance From Bob Wilson YouTube.
In the same year, Wilson was introduced to Oakland bluegrass banjoist Rick Shubb (of Shubb capo fame) who was to become a musical associate over several decades.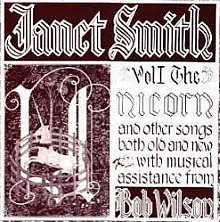 In 1976 the album Shubb, Wilson and Shubb …Live was released, with Rick's then wife Markie on double bass YouTube. Rick Shubb and Bob Wilson released a further album Bodega Sessions in 1999.
Wilson is also heard on one track of a 1971 self-titled album by blues-jazz-rock violinist Papa John Creach.
Bob Wilson, now retired from full-time teaching, remains active into the 2010s. See, for example, his performance with the Bob Wilson Ensemble Featuring Stuart Yasaki at the California Academy of Sciences in San Francisco (c.2015).
This artist biography is my work, based on original research. If you use it, please credit me or this website. ©Lyn Nuttall 2019
---
According to the Oakland Tribune (31 January 1960) Bob Wilson was backed on his first single by two students from Pleasant Hill High, Loren Council (who was still at high school) and Len Adams. Both sides were written by Wilson and Adams.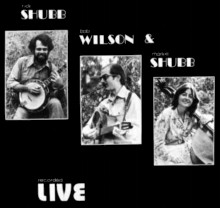 Wilson, Council and Adams had been in the Pleasant Hill High School Big Band, and were all featured as soloists in the Band's debut concert, reviewed by the Oakland Tribune on 1 March 1959. Pleasant Hill High closed in 1980.
And Her Name Is Scarlet, on Wilson's third single, was written by Era founder and owner Herb Newman who had written Gogie Grant's Wayward Wind (1956, #1 USA) YouTube, an Era single released in the year after the label's formation.
This single shows Newman's pseudonym B. (Barry) Stuart, but other releases, for example by The De Kroo Brothers and by Keith Colley, have another pseudonym, Steven Howard.
The arranger is Hank Levine who later worked with many well-known artists as an independent arranger and producer, as well as recording occasionally under his own name.
Bob Wilson singles on Era, 1960:
• Two Little Birds / Imogene #3013 [both wr. Wilson-Adams]
• I Went To Your Wedding / Tale Of A Donkey #3023
• Jailer, Jailer / And Her Name Is Scarlet #3027
At some stage Wilson also recorded on the U.N.O. label, owned by his then manager Tony Uno.
Bob Wilson singles on U.N.O, early 1960s:
• Black Rose (Wilson-Henry Beezley)/ Wedding Bells #500*
• Talking Atom (arr. Wilson, prod. Tony Uno)/ The Wreck Of The Reuben James #500*
• Big Ben / Roxann #599 [both wr. Wilson]
Black Rose copyrighted Oct 26, 1961 as The Black Rose.
Big Ben copyrighted May 2, 1963.
*The Black Rose and Talking Atom singles have a duplicated serial number, #500.
There was a further, undated single on an obscure label, Golden Gate:
"Bobby Wilson" single on Golden Gate:
• I Shouldn't (wr. Wilson-Lynn Lee) / The Wreck Of The Reuben James #500
Other singles with a Bob Wilson connection:
• The Four-Stars – Blue Dawn (wr. Wilson) / The Frog (wr. Len Adams), 1960, Era #3021. [Wilson on guitar with his band and studio musicians.]
• The Moments – In The Photograph Booth (wr. Steven Howard = Herb Newman) / Blues At Sandy Cove (wr. Wilson), 1964, Era #3128 [Bob Wilson also recorded Blues At Sandy Cove for Era, unreleased.]
• Paul Shelesky & His Musical Zombies – Rutabaga Boogie (wr. Shelesky) / Sweet Sue, 1970s?, Rutabuga #101 [Wilson on guitar both sides, vocal duet & harmonies Side A. Rutabaga was a subsidiary label of Old Homestead Records, Brighton, Michigan].
Bob Wilson album appearances:
• Janet Smith – Vol I,The Unicorn and Other Songs Both Old and New With Musical Assistance From Bob Wilson (1968) Takoma A1027
• Papa John Creach – Papa John Creach (1971) Grunt FTR-1003
• Rick Shubb, Bob Wilson & Markie Shubb – Shubb, Wilson & Shubb …Live (1976) Pacifica PV43787
• Rick Shubb & Bob Wilson – The Bodega Sessions (1999) via shubb.com
---
Oakland Tribune, October 1960
BLIND YOUTH HAS A MUSICAL VISION
By John Sheehan
Bob Wilson is a psychology major at College of Pacific who just might be able to teach his profs on a point or two. ¶ He has overcome total blindness, an affliction since birth, to become an honor student, a varsity athlete, music composer and recording soloist. ¶ Twenty-year-old Bob Wilson has just finished cutting his latest [single on] Era Records… "And Her Name is Scarlet". ¶ It's a rich baritone that comes through on the new recording; rich enough, some think in Hollywood, to one day make Bob a headliner, and rich. ¶ Talent as a lead guitarist shows well, too. ¶ Flip side of the record is titled "Jailer, Jailer". ¶ Now a sophomore at College of Pacific, Bob was senior class vice president at Pleasant Hill High School; a member of its varsity wrestling team besides distinguishing himself scholastically as a "seal bearer" of the California Scholarship Federation.
---
References: 1. BMI repertoire search. 2. ASCAP repertoire search. 3. US Copyright Office: works by Herb Newman. 4. Era discography at GlobalDog. 5. Oakland Tribune, scanned back issues at NewspaperArchive.com. 6. Bob Wilson profile at Shubb.com. 7. For a more recent appearance by Bob Wilson, see the Bob Wilson Ensemble Featuring Stuart Yasaki at the California Academy of Sciences in San Francisco.
See also: Bob Wilson (singer) at Wikipedia. I wrote it, so it mirrors this page a fair bit, though there are some extra details and a decent list of references.
---
Big thanks to Andy Gallagher for filling out Bob Wilson's history and discography.
---
Multiple Bob Wilsons: This is not (1) King-Fraternity recording artist and songwriter Bob Wilson, aka Bob Temple or (2) Detroit soul pianist Bob Wilson. For a .pdf page that sorts out these three Bob Wilsons, click here. [Thanks to Red Kelly at The 'B' Side for clarification on one of the Bob Wilsons.]
* Is or Was? Discographies often list the title as And Her Name Was Scarlet. The registered title is (And Her Name Is) Scarlet: US Copyright Office #EU0000696657, 24 November 1961; ASCAP work #310045439.
* Scarlet or Scarlett? US Copyright Office shows Scarlet (as on all the recordings listed on this page), but ASCAP has Scarlett.
* The brackets in the title appear only in the versions by the De Kroo Brothers and Keith Colley. They are omitted at ASCAP and in discographies, possibly a database convention, but they appear at US Copyright Office.
Johnny Burnette - And Her Name Is Scarlet (1964)
From a February 1964 Capitol session, unreleased at the time but anthologised in the 90s, for example on Bear Family's 9-CD box Train Kept A Rollin' – Memphis to Hollywood: The Complete Recordings 1955-1964.
Johnny Burnette: Singer from Memphis (1934-1964) who formed the rockabilly Johnny Burnette Rock'n'Roll Trio in the wake of Elvis's success recording with a trio at Sun Records.
Johnny Burnette and his brother Dorsey (1932-1979), also a member of the Trio, later wrote songs at Imperial Records, notably for Ricky Nelson (see Gypsy Woman).
At Liberty Records Johnny recorded a number of solo pop hits in the early 60s with producer 'Snuff' Garrett, including Dreamin, Little Boy Sad and You're Sixteen. At the same time, Dorsey established a solo career ([There Was A] Tall Oak Tree, Big Rock Candy Mountain).
Johnny Burnette's son Rocky had a hit in 1980 with Tired Of Toein' The Line.
References: 1. Session details at the Johnny & Dorsey Burnette Discography site, now defunct and not archived. 2. Phil Hardy & Dave Laing, Encyclopedia of Rock Vol. 1: The Age Of Rock'n'Roll, (1975).
Further reading: The Burnette House website covered the musical careers of all the Burnettes. It is now defunct but can be accessed via the archived version at Internet Archive.
Thanks to Peter Letheby for correction.
The Brothers Legard - And Her Name Is Scarlet (1968)
Single on Era #3196, also released on Festival FK-2313. The writer of the B-side is credited as Barry Stuart, another pseudonym of Era records co-owner Herb Newman, credited as Steven Howard for the A-side,
The Brothers LeGard were Australian country artists The Legarde Twins, Tom and Ted, known as The Yodelling Stockmen. Originally rodeo performers, they first recorded in the early 50s for the Australian labels Rodeo and Regal-Zonophone. From 1957 until 1963 they worked in Hollywood and Nashville and released records on Liberty, Dot and Bel Canto. They appeared on Australian TV, recorded for Columbia, and brought US country acts to Australia before returning to the US in 1965. For an idea of the length and breadth of their career see their biography at All Music (they even appeared as twin androids in Star Trek).
The other side of Scarlet, Night Bloomin' Jasmin, was also a Herb Newman composition, as was the LeGards' second Era Single The Land Where Animals Are People.
The Brothers LeGard featured as Discovery of the Week on the TV comedy series Laugh-in on 30 December 1968, and came back the following week, 6 January 1969.
Brothers LeGard singles discography at Era, 1968:
And Her Name Is Scarlet/Night Bloomin' Jasmin #3196
The Land Where Animals Are People/Coo-Ee Call #3199
Coo-Ee Call was a LeGarde original. Songs about the cooee call are not unheard of in Australia: see, for example, this old Aussie song.
References: 1. Laugh-in episode guide at TV.com. 2. Era discography at Global Dog. 3. Herb Newman's composer repertoire at ASCAP. 3. LeGarde Twins website at Internet Archive.