*Co-writer Tom Moffatt's surname is misspelt as Moffat on this single.
Single on Leedon, released in Australia December 1959, charted January 1960. Also released on Liberty in USA, January 1960.
Recorded in Los Angeles at Gold Star studios, produced by Snuff Garrett, "with the Ernie Freeman Chorus & Orchestra".
Rereleased in 1969: #13 Sydney #6 Melbourne #3 Brisbane (co-charted in Brisbane with version by Jon Blanchfield)
---
Johnny O'Keefe (1935-1978), known in Australia as "The Wild One", "The King of Rock'n'Roll" or just "J. O'K.", was a pioneer Australian rocker, a chart topping artist in his home country. The TV mini-series Shout! The Story of Johnny O'Keefe (1985) was adapted as a stage musical in 2001.
---
She's My Baby came to Johnny O'Keefe through co-writer Scott or Scotty Turnbull, Canadian guitarist, singer and songwriter best known as Scott or Scotty Turner.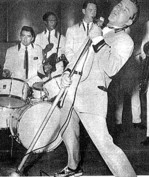 Scott Turner was on tour with Tommy Sands in Australia when he sang the song to Johnny O'Keefe in March 1959. When Johnny O'Keefe travelled to the States later in the year he met up with Turner again, and recorded She's My Baby for Liberty in Los Angeles, with Turner on guitar. Scott Turner passed away in February 2009: see Damian Johnstone's tribute at Spectropop Group which includes details of his varied career.
Source: Damian Johnstone, The Wild One, 2001, pp. 76-77, 108-110, 310.) This is the definitive biography of Johnny O'Keefe.
---
Scott Turner also co-wrote Don't You Know (Pretty Baby), Ready For You and Own True Self (the B-side of She's My Baby), all recorded by J. O'K in Los Angeles. See also Merv Benton – The Worryin' Kind.
---
---
Further reading: 1. Johnny O'Keefe biography by Ed Nimmervoll at All Music. 2. Space Age Pop Music page on Snuff Garrett and his "50 Guitars" recordings 3. Ernie Freeman biography at All Music.
Page updated in consultation with Tony Watson.
Correction from Marc Coulavin, thank you.
---
Jon Blanchfield - She's My Baby (1969)
Jon Blanchfield: Queensland singer and TV personality who was a star of national TV pop show Uptight.
In mid-1976 he founded the Rainbird label, which released albums by Lobby Loyde, Saltbush, Normie Rowe and others, but folded soon after it started. He has had a long career in artist management (known as John instead of Jon). One of his clients is Normie Rowe: see John's Beatroot Services website (2020 link).
This version co-charted in Brisbane with a rerelease of the original by Johnny O'Keefe.
See also Jon – Upstairs Downstairs/Town Of Tuxley Toymaker Part 1 and Jon Blanchfield – Lavender Girl.
---
The Traveling Wilburys - She's My Baby (1990)
SAME TITLE BUT NOT THE SAME SONG AS
'SHE'S MY BABY' BY JOHNNY O'KEEFE.
Single from the album Traveling Wiburys Volume 3 (the Wilburys' second album). The Traveling Wilburys were Bob Dylan, George Harrison, Roy Orbison, Tom Petty and Jeff Lynne.

OTHER RED HERRINGS:
There are numerous different songs called She's My Baby by artists who include Otis Banks, Dee Clark, Fats Domino, Dave Edmunds, Tennessee Ernie Ford, B. B. King, Carole King, Van Morrison, Sonny Boy Williamson, Wings…
---
Al Lucas - She's My Baby (1959)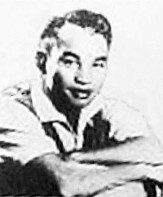 Single on Challenge #59042, reviewed in Billboard 13 April 1959.
Al Lucas (1936-1997), born Alfred Hornos Jr, was a Hawaiian singer of Filipino descent who released two singles on Los Angeles label Challenge in 1959. He was born in Honolulu, served in the U.S. Air Force, and was residing in the town of Lihue on the Hawaiian island of Kauaʻi at the time of his death.
Not to be confused with jazz bassist Al Lucas (1916-1983) or American footballer Al Lucas (1978-2005).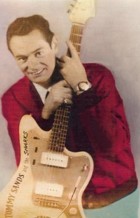 ---
The writer credits are to Canadian-born guitarist-singer-songwriter-producer Scott Turnbull (pictured, right); Honolulu deejay Tom Moffatt; and Al Lucas's manager Earl Finch.
Scott or Scotty Turnbull (1931-2009), real name Graham Morrison Turnbull), was best known as Scott or Scotty Turner. He also recorded as Graham "Scotty" Turnbull, and wrote some songs as Allison Dewar.
---
Tom Moffatt recalls (by email) that the song was written in November 1958 when Scott Turner was in Hawaii to back Tommy Sands in The 10th Show Of Stars. Connie Francis, The Diamonds and Scott Turner's group, The Raiders, were on the bill, along with local artists who included Al Lucas. Tom Moffatt was the emcee. Tom writes: I remember coming up with the first line of the song. It described a Hawaii girl who was my current love at the time… I interviewed Johnny O'Keefe on my radio show after the song was released on Liberty records in the US. (Email to PopArchives, March 2008)
Tom Moffatt, who helped to launch the career of another Hawaiian artist, Robin Luke (Susie Darlin', 1958, #5 USA), continued presenting an oldies radio show in Hawaii well into the 2010s and wrote a celebrity news column in the Hawaiian magazine Midweek.
---
Further reading:
Al Lucas: See the 1997 Star Bulletin (Honolulu) obituary of "Alfred B. Hornas Jr also known as Al Lucas, entertainer". This page has details of Alfred Hornas in his father's household from the 1940 US Census.
Scott Turner (aka Scotty Turnbull): Damian Johnstone's 2009 tribute at Spectropop, and the Wikipedia entry on Scott Turner. See also Scotty Turner's band The Raiders at Rockin' Country Style.
Tom Moffatt: Profile at MidWeek magazine (Hawaii), and an archive of his column there, Uncle Tom's Gabbin.
Challenge Records: For more about the label, co-founded in 1957 by cowboy singer-actor Gene Autry, see the pages at Both Sides Now, Wikipedia and Rockin' Country Style.
---
Thanks to Earl Mitchell for pointing the way to the original version, and to Tom Moffatt and Damian Johnstone for further background.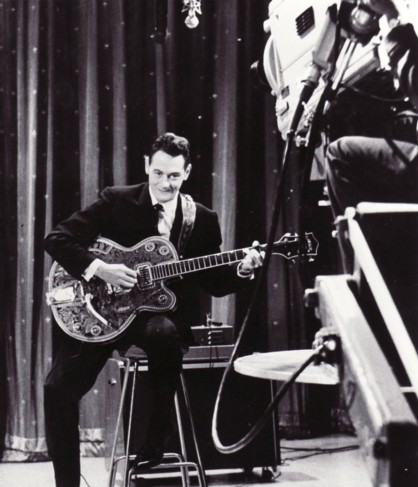 Scotty Turnbull, co-writer of She's My Baby, on Australian TV, March 1959. From Damian Johnstone – The Wild One (2001), p.77 (thanks to Damian Johnstone).
---
Kate Miller-Heidke - She's My Baby (2018)
In the film Ladies In Black (2018), performed by Australian singer-songwriter Kate Miller-Heidke in her role as Nightclub Singer. Directed by Bruce Beresford, the film is set in 1950s Sydney.