Lynne Randell - That's A Hoe Down (1967)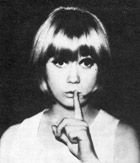 Recorded in New York by Australian singer Lynne Randell (1950-2007), a former Melbourne hairdresser born in Liverpool UK, who toured the US on the same bill as The Monkees and Jimi Hendrix. With orchestra directed by Al Gorgoni, produced by Ted Cooper, USA single on Epic label, Australian single on CBS label. See also Ciao Baby.
That's A Hoe Down was registered with the US Copyright Office on 23 August 1967 under the name of Albert Hommond (renewed in 1995, #RE0000687047), but it is an obscure composition by Albert Hammond (ASCAP Title #505619316).
During a career that goes back to the late 50s, singer-songwriter-guitarist Albert Hammond (b. London, 1944) has written numerous hit songs for other people, but he also emerged as a successful solo artist from the early 70s. His best-known compositions from the 60s and 70s were written with Mike Hazelwood (1941-2001).
Hammond-Hazelwood compositions include Little Arrows (Leapy Lee 1968), Make Me An Island (Joe Dolan 1969), You're Such a Good Looking Woman (Joe Dolan 1970), Gimme Dat Ding (Pipkins 1970), Freedom Come, Freedom Go (Fortunes 1971), It Never Rains in Southern California (Albert Hammond 1972, his biggest hit in his own name), The Air That I Breathe (Albert Hammond 1972, Hollies 1974), and I'm A Train (Colours Of Love 1968, Albert Hammond 1974). With Hal David, Albert Hammond wrote To All the Girls I've Loved Before (Albert Hammond 1975, Julio Iglesias & Willie Nelson 1984).
Further reading:
1. Epic label shot at the Iron Leg blog.
2. Lynne Randell page at Milesago.
3. Listing at AlbertHammond.net.
4. Albert Hammond at All Music Guide.
5. Mike Hazelwood at Wikipedia (short entry)
Thanks to Reto at AlbertHammond.net.
Feature suggested by John Yeager.
Shyster - That's A Hoe Down (1968)
Single on Polydor label, B-side of Tick-Tock. The writer credit on the label is to Hammond.
Shyster was actually made up of members of the band Les Fleurs De Lys, known for Mud In Your Eye, included on Nuggets 2.
Gordon Haskell, who wrote Lazy Life (Australian version by Heart 'n' Soul), was a member of Les Fleur De Lys at this time.
Les Fleur De Lys also recorded as Rupert's People. Les Fleurs De Lys singer Chris Andrews (not the Yesterday Man) sang on Reflections Of Charlie Brown, again under the name Rupert's People, a song anthologised in Australia on Glenn A. Baker's Hard To Get Hits Vol. 1.
Further reading: 1. The complex band history and discography of Les Fleurs De Lys at Magic In The Air. 2. Les Fleurs De Lys at British Beat Boom.
Thanks to recordjunky1 for label details.