Cheryl Gray - The Real Thing (1966)
The label credits Simpson alone, omitting Ashford and Armstead.
---
This is not the same song as The Real Thing by Russell Morris.
---
Single on HMV, the first by artist later known as Samantha Sang. See her international hit Emotion (1977), a record with strong Bee Gees connections.
Cheryl Gray (b.1953) is the daughter of Melbourne singer and vocal teacher Reg Gray whose real surname was Sang. Both her father and her mother, Joan Clarke, sang on Melbourne radio and TV. She was in her early teens when Brand New Woman, her first charting single, was released.
See also Cheryl Gray's biggest chart hit You Made Me What I Am, and another charting record It's Not Easy Lovin' You.
Further reading: 1. At the age of fifteen and a half, Cheryl Gray is well on her way to fulfilling her chosen ambition… Sydney Morning Herald, 5 August 1967 [Google News Archive] 2. The Samantha Sang biography at Super Seventies Rock Site also covers the Cheryl Gray years.
Thanks to Nick, via 45Cat.com, for clarification. Thanks also to David Walker.
---
Tina Britt - The Real Thing (1965)
Some early pressings [promo copies?] miscredited music publisher Ed Silver as writer, corrected on later issues.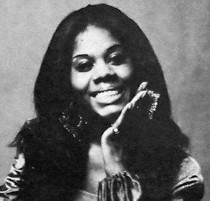 Single on Eastern, April/May 1965
[Billboard new releases May 1, 1965].
The Real Thing was one of two singles that charted on Billboard's R&B Singles chart for Tina Britt (b.1938), highly-regarded soul-r&b-blues singer with a gospel background. She was born in Florida and raised in Philadelphia, real name Tina Brittingham.
Tina Britt released five singles 1965-1969 on New York label Sue's subsidiary Eastern, then on United Artists' Veep label, and on New Orleans label Minit, by this time acquired by Liberty.
Britt's producer throughout was Juggy Murray, co-founder of Sue, the notable independent soul label. After an album on Minit, Blue All The Way (1968, reissued 2006), again produced by Murray, and a 1969 single off the album, she seems to have disappeared from the music business without trace.
More recently, Tina Britt has become known to new listeners through CD reissues of her LP and of individual songs.
---
The writers are prolific husband-and-wife songwriting and producing team, Nickolas Ashford (1941-2011) and Valerie Simpson (b.1946) with their frequent collaborator Joanne "Joshie" Armstead. Ashford & Simpson were also a succesful singing act. Their compositions include:
• Ain't Nothing Like The Real Thing by Marvin Gaye & Tammi Terrell (1968, #8 USA); Donny & Marie Osmond (1976, #21 USA)
• Let's Go Get Stoned (wr. with Jo Armstead) by Ray Charles (1966, #31 USA); Joe Cocker (1970, on Mad Dogs & Englishmen)
• You're All I Need to Get By by Marvin Gaye & Tammi Terrell (1968, #7 USA); Aretha Franklin (1971, #19 ); Method Man feat. Mary J. Blige (#3, 1995, as I'll Be There for You/You're All I Need to Get By, sampling the 1968 Gaye-Terrill version)
• California Soul by Fifth Dimension (1969, #25 USA)
• Ain't No Mountain High Enough by Marvin Gaye & Tammi Terrell (1967 #19 USA); Dinah Ross (1970, #1 USA)
• I'm Every Woman by Chaka Khan (1978, #21 USA); Whitney Houston (1993, #4 USA)
• Solid by Ashford & Simpson (1984, #20 USA)
---
References, further reading: 1. The sources tend to repeat the same few biographical details on Tina Britt, most of which may be found in the liner notes to her album. 2. Tina Britt discography at Soulful Kinda Music. 3. Review of Blue All The Way at Classic and Rare Soul Sisters 50s – 70s. 4. Funk My Soul's album review also has a readable image of the liner notes. 5. Juggy Murray by Mick Patrick at Spectropop. 6. Juggy Murray obituary at The Independent. 7. Nickolas Ashford and Valerie Simpson biographies and song list at Songwriters Hall of fame.
---
Betty Everett - The Real Thing (1965)
Single on Vee Jay, May 1965 [Billboard new releases May 8, 1965].
Mississipi-born but Chicago-based soul singer Betty Everett (1939-2001) recorded on a number of independent labels from 1957, beginning with Cobra. Her first record on Vee Jay, You're No Good (1963) came out long before Linda Ronstadt turned it into a #1 hit in 1974. Everett's own hits came in 1964 with The Shoop Shoop Song (It's in His Kiss) (#6 USA, first recorded by Merry Clayton), and a duet with Jerry Butler on Let It Be Me (#5 USA), a 1955 French song with an English-language history that went back to 1957.
Further reading: Betty Everett page at Spectropop.
---
The Chiffons - The Real Thing (1965)
Single on Laurie, May 1965 [Billboard new releases May 29, 1965].
B-side of Nobody Knows What's Goin' On (In My Mind But Me)
New York vocal group The Chiffons had five Top 40 hits on Laurie 1963-1966, beginning with the Ronnie Mack composition He's So Fine (1963, #1 USA), later the subject of a successful plagiarism suit against George Harrison for his 1970 #1 hit song My Sweet Lord. The Carole King & Gerry Goffin song One Fine Day (1963, #5 USA) followed soon after. Their last hit was Sweet Talkin' Guy (1966, #10 USA), a #4 hit in the UK when it was re-released in 1972.
One of the best early-'60s New York girl groups, combining sassiness and innocence on several of the style's greatest classics.
– Richie Unterberger, All Music Chiffons biography
---
Kim D. - The Real Thing (1965)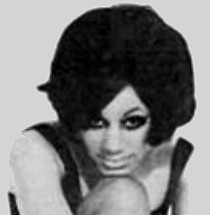 Single on Pye by Kim Davis, October 1965.
Kim Davis, from Newcastle, became known initially in England's North East from 1964 as the dynamic vocalist with Kim and the Kinetics. They were promoted on tour as the Geordie Sound, along with the likes of The Merseybeats and Joe Cocker. She later fronted Kim D and the Del 5, followed by a new band called Kim D and the Del 7.
Davis released singles 1966-1969 under the names Kim D & the Del 5 (on Decca), Kim D (Pye) and Kim Davis (CBS).In 1979 she became lead singer of British disco band Eruption, replacing founding vocalist Precious Wilson. This was after the band's biggest hits (I Can't Stand The Rain and One Way Ticket) but in her short time with them before her untimely death in 1980 Davis sang on Go Johnnie Go, a Top 10 hit in parts of Europe, and on the band's third album, Fight Fight Fight (1980).
Recommended reading: My main source is the Kim Davis page at Ready Steady Gone: Gigging in the North East 1965-1972, written by Roger Smith who was in the Del 7 with Kim Davis. The comments are worth reading too, especially those from people who were close to her, and you get an idea of the high esteem in which she was held.
Another North East music site, Vintage Sixties Live, has a Del 5 page with photos and printed ephemera from Del 5 member Colin Woodland.
---
---
Russell Morris - The Real Thing (1969)

SAME TITLE BUT NOT THE SAME SONG AS
'THE REAL THING' BY CHERYL GRAY.
See Russell Morris – The Real Thing for more on this legendary Australian hit.
---
Marvin Gaye & Tammi Terrell - Ain't Nothing Like The Real Thing (1968)

NOT TO BE CONFUSED WITH
'THE REAL THING' BY CHERYL GRAY.
Another song about The Real Thing written by Nick Ashford & Valerie Simpson.
Single on Tamla by Motown solo singers who as a duo had seven Billboard Top 40 records 1967-1969. Marvin Gaye also recorded charting duets with Kim Weston and Diana Ross.