Liv Maessen - The Love Moth (1969)
Original English version?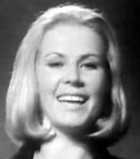 Charted in January 1970.
Single on Polydor YouTube, an English rewrite of an Italian song, La Pioggia (see below).
The notable American songwriter Buddy Kaye wrote the English lyrics. I have not found any other versions of this song as The Love Moth.
This was the first charting single by Liv Maessen, a deep-voiced Melbourne-based singer who won a 1970 Logie Award (Australia's equivalent of the Emmys) for Best New Talent.
The Love Moth was arranged John Farrar of The Strangers, later in post-Shadows group Marvin, Welch & Farrar, and a writer-arranger-producer for Olivia Newton-John (see The Banks Of The Ohio).
See also: Liv Maessen's hit songs Knock Knock Who's There and Snowbird.
Reference: 'The Love Moth' at SecondhandSongs
---
Gigliola Cinquetti - La Pioggia (1969)
Single on CGD. YouTube Released in Australia on CBS.
La Pioggia ("The Rain") is the song that became The Love Moth. It was a hit in Italy; #20 for the year, according to OldieHitParade.de [archived page].
La Pioggia was an entry in the 1969 San Remo Music Festival (30 January-1 February 1969).
Gigliola Cinquetti and France Gall each sang La Pioggia in Italian at the Festival, but each released a version in her own language.
San Remo practice was to air a new song twice, first by an Italian artist and later again the same day by an international artist for the European TV audience. The records would be released simultaneously after that, on the following Monday.
Thanks to Roberto Lanterna, by email from Italia, for San Remo insights.
References: 1. End-of-year Italian charts at OldieHitParade.de. 4. Release details at SwissCharts.com 5. Song Further reading: Gigliola Cinquetti biography at All Music Guide.
---
France Gall - L'orage (La Pioggia) (1969)
French-language version ("The Storm"). YouTube
Track on EP on French label La compagne by French yé-yé star France Gall. Following San Remo practice, this would have been released on the same day as Gigliola Cinquetti's Italian single (see below).
The two singers had each sung La Pioggia in Italian at the San Remo Music Festival, 30 January-1 February 1969. France Gall's recording also charted in Europe.
References, further reading: 1. France Gall entry at fr.Wikipedia. 2. France Gall biography by Thom Jurek at All Music.

---
France Gall - La Lluvia (1969)
Spanish-language version of La Poggia, single on Spanish label Movieplay and on Sonoplay, another imprint of the Movieplay company. Both issues also bear the logo of the original French label La compagne. The Spanish title has the same meaning as the Italian original: "The Rain". YouTube