Single on W&G, B-side of Oh Donna, by Melbourne rock'n'roll singer and guitarist who released a handful of singles on W&G 1965-66 and appeared on the major TV pop shows, notably The GO!! Show. Farmer John was also on the W&G album Go Go Go.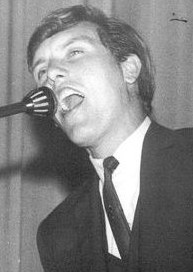 Backing was by Melbourne band The Strangers. The deep voice saying, "Now looky here!" belongs to John Farrar of The Strangers.
Johnny Cooper started out in the early 60s with Melbourne bands The Mustangs and The Monarchs, and before going solo he was with The Saxons for a time as vocalist. He was a hard-working performer on gigs around Melbourne and beyond, and was still gigging well into the 2000s.
Johnny's official site seems to be permanently offline, but you can still access an archived version at Internet Archive. It's worth reading, not only for an honest account of Johnny's career from his perspective but also for a glimpse of the music scene in 1960s Melbourne.
---
Not to be confused with… This is not New Zealand country singer-songwriter and rock'n'roll pioneer Johnny Cooper, notable for his early recording of Rock Around The Clock (1955).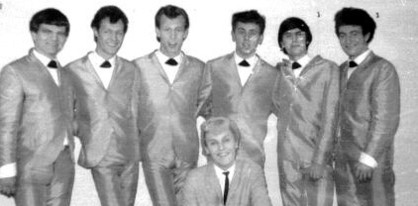 References: 1. Chris Spencer et al, Who's Who of Australian Rock. 2.Johnny Cooper's website [archived]. 3. Milesago's GO!! Show page. 4. National Film and Sound Archive's 60s discography (.PDF).
Thank you to Deidre for suggestion and leads.
Photo: Thanks to Johnny Cooper.
---
The Premiers - Farmer John (1964)
Single on independent label Faro March 1964, released for national distribution on Warner Bros in May 1964. The band's name is spelt Premieres on the drumkit seen in the Bandstand clip (right) but the singles have Premiers without the third 'e'.
This is a version of a garage favourite by The Premiers from San Gabriel CA, formed around brothers Lawrence and John Perez. The single was recorded in a studio but featured party-time background noises by the girls from the Chevelles Car Club.
Essential reading: Richie Unterberger's liner notes to The Premiers' "Farmer John". See also notes on the Faro single by Twitster at 45cat.
---
Don & Dewey - Farmer John (1959)
Single by the writers on Specialty. Don & Dewey were violinist and guitarist Don 'Sugarcane' Harris (1938-1999) with Dewey Terry (1938-2006).
---
Don & Dewey first recorded Farmer John in 1957 in a slow version with a conventional, guitar-strumming arrangement, almost unrecognisable as the song we know. It remained unreleased until 1991, on the Jungle Hop CD, which includes both versions.
---
Don & Dewey wrote and recorded the original version of I'm Leaving It Up To You (1957), later a hit for Dale & Grace (1963, #1 USA); and the original of Justine (1958), better known through the Righteous Brothers' version (1965, #85 USA).
In the 70s 'Sugarcane' Harris played violin with John Mayall and with The Mothers of Invention.
Arnold Rypens at The Originals lists versions by Michigan band The Tidal Waves (1966) and Neil Young (1990), among others. The Magnificent Seven topped the chart with Farmer John at WTBC in Tuscaloosa AL, 18 August 1966 [ARSA]. No doubt there are other local examples.
Further reading: 1. Biography of Don & Dewey by Bill Dahl at AllMusic. 2. Wikipedia entry on Don & Dewey.
Thanks to Walter.
---
The Searchers - Farmer John (1963)
On the Pye album Meet The Searchers and on the EP Ain't Gonna Kiss You.
Released as a single on Astor in Australia, this was a well-known track from the Merseybeat repertoire and probably had a greater impact here than The Premiers' version.
Thanks to Terry Stacey.
---
Steve & The Board - Farmer John (1966)
On their LP And The Giggle-Eyed Goo. Also on the EP I Call My Woman Hinges.
Pop/r&b band Steve & The Board, formed in 1965, were led by Cincinnati-born Steve Kipner. They were produced by Steve's father Nat who was A&R man and a major producer at Spin Records where he was responsible for the Bee Gees' later Australian singles.
For more on Steve Kipner, see Steve & The Board – Rosalyn.
---
The Hep Stars - Farmer John (1965)
Single on Olga, a hit in Sweden and Norway, by Sweden's most popular group of the 60s. Benny Andersson, later of ABBA, was a member. Also released in USA on Cameo #376.
See also: The Hep Stars singelskivor 1965-1969! at TheHepStars.se.