Single on Clarion by Perth band, July 1966, vocals by Glen Ingram, a double-sided hit in Perth with the B-side Long Time Gone. On the NZ Festival single the A- and B-sides were reversed.
Co-charted in Sydney from November 1966 with version by Peter Nelson & the Castaways.
This is an upbeat r&b arrangement of the old music teachers' favourite, somewhat reminiscent of the Tom Jones version.
---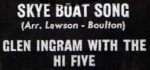 Glen Ingram later sang with Perth band The Clan, recording as Glen Ingram With The Clan for an EP on Clarion that included a further version of Skye Boat Song. They charted with another track on Clarion, Take This Hammer (1967, #12 Perth) YouTube, a traditional American work song.

Ingram also released a solo single, a version of Marvin Gaye's 1965 record I'll Be Doggone (1967) YouTube.
Glen Ingram now lives in regional Western Australia (2019). He is known in his community for his award-winning artwork.
Not to be confused with the Queensland zoologist and canetoad expert Dr Glen Ingram. The 1960s Western Australian singer is a different Glen Ingram.
---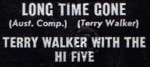 Singer-guitarist-songwriter Terry Walker, the other Hi-Five vocalist, wrote and sang Long Time Gone YouTube. The artist's name for the B-side is Terry Walker With The Hi-Five. He was also in The Times (see Tender Feeling), The Clan (see below), and The Strangers (see Happy Without You). He sang on Pastoral Symphony's Love Machine, and his vocals are on the rare psychedelic single Even Stevens / Hypnotic Suggestion by studio band The Vegetable Garden (1969).
---
References: 1. Ian McFarlane, Encyclopedia of AustralianRock and Pop (1999), p.318. 2. David Johnston, The Music Goes Round My Head (2010), p.167.
Thanks to The_Vinyl_Junkie (via 45cat.com) for disambiguation. Thanks to Geoff Wood for correction and clarification.
Suggestion from Terry Stacey.
---
Peter Nelson & The Castaways - Skye Boat Song
September 1966 (Australia)
April 1967 (New Zealand)
Co-charted in Sydney with version by Glen Ingram & the Hi-Five. The two versions entered the Sydney charts together in November 1966.
Single on HMV by Christchurch NZ band, later known simply as The Castaways. Late in 1966 The Castaways left for Australia where they stayed until 1968.
This was the B-side of Goin' Out Of My Mind, a George Vanda–Stevie Wright composition first released by The Easybeats in November 1966 on their album Volume 3.
See also Baby Can I Take You Home (1965).
Further reading: Castaways page at Bruce Sergent's NZ music site.
---
Tom Jones - Skye Boat Song (1965)
On 1965 Decca album Along Came Jones.
Elements of the vocal styling and arrangement appear to have been taken on board by some of the locals Down Under YouTube. Tom Jones performed it in Australia in 1965.
Thanks to David Murr and Chas Lane for version alert.
---
King Size Taylor & The Dominoes - Sky Boat Song
1963 or 1964
Album track (spelt Sky Boat Song) on Star Club Time Mit Kingsize Taylor & The Dominos on Ariola (Germany) YouTube. Later on Bear Family CD set Die Ariola Star-Club.
Merseyside group formed in 1957 who often worked in Europe, including Hamburg where Ted "Kingsize" Taylor hometaped The Beatles at the Star Club. Cilla Black often appeared as vocalist with the Dominoes.
See also: Stupidity.
Thanks to Terry Stacey for version alert.
Further reading: More details of the band from British Beat Boom [archived page].
---
Rod Stone - Skye Boat (1962)
Single on Lexian. The title is simply Skye Boat.
Lexian: NZ label, active in the early 1960s. Owned by Alex Jennings (Discogs.com).
Instrumental version in the style of the Shadows, conceived and arranged by the 17-year-old guitarist Rod Stone, future member of top New Zealand band The Librettos. After relocating to Australia with The Librettos, Rod Stone joined Normie Rowe's band The Playboys, bound for London (see Normie Rowe's Ooh La La). Rod was later guitarist with popular Australian band The Groove. See Rod's biography at his website.
You can hear an excerpt from this version playing in the background if you go to this page at Rod Stone's website.
Thanks to Rod Stone for background and to Bill Casey for version alert.
---
Tom Bryce - Skye Boat Song (1899)
Original released version
On flat disc issued by The Gramophone Company, a British subsidiary of the American company founded by gramophone and disc inventor Emile Berliner. It was probably recorded 20-23 September 1898, in London, where Berliner's associates had studios at 31 Maiden Lane, 1898-1900.
The company sold the discs and the machines to play them on. Initially called Berliner's Gramophone Company after its American parent, it began using the His Master's Voice brand name and logo on its discs from 1910, and in 1931 merged with The Columbia Graphophone Company to form the major British music company EMI.
Consensus is that this is the first recording and release of Skye Boat Song.

Standard (London) 27 July 1898, p.1
References: 1. Skye Boat Song at The Originals. 2. Skye Boat Song at SecondhandSongs. 3. Brian Rust on history of British Berliner, with discography, Talking Machine Review 63-64, Autumn 1981. He lists a batch of Tom Bryce records, 2045-2064 (all but one recorded 20-23 Sept 1898) but has a blank next to 2048, now known to be Skye Boat Song. A page from a contemporary Gramophone Company catalogue, reproduced here by Joop, fills in that gap. In fact, Rust notes that these earliest Berliner (Britain) numbers 500-9274 are catalogue numbers assigned later without regard to chronological order, as no matrix numbers were assigned when the records were pressed. They were organised into groups, with the 2000 run denoting male performers. 4. Peter Stone's discussion of Gramophone Company-Berliner-HMV records at 78-records.com.
---

See the excellent Joop's Musical Flowers for Skye Boat Song's history, as well as label shots of some other early recordings, including Mr. Andrew Black (1904), P.A. Hope (1911), and Alexander MacGregor (1924).
---
---

Manchester Guardian 31 January 1910, p.1
---
[published Manuscript] - Skye Boat Song (1884)
Lyrics by Sir Harold Boulton, melody by Miss Annie MacLeod, apparently based in part on a traditional Gaelic sea shanty or rowing measure Cuachag nan Craobh (The Cuckoo in the Grove). Original arrangement by Malcolm Lawson.
Published in Songs of the North by Boulton and MacLeod, London, 1884.
The song is about the escape of Bonnie Prince Charlie to the Isle of Skye after his defeat on Culloden Moor in 1746. See, for example, notes at the Contemplator website of Lesley Nelson.
---
Glen Ingram With The Clan - Skye Boat Song (1966)
Track on Clarion EP Skye Boat Song by Perth band formed 1966, with several line-up changes until it broke up in 1969. Glen Ingram had earlier sung on a hit version of Skye Boat Song, also in 1966 (see Glen Ingram With The Hi-Five, above).
At this stage, Terry Walker, also from The Hi-Five, was in The Clan on guitar.
The band released a further single on Clarion (1968) as simply The Clan.
Reference: 1. Murray Gracie & John Mills (eds), Jive, Twist and Stomp, WA Rock & Roll Bands of the 50s and 60s (2010).
---
Larry's Rebels - Skye Boat Song (1967)
Track on LP A Study In Black YouTube by popular band from Ponsonby in Auckland, often in the New Zealand Top 10 in the late 60s. Vocalist Larry Morris later went solo and had six singles on the NZ charts 1969-1983.
For more on Larry's Rebels see, for example, Painter Man (1967), one of their NZ hits. See also The Rebels.
---
The Atlantic Crossing Drum & Pipe Band - Skye Boat Song (1976)
Released 1996.
Arrangement and vocals by Rod Stewart, recorded during sessions for Atlantic Crossing. Two versions were recorded, both included on a CD 'de luxe' version of the album (1996).
---
---
Roger Whittaker & Des O'Connor - Skye Boat Song (1986)
Kenyan-born balladeer/whistler teams up with British song and dance man/TV personality YouTube.
---