Robbie Snowden - Surrounded By A Ray Of Sunshine (1968)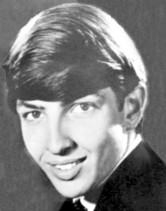 Single on Clarion by Western Australian pop star (1948-2009) who relocated from Perth to Melbourne and had a handful of charting records 1967-68. For more details see No One Really Loves A Clown, his biggest hit.
See also: Sheila, Sunshine Rides On A Trolley and Freckles.
Samantha Jones - Surrounded By A Ray Of Sunshine
Written by Charles Blackwell, arranger, producer and composer who worked with legendary British producer Joe Meek and produced, for example, Françoise Hardy and P. J. Proby. See also Bev Harrell – You Don't love Me No More.
Samantha Jones, born Jean Owen, had been a member of the Vernon Girls, a professional offshoot of the Vernon Football Pools company choir from Liverpool. See also Vicki Brown (From The Inside) and The Breakaways (He's A Rebel). Samantha Jones was produced by Charles Blackwell and also recorded in the US. See career summary by Bruce Eder at All Music Guide.