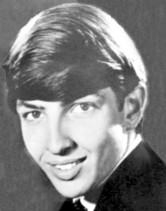 Single on Clarion by Western Australian pop star (1948-2009) who relocated from Perth to Melbourne and had a handful of charting records 1967-68. For more details see No One Really Loves A Clown, his biggest hit.
WA TV History's Robbie Snowden tribute page has video of Robbie's last performance of Sheila, recorded in October 2009.

A suitable song for an Aussie artist to record, given the local meaning of sheila:
See also: Surrounded By A Ray Of Sunshine, Sunshine Rides On A Trolley and Freckles.
---
Tommy Roe - Sheila (1962)
Single on New York label ABC-Paramount, a rerecording produced by Felton Jarvis. See ABC-Paramount
label shot
at Rockin Country Style.
---
Tommy Roe & The Satins With The Flamingos - Sheila (1960)
Single on Judd label, Muscle Shoals, Alabama. This version predates the 1962 hit release on the major label ABC-Paramount. See the Judd label shot at Rockin' Country Style. RCS also has an audio clip.
Clearly a dip o' the old lid to Buddy Holly's Peggy Sue, first hit
Arnold Rypens lists more versions of Sheila at The Originals.

---