Robbie Snowden - No One Really Loves A Clown (1967)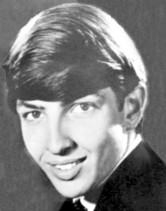 Single on Western Australian label Clarion by Perth pop star who had a handful of charting records 1967-68, of which this was the biggest hit.
Robbie Snowden passed away in December 2009, aged 61. For an indication of the high esteem in which Robbie was held, see the tribute page at WA TV History, which includes many messages from his contemporaries in the Australian music and radio industry. Also included is video of Robbie's last live performance of Sheila, from October 2009.
Robbie Snowden, was born in the UK but had lived in Australia since infancy. He started out recording advertising jingles for a Perth agency and appeared on Johnny Young's TV show. Signed to Clarion Records, he had a #1 in Perth 1966 with a version of Dion's The Wanderer (also #7 Brisbane) and relocated to Melbourne in 1967. In later years he worked at Radio 4GG and the Sunshine Coast Daily, and he also worked as a cruise ship director for a while.
See also: Surrounded By A Ray Of Sunshine, Sunshine Rides On A Trolley, Freckles and Sheila.
Thanks to Terry Stacey, Mike Robbins, Don Wood and Frank Calabrese for their contributions to this page.
References: 1. Noel McGrath, Encyclopedia of Australian Rock and Pop. 2. Robbie Snowden tribute at WA TV History.
Album: The Clarion Call: Western Australia's Legendary Clarion Label.
---
David Gates - No One Really Loves A Clown (1963)
Single on Del-Fi.
Working for Bob Keane at West Coast label Del-Fi in the early 60s was an early career move for David Gates (b. 1940), later known for his chart-topping group Bread.
As well as writing and producing, the pre-Bread Gates recorded under his own name, and participated in a number of bands that were part of the thriving surf music movement. Somewhere in there he also, for example, wrote The Murmaids' charming hit song Popsicles And Icicles (1963, #3 USA) and produced Suzy Wallis.
See John Lindquist's annotated discographies of solo and group releases of David Gates. Ben McLane's account of Bob Keane and Del-Fi also stars Frank Zappa, Barry White, Johnny Crawford, Glen Campbell, Bruce Johnston, and the Bobby Fuller Four. Both Sides Now also has a Bob Keane bio and a Del-Fi albums discography.
---
Johnny Crawford - No One Really Loves A Clown (1962)
Single on Del-Fi.
Johnny Crawford was a teenaged actor who played Mark McCain, the son of The Rifleman in the popular TV Western series. Signed to Bob Keane's Del-Fi label, he took four records onto the Billboard Top 40.
Johnny Crawford's biggest hit was Cindy's Birthday (#8 USA), covered in the UK by Alvin Stardust's early band Shane Fenton & The Fentones (#19 UK).
David Gates also wrote Johnny Crawford's final single Girl Next Door (Once Upon A Time) (1964).