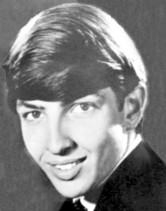 Single on Clarion by Western Australian pop star (1948-2009) who relocated from Perth to Melbourne and had a handful of charting records 1967-68. For more details see No One Really Loves A Clown, his biggest hit.
See also: Surrounded By A Ray Of Sunshine, Sheila and Sunshine Rides On A Trolley.
---
Nilsson - Freckles (1967)
On Pandemonium Shadow Show, critically acclaimed album by eclectic composer and performer Harry Nilsson (1941-1994).
Nilsson's compositions include One, from his 1969 Aerial Ballet, covered by Three Dog Night (#5 USA), also a hit in Australia for Johnny Farnham.
Two of Nilsson's best known chart hits were written by others: Fred Neil's Everybody's Talking (1969, #6 USA, from Midnight Cowboy) and Without You (1971, #1 USA), by Tom Evans and Peter Ham of Badfinger.

---
Nora Bayes - Freckles (1919)
Released on Cola, recorded September 1919. The cover of the sheet music says Introduced with great success by Nora Bayes.
Nora Bayes (1880-1928) was a star of vaudeville, musical comedy and records, portrayed by Ann Sheridan in the biopic Shine On Harvest Moon (1944). See Tim Gracyk's article or the Wikipedia entry.
Of the four 1919 records entitled Freckles that are listed in The Abrams Database, this has the earliest recording date.

Sheet music cover from antiQbook.com.
---
Harvey Bert - Freckles (1920)
Released on Edison Blue Ambersol cylinder and on Edison record. See details by David Seubel at Cylinder Preservation and Digitalization Project.
---
Billy Murray - Freckles (1919)
Recorded November 1919, released on Victor. Source: the Abrams Database, which also lists 1919 recordings of Freckles by Arthur Fields and Paul Biese without composer credits, but they are presumably of the same song.