Debut single, on L&Y, by Debra Byrne (b. 1957, earlier known as Debbie). a graduate of Johnny Young's variety TV show Young Talent Time who went on to a long, successful and sometimes troubled career as a singer and stage actor.
Source: Ian McFarlane, Encyclopedia of Australian Rock & Pop (1999), pp.89-90 [digitised copy online at Internet Archive].
Further reading: 1. Debra Byrne biography at Wikipedia brings her career up to 2019. See also her discography at Wikipedia. 2. Debra Byrne filmography at Internet Movie Database.
Update 2022: Debra Byrne's Facebook page was announcing shows up until December 2022 with jazz pianist and music director John McAll.
---
The Crystals - He's A Rebel (1962)
Single on Philles, produced by Phil Spector.
Co-charted in Brisbane, Adelaide and Perth with the version by Vikki Carr.
Brooklyn girl group The Crystals were regulars on Phil Spector's 'Wall of Sound' productions for his label Philles, formed with independent producer Lester Sill in 1961 but bought out by Spector the following year. He's A Rebel was the biggest of The Crystals' six Billboard Top 20 hits 1961-63 which also included Da Doo Ron Ron (1963, #3 USA) and Then He Kissed Me (1063, #6 USA).
The group heard on the record is The Blossoms, an established LA session group led by Darlene Wright, soon to become a prominent solo artist with Spector as Darlene Love. Spector was set on recording only in Los Angeles, and The Blossoms were on the spot. The Crystals, elsewhere at the time, heard "their" record on the radio. They had to learn it for their live appearances, coached by its writer Gene Pitney who happened to be on tour with them.
Source, essential reading: Mick Brown, Tearing Down the Wall of Sound: The Rise and Fall of Phil Spector (2007) [access online at Internet Archive].
---
Vikki Carr - He's A Rebel (1962)
Single on Liberty, produced by Snuff Garrett.
Co-charted in Brisbane, Adelaide and Perth with the version by The Crystals.
Single on Liberty label by El Paso-born singer whose biggest pop hit was It Must Be Him (1967, #3 USA). Since the 80s she has become a highly regarded Latin-style artist.
Which one is the original? Versions by The Crystals and by Vikki Carr were recorded and released around the same time. The big original version sites disagree on the fine details.
• The Originals has Vikki Carr as the original, noting that the two versions were "cut the same night".
• Second Hand Songs lists The Crystals' record as the original but calls it a "simultaneous original" with Vikki Carr's, while noting that The Crystals were the first to be played on radio.
• 45Cat.com seems to settle it by giving release dates three days apart: The Crystals 14 August and Vikki Carr 17 August, although the source for that is not cited.
Further reading: Vikki Carr biography at All Music.
Thanks to Tony Watson.
---
The Breakaways - He's A Rebel (1962)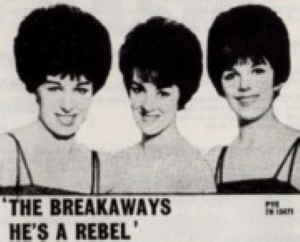 They distinguished themselves as the ultimate, consummate, professionals. Highly respected by virtually all producers, arrangers, engineers, artists and fellow musicians alike…
Producer-musician Mark Wertz on The Breakaways as session singers.
---
Single on Pye October 1962 by three former members of Liverpool's Vernon Girls, a women's vocal ensemble recruited from employees of the Vernon Football Pools company (Sunday Pictorial, 8 Feb 69). They released a number of singles from the late 50s to the mid-60s.
The Breakaways broke away in late 1960 and established themselves as a backing group, initially at Pye Records in London where major producer Tony Hatch used them in many of his sessions.
After some disruptions to the line-up of Vicki Haseman, Margo Quantrell and Betty Prescott, the group continued with Vicki and Margo joined by Jean Ryder, another ex-Vernon Girl. They backed numerous prominent artists across several labels, and toured with Sam Cooke and Little Richard.
The Breakaways' first session was for A Picture Of You, a #2 UK hit for Joe Brown And His Bruvvers. (1962, #2 UK). Joe Brown and Vicki Haseman later married and became the parents of 1980s pop star and session vocalist Sam Brown.
Vicki Brown (nee Haseman) recorded a version of From The Inside, known in Australia through the original hit by Marcia Hines.
---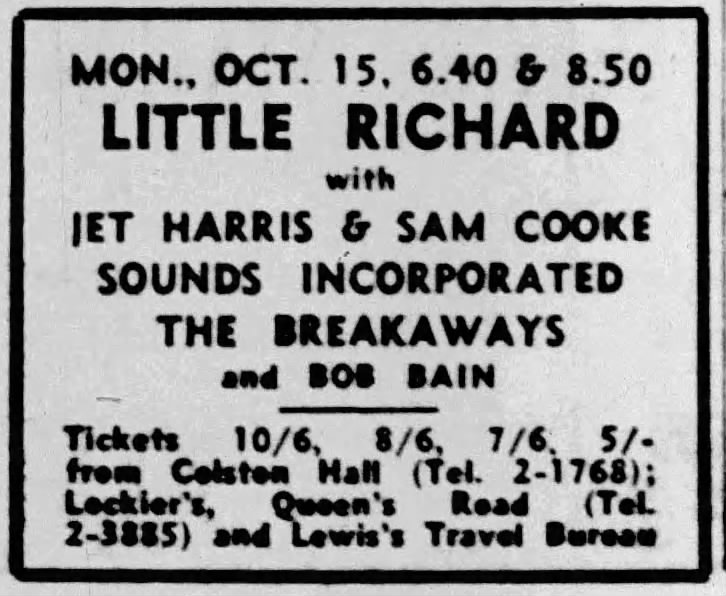 Maggie Stredder of The Ladybirds and Samantha Jones (see Don't Come Any Closer) were also former Vernon Girls.
Source, essential reading: The detailed account of The Breakaways by Ian Chapman and Mick Patrick at Spectropop which takes in future personnel changes through to the 1970s.
Further reading: Mark Wertz, "Luvverly! The Breakaways" at Spectropop.
Thanks to Phil Chapman.
---
Pat Carroll - He's A Rebel (1966)
Pat Carroll (b. 1946) was a popular Melbourne singer in the late 60s, often seen on TV variety and pop shows. For a while she performed with Olivia Newton-John as Pat & Olivia [YouTube], and she married John Farrar, the ex-Strangers guitarist and vocalist who wrote and produced for Olivia.
See also: All Kinds Of Everything.
Reference: Ian McFarlane, Encyclopedia of Australian Rock & Pop (1999), pp.98-99 [digitalised copy online at Internet Archive]
Thanks to Terry Stacey.
---
Jacques Revaux - J'attendais (1963)
Single on Columbia YouTube by singer and songwriter Jacques Revaux (b.1940 as Revaud). The French lyrics are by Revaux with singer-songwriter-film composer Billy Nencioli (1932-1997). Also on Columbia EP On va danser as J'attendais (He's a rebel), along with three other Revaux–Nencioli lyrical collaborations.
Revaux is known by many as the composer of Comme d'habitude, the song Paul Anka turned into My Way. French singer Michel Sardou recorded numerous Jacques Revaux compositions, many of which were Revaux–Sardou collaborations.
Red herring: This is not the Celine Dion song with the same title.
Further reading: 1. Jacques Revaux at Les Auteurs et Compositeurs de la Chanson Francaise [Google English translation]. 2. Billy Nencioli filmography at IMDb, discography at Encyclopédisque.fr
Merci à Philippe de me signaler cette version.
---
The Boones - He's A Rebel (1977)
This is the B-side of You Light Up My Life (#1 USA & Canada), the biggest hit of Debby Boone (b.1956), country, pop and Christian singer, and stage and screen actor.
The Boones were a pop-gospel-country group made up of Debby Boone and her sisters Cherry, Lindy, and Laury. They recorded a number of singles and had some minor success on country charts. Their father is 50s-60s pop & movie star Pat Boone.
Further reading: 1. Boones discography at 45cat.com. 2. Debby Boone's website. 3. Cherry Boone, writer, author and singer at Wikipedia.