Robbie Snowden - Sunshine Rides On A Trolley (1967)

Single on Clarion. This was the first released version of the song, copyrighted title Sunshine Rides On A Trolley Car.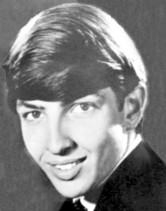 Composer Appel's name is misspelt as Attel on the Clarion label.
Single on Clarion by Western Australian pop star (1948-2009) who relocated from Perth to Melbourne and had a handful of charting records 1967-68. For more details see No One Really Loves A Clown, his biggest hit.
See also: Sheila, Surrounded By A Ray Of Sunshine and Freckles.
The Balloon Farm - Sunshine Rides On A Trolley Car
Unreleased track by New York band The Balloon Farm, written by the same three band members who wrote The Balloon Farm's psych-pop classic A Question of Temperature (1968, #37 USA), later included on the landmark Nuggets 1 box set (1998).
Before joining with Mike Appel and Jay Saks to form Balloon Farm, Edward Schnug and Donald Henny had been in a band called Adam where every member adopted the name Adam. The Balloon Farm line-up later released a single as The Huck Finn.
Mike Appel is now better known as an early but notable producer, writer and manager for Bruce Springsteen: see Richie Unterberger's article at All Music Guide.
The name Balloon Farm is after the club of that name in New York's East Village, renamed from The Dom when Bob Dylan's manager Albert Grossman became part-owner in 1966, and later called the Electric Circus. Dylan is usually cited as having coined the name but the details are hazy and there are different versions. He might have been talking about silver balloon sculptures by Warhol, or the speech balloons he pictured above the crowd.
---
Adam, Balloon Farm, Huck Finn singles discography
Adam
1966, MALA 547: Eve (Adam Mintzer) / Where Has My Little Girl Gone (Mintzer)
Balloon Farm
1967, Laurie 3405: A Question of Temperature (Mike Appel-Don Henny-Ed Schnug ) / Hurtin' For Your Love (Appel-Henny-Schnug-Jay Saks)
Balloon Farm
1968, Laurie 3445: Hurry Up Sundown (Henny-Appel) / Farmer Brown (Appel)
Huck Finn
1968, Kapp 958: Two Of A Kind (Henny-Appel) / We'll Catch The Sun (Appel)
---
Footnote: Writer of the Adam sides, Adam Mintzer, was a member of Adam (known there as 'Adam Taylor'), along with James Fitzsimmons ('Adam London'), Donald Henny ('Adam Dawson') and Edward Schnug ('Adam Schnug').
James Fitzsimmons-'Adam London' also recorded as Jimmy London (Chain Of Love/Get Ready on Karate #510). He also played guitar on Hawk #153-V, Joey and the Ovations – I Still Love You/Runaround (1963).
Thanks to Bryan Fitzsimmons, and to Mop Top Mike at Spectropop Group.