Donna Gaye - Norman-"Normie" (1966)
Parody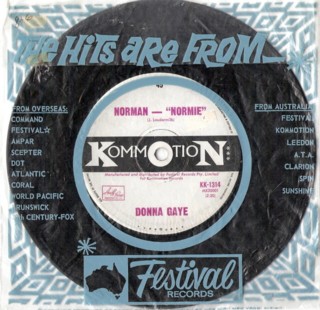 Label shot from Cameron Fahey.

The best known of three singles by Donna Gaye on Kommotion. The Sydney singer was discovered and produced by rock'n'roll veteran Lonnie Lee for Ivan Dayman's Kommotion label. Donna retired from singing when she married Dennis Annable, formerly of Brisbane band The Escorts.
See also Little Things Like That and Untrue, Unfaithful (the B-side of Norman-"Normie").
Norman-"Normie" is a rewrite of Sue Thompson's hit Norman. The 'Normie' of this version is Normie Rowe, then currrent Aussie teen idol who recorded for Sunshine, also owned by Ivan Dayman. Some of Normie's competitors are also mentioned, but they do happen to include fellow Sunshine artists Peter Doyle, Mike Furber and Tony Worsley.
Early pressings of this single showed incorrect writer credits for both sides. Norman-"Normie" was credited to T. Bart-L. Stokes but was corrected on later pressings to John D. Loudermilk (see label shot). The writer of the Australian "Normie" lyrics was uncredited and remains unknown to me (Bart and Stokes remain unidentified: are they significant or was it a random error?). The B-side, Untrue Unfaithful, is not a Loudermilk song, although it was initially credited to Loudermilk-Mills, later changed to Bradley-Mills: in fact it is a Gordon Mills composition. (Thanks to Zbigniew Nowara.)
References: 1. Kees van der Hoeven's account of this song and the original at his John D. Loudermilk site. 2. Graeme Brown's research on Donna Gaye and Sunshine (by email). 3. Spencer et al, Who's Who of Australian Rock.
4. Research by Zbigniew Nowara (by email).
Further reading: History of Sunshine Records at Milesago.
Sue Thompson - Norman (1961)
Single on Nashville label Hickory.
Sue Thompson (b. Eva Sue McKee, 1925) was an experienced country singer when she had her first big pop hit, Sad Movies (Make Me Cry) in 1961. Her youthful voice didn't sound out of place to a teen audience, even though she was by then into her thirties.
Sue Thompson was popular in Australia: for example, she had eight charting songs in both Sydney and Melbourne, the two largest cities. Across various Australian capital cities, she charted with Sad Movies (Make Me Cry) and Norman (1961); Two Of A Kind, Have A Good Time, James (Hold The Ladder Steady) and If The Boy Only Knew (1962); Willie Can (1963); Paper Tiger (1965); Candy And Roses (1974); and a duet with Bob Luman, I Like Your Kind Of Love (1963).
Kees van der Hoeven lists 40 versions of Norman, including French, Norwegian, German, Dutch, Spanish, Finnish and Argentinian versions.
John D. Loudermilk also wrote Sue Thompson's hits Sad Movies (Make Me Cry), James (Hold The Ladder Steady) and Paper Tiger. He wrote Midnight Bus, a hit in Australia for Betty McQuade (1961) and Johnny Chester (1972).
In his own name, John D. Loudermilk is best known in Australia for The Language Of Love (1961) and Callin' Doctor Casey (1962).
Further reading: For in-depth treatment of John D. Loudermilk's career, including such songs as Tobacco Road and Indian Reservation (The Lament Of The Cherokee Reservation Indian), the definitive source is Kees van der Hoeven's John D. Loudermilk site.