Single on Sunshine. Double-sided hit with Heigh-Ho.
Peter Doyle: Melbourne singer (1949-2001), a graduate of TV's Swallows Juniors, backed by The Phantoms and later, at the Astor label, Grandma's Tonic. He joined The Virgil Brothers in 1968 and The New Seekers in 1970. See also Peter Doyle – Whatcha Gonna Do About It.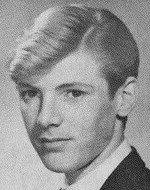 Reference: Milesago's Peter Doyle page.
Further reading: The comprehensive and highly recommended PeterDoyleWebsite.net; and the Wikipedia entry on Peter Doyle.
Thanks to Terry Stacey for version alerts.
---
King Size Taylor & The Dominoes - Stupidity (1964)
From Ariola (Germany) LP Twist Time Im Star-Club 2.
Merseyside group formed in 1957 who often worked in Europe, including Hamburg where Ted "King Size" Taylor hometaped The Beatles at the Star Club. Cilla Black often appeared as vocalist with the Dominoes.
See also: Skye Boat Song.
Further reading: King Size Taylor & The Dominoes from British Beat Boom [archived page].
---
The Undertakers - Stupidity (1964)
Single on Pye label, B-side of Just A Little Bit.
Jackie Lomax was a member of this Merseyside band. His single of George Harrison's Sour Milk Sea, with George producing and the participation of Ringo Starr and Eric Clapton, was among the first batch of singles released on the Beatles' new Apple label in August 1968.
The Undertakers also recorded Dessie Rozier's (Do The) Mashed Potatoes, best known in Australia through Billy Thorpe's version.
Further reading: Undertakers page from the British Beat Boom website [archived page].
---
Solomon Burke - Stupidity (1963)
Single on Atlantic by the composer, B-side of Can't Nobody Love You, also on 1963 Atlantic album If You Need Me. Recorded 1962, unreleased until 1963.
Solomon Burke (1940-2010) was an influential and revered soul singer from a deep gospel background. His chart success was more in R&B than in pop, but he was cited by major pop or rock artists as an influence. The younger Rolling Stones, for example, recorded his Cry To Me and Everybody Needs Somebody To Love.
References, recommended reading: 1. Excellent Solomon Burke biography and critical assessment by Richie Unterberger at All Music. 2. Solomon Burke obituary from The Independent.
---
The Van Dykes - Stupidity (1962)
Single on Atlantic by Baltimore soul band popular in local live venues in the 60s. This was a local hit, their only single. It was recorded the day after Solomon Burke recorded his version which was unreleased until 1963. The Van Dykes played on Burke's session, and some commentators believe the backing track is the same on both records. (I'm not quite convinced, though they are clearly using the same charts.)
Disambiguation: There were other bands called the Van Dykes. These are not, for example, prominent Texas soul band The Van Dykes, formed in Fort Worth in 1964.
Further reading: 1. Discussion at 45cat.com. 2. Atlantic discography for 1962, showing Solomon Burke session details, at Jazzdisco.org. 3. News of a 2014 Van Dykes reunion in Annapolis, Maryland. 4. Baltimore Magazine interview with Van Dykes saxophonist Del Puschert.
---
The La De Das - Stupidity (1967)
On Philips EP Stu-pid-i-ty YouTube by popular Auckland band that grew out of The Mergers, formed in high school in 1963. Their styles moved from the Shadows through the Stones to prog rock, before breaking up in 1975 with Kevin Borich the only remaining foundation member. From the late 60s they worked mainly in Australia, where their biggest hit was Gonna See My Baby Tonight.
See also The La De De Das' How Is The Air Up There? (1966), and Hey Baby (1967), the first local single to reach #1 after the New Zealand pop charts began in 1966.
Further reading: 1. The La De Das page at Milesago covers all the personnel and stylistic changes. 2. Bruce Sergent's La De Das history at his NZ music site.
---
Dr Feelgood - Stupidity (1976)
On 1976 live album Stupidity YouTube.
Disambiguation: This is Dr Feelgood, British R&B pub-rock band formed 1971, not to be confused with Dr Feelgood and the Interns, the recording name of bluesman Willie Perryman, the originator of The Beatles' Mr Moonlight.
Other later versions of Stupidity: