Donna Gaye - Untrue, Unfaithful (1966)

Single on Kommotion, B-side of Norman-"Normie" (#20 Brisbane).
Sydney singer Donna Gaye was discovered and produced by rock'n'roll veteran Lonnie Lee for Ivan Dayman's Kommotion label. Donna retired from singing when she married Dennis Annable, formerly of Brisbane band The Escorts.
See also Norman-"Normie" and Little Things Like That.
On early pressings of the single the writer credit wrongly showed Loudermilk-Mills, later changed to Bradley-Mills, although the sole writer appears to have been Gordon Mills. (Thanks to Zbigniew Nowara.)
References: 1. Graeme Brown's research on Donna Gaye and Sunshine (by email). 2. Chris Spencer et al, Who's Who of Australian Rock (2002). 3. Research by Zbigniew Nowara (by email).
Further reading: History of Sunshine Records at Milesago.
---
Nita Rossi - Untrue, Unfaithful (That Was You) (1965)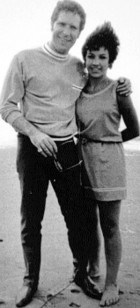 Single on Piccadilly, August 1965 YouTube, also on Hickory in the USA and on Pye (with a picture sleeve) in The Netherlands.
Nita Rossi (b.1948) was a singer from Bournemouth with an Italian background. Her manager was Gordon Mills, composer of Untrue, Unfaithful (That Was You) and manager of Tom Jones (see below).
Untrue, Unfaithful reached #9 at Radio London and #41 at Radio Caroline, but doesn't seem to have made the major national charts.
Like many an overlooked singer with a little bit of soul, Nita Rossi has sneaked in under the Northern Soul umbrella in recent years. In the 2000s she was living in Piacenza, Italy
Further reading: Nita Rossi page at Ready Steady Girls.
Image: Tom Jones and Nita Rossi, This Is Dorset, 12 April 2008.
---
Tom Jones - Untrue, Unfaithful (1965)
Single on Decca, July 1965 YouTube, B-side of With These Hands (#13 UK), also on Tom Jones's 1965 album What's New Pussycat (not the 1965 film soundtrack album which had two tracks by Tom Jones). Single released on Parrot in the USA.
Songwriter Gordon Mills (1935-1986) is well known for his work in management, notably in masterminding the careers of Engelbert Humperdinck, Tom Jones (both of whom he renamed) and Gilbert O'Sullivan.
Gordon Mills discovered fellow Welshman Tom Jones (born Thomas James Woodward, 1940) when he was fronting Tommy Scott and The Senators, a band from South Wales (not the same Senators who originated She's A Mod).
Other compositions by Gordon Mills include Johnny Kidd & The Pirates' I'll Never Get Over You (1963, #4 UK), Cliff Richards' I'm The Lonely One (1964, #8) and Tom Jones's It's Not Unusual (co-wr. Les Reed, 1965, #1).
Originally a harmonica player, Mills had been in the Morton Fraser Harmonica Gang in the 50s, and in pop variety trio The Viscounts who had two minor hits in the UK in 1960 and 1961.
Further reading: 1. Gordon Mills biography at his website. 2. The Viscounts at Nostalgia Central. 3. Tom Jones biography by Stephen Thomas Erlewine at All Music.