Silver Studs - Dance With A Dolly (With A Hole In Her Stockin') (1976)
Single on Phillips by 50s-style revivalist trio formed in 1975 in Brisbane with founding members and mainstays Lance Reynolds and Gino Latorre.
The Silver Studs were a vocal group but they worked with a regular backing band. Their first and biggest hit was a cover version of the Happy Days theme earlier in 1976 [YouTube].
The third member of the group changed from Keith Reed to Vivien Grayson to Paul Stevens. When Stevens moved on to Ol' 55 (replacing frontman Frankie J. Holden), Reynolds and Latorre continued as a duo called The Studs (see Funky Feet).
Reference, further reading: 1. Nostalgia Central's Silver Studs/Studs page. 2. Ian McFarlane, Encyclopedia of Australian Rock & Pop [read Silver Studs entry at Internet Archive: free registration required].
Suggestion and further information from Terry Stacey.
---
Terry Shand And His Orchestra - Dance With A Dolly (1939)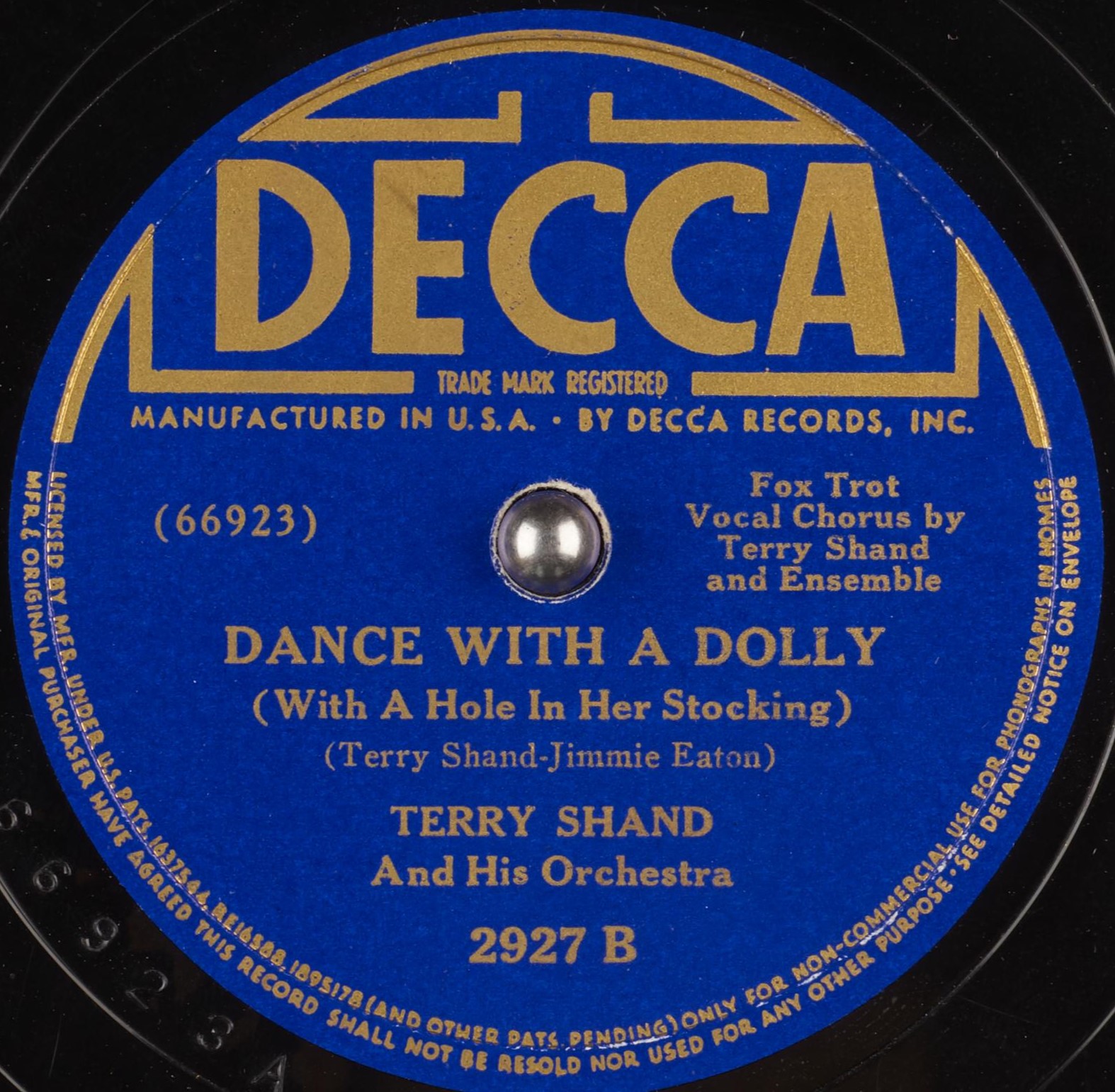 Recorded December 1939, but may well have been released early in 1940.
♫ Listen at Internet Archive (mp3 will play)
Terry Shand (1904-1977), pianist, composer and singer, was with Freddie Martin before forming his own band in the late 30s. See the Big Bands Database Plus [archived page].
As a songwriter Terry Shand's best-known work for the post-WW2 generation is probably You Don't Have to Be a Baby to Cry, written with Bob Merrill, a 1963 hit for The Caravelles (#6 UK, #3 USA). Shand was the vocalist on the 1950 version by Jimmy Dorsey And His Orchestra (see song history at Cover.Info).
Discogs.com's listing for co-writer Jimmy Eaton has him born in Knoxville TN on 7 April 1906. I have found nothing else about Eaton or the third co-writer Mickey Leader. Going by their writer credits at various databases I'm guessing they were professional songwriters who wrote with a number of collaborators (including each other on a few songs).
Dance With A Dolly was also recorded early in 1940 by Tony Pastor & his Orchestra, Louis Prima & his Orchestra, Ray Herbeck and his Music, and Six Hits and a Miss; and in 1944 by Russ Morgan & his Orchestra and Evelyn Knight.
*Mickey Leader's name does not appear in the writing credits on Shand's original version, recorded December 1939. This makes sense:
• The song was first copyrighted in August 1939 by Shand and Eaton only, with the title Dolly With A Hole In Her Stocking.
• A further copyright was registered by Shand, Eaton and Leader in March 1940 with the title Dance With A Dolly With A Hole In Her Stockin'.
---
Joni Mitchell's song Help Me (Court And Spark, 1974):
You dance with the lady
With the hole in her stocking
Didn't it feel good
Didn't it feel good
---
Bill Haley & His Saddlemen - Dance With A Dolly (With A Hole In Her Stocking) (1952)
Release on Essex 78 rpm disc by the pre-rock'n'roll Bill Haley.
Bill Haley recorded the song again in 1976 with the Comets at Fame studios, Muscle Shoals. That version was initially released in the UK and Germany by Sonet.
---
---
Damita Jo - Dance With A Dolly (With A Hole In Her Stocking) (1961)
Charted in Sweden January 1962
Single on Mercury by Texas-born singer in various genres, full name Damita Jo LeBlanc (1930-1998).
Damita Jo made the national Top 40 twice in the US, both times with answer songs: I'll Save the Last Dance for You (1960, #22 USA, after The Drifters' Save the Last Dance for Me) and I'll Be There (1961, #12 USA, after Ben E. King's Stand By Me).
*Damita Jo charted better in Sweden than back home in the USA. Apart from Dance With a Dolly at #3, she had hits with I'll Save the Last Dance for You (#2 Sweden) and Do What You Want (1961, #5 Sweden).
Further reading: 1. Damita Jo biography by Women in Jazz. [Archived page. The tribute concert advertised there is from 2008: newspaper clipping]. 2. Damita Jo LeBlanc at Wikipedia.
Thanks to Erik Alm.