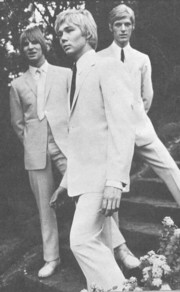 Melbourne vocal group The Virgil Brothers were no more brothers than were the Walker Brothers or Righteous Brothers in whose white soul image they were somewhat fashioned, but their members brought loads of credibility with them.
Rob Lovett had been in the The Wild Cherries and the legendary Loved Ones; Mal McGee – another Wild Cherries alumnus – had been in Python Lee Jackson; and Peter Doyle had been around as a solo singer and as front man for Grandma's Tonic (he went on to be a New Seeker).
When The Virgil Brothers were appearing in the UK in 1969, McGee left and was replaced by Danny Robinson, who had been in a later line-up of The Wild Cherries. (Danny Robinson also recorded as Fourth House.)
Covering this classic deep soul track might have been a bold move if the original had ever been heard in Australia. Then again, The Virgils' version is no slavish copy of the original, and it stands up well on its own merits.
See also Here I Am / Shake Me Wake Me (1968, #3 Brisbane) and When You Walk Away (1969, recorded in UK).
Further reading: 1. The Virgil Brothers page at the comprehensive and highly recommended PeterDoyleWebsite.net. 2. Virgil Brothers history at Milesago.
The Knight Brothers - Temptation 'Bout To Get Me (1965)
Single on Checker.
The Knight Brothers were Washington D.C. soul duo Richard Dunbar (b.1937) and James Leon Diggs (b.1939), the composer of Temptation 'Bout To Get Me. Diggs was also in The Carltons, an Impressions-styled band signed by Chess while The Knight Brothers were still recording for Chess subsidiary Checker.
Although undeservedly unsung at the time, The Knight Brothers have been given recognition through CD reissues of soul material.
---
Temptation 'Bout To Get Me has also been recorded by The Rationals, Billy Stewart, The Rascals and Band Of Oz.
---
Further reading: 1. Andrew Hamilton's biographies of The Knight Brothers and The Carltons at All Music Guide. 2. Knight Brothers discography at Soulful Kinda Music. 3. Knight Brothers page at SoulWalking.co.uk.