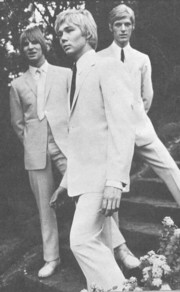 Single on Parlophone (Australia) June 1968. Also released in USA, UK and Canada in 1969: see other releases at 45cat.com.
Melbourne vocal group The Virgil Brothers were no more brothers than were the Walker Brothers or Righteous Brothers in whose white soul image they were somewhat fashioned, but their members brought loads of credibility with them.
Rob Lovett had been in the The Wild Cherries and the legendary Loved Ones; Mal McGee – another Wild Cherries alumnus – had been in Python Lee Jackson; and Peter Doyle had been around as a solo singer and as front man for Grandma's Tonic (he went on to be a New Seeker).
When The Virgil Brothers were appearing in the UK in 1969, McGee left and was replaced by Danny Robinson, who had been in a later line-up of The Wild Cherries. (Danny Robinson also recorded as Fourth House.)
Covering this classic deep soul track might have been a bold move if the original had ever been heard in Australia. Then again, The Virgils' version is no slavish copy of the original, and it stands up well on its own merits.
See also Here I Am / Shake Me Wake Me (1968, #3 Brisbane) and When You Walk Away (1969, recorded in UK).
Further reading: 1. The Virgil Brothers page at the comprehensive and highly recommended Peter Doyle Website. 2. Virgil Brothers history at Milesago.
---
The Knight Brothers - Temptation 'Bout To Get Me (1965)
The Knight Brothers were Washington D.C. soul duo Richard Dunbar (b.1937) and James Leon Diggs (b.1939), the composer of Temptation 'Bout To Get Me. Diggs was also in The Carltons, an Impressions-styled band signed by Chess while The Knight Brothers were still recording for Chess subsidiary Checker.
Although undeservedly unsung at the time, The Knight Brothers have been given recognition through CD reissues of soul material.
Temptation 'Bout To Get Me was also recorded by Band Of Oz.
Further reading: 1. Andrew Hamilton's biographies of The Knight Brothers and The Carltons at All Music Guide. 2. Knight Brothers discography at Soulful Kinda Music. 3. Knight Brothers page at SoulWalking.co.uk.
---
Jeff Duff - Temptation 'Bout To Get Me (1977)
Jeff Duff: Theatrical singer from Melbourne (b. 1956) who fronted Kush (Peter Gunn, 1973, Easy Street, 1974) and other bands, before moving to Britain for ten years in 1978. Recording as Duffo, he released an album called Duffo on the Beggars Banquet label, recorded with the participation of guitarist Peter Green and composer Hans Zimmer. Give Me Back My Brain, a single off the album, charted modestly (1979, #60 UK).
His biography This Will Explain Everything was published in 2016.
Further reading: JeffDuff.com.
Reference: Richard Jinman, Bohemian Rhapsody, a profile of Jeff Duff in the Sydney Morning Herald, 25 September 2004, reported that he was living in Sydney, gigging, recording and writing his autobiography.
Update 2022: Jeff Duff's website was listing Australian dates through to 2023, including his David Bowie tributes
---
The Rationals - Temptation 'Bout To Get Me [Live, 1968] (1995)
On the album Temptation 'Bout To Get Me – Live At The Grande Ballroom Nov. 27, 1968 by accomplished r&b-soul-Britbeat-influenced band from Ann Arbor, Michigan.
The Rationals had local hits but no national chart success beyond a #92 Billboard with their version of Otis Redding's Respect. The band and their frontman Scott Morgan are still held in high esteem long after they broke up in 1970 and are now well-served by reissues, after years of absence.
Further reading: For commentary and links see their 1966 single Leaving Here at this site.
---
The Rascals - Temptation's 'Bout To Get Me (1969)
Track on Atlantic album See by chart-topping quartet with a range of influences and a wealth of song-writing ability. They were formed in New Jersey in 1965 by Felix Cavaliere, Eddie Brigati, Gene Cornish and Dino Danelli. The first three had met when they were in Joey Dee & The Starlighters.
Co-producer of the album Arif Mardin later produced Ed Robinson's single version of Temptation 'Bout To Get Me (1971, see below).
The Rascals started out as The Young Rascals. They wore curious antiquated schoolboy costumes that somehow didn't work against their popularity. By the end of 1967, though, they had ditched the gear and the "Young".
Good Lovin' (1966) Groovin' (1967) and People Got To Be Free (1968) were all #1 hits, with three others in the Top 10: How Can I Be Sure (1967, #4), A Girl Like You (1967, #10), and A Beautiful Morning (1968, #3).
After The Rascals, Gene Cornish and Dino Danelli were in Bulldog, known in Australia and New Zealand for their charting single No. See my blogpost Only in Oz (10) Bulldog – No
References, further reading: 1. Phil Hardy, The Encyclopedia of Rock (1987) 2. Rascals Biography by Richie Unterberger at All Music
---
Aesop's Fables [USA] - Temptation 'Bout To Get Me (1968)
Single November 1968 on Cadet Concept, Chess Records' subsidiary label established 1967. Produced by Bob Gallo, known for his distinguished work at Atlantic Records.
Aesop's Fables were an 8-piece psychedelic-soul band from Hampstead NY, fronted by vocalist Scott Battari with guitars, drums, keyboard, trumpet, trombone, sax and flute.
Source: Discogs.com as linked in text.
---
Not to be confused with Sydney band Aesop's Fables formed 1968: see their single Little Yellow Pills (1971) at this site.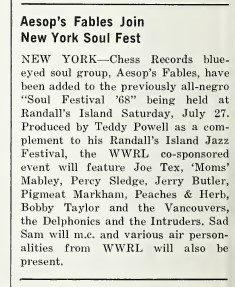 ---
Soul Survivors - Temptation 'Bout To Get Me (1970)
B-side on Atco by soul-r&b group, originally from New York, whose only hit Expressway To Your Heart was written and produced by Kenny Gamble and Leon Huff, an early collaboration and the first hit for that notable Philadelphian team (1967, #4 USA).
---
Ed Robinson - Temptation's 'Bout To Get Me (1971)
Single on Atlantic's Atco label April 1971, by Detroit soul-gospel singer and keyboardist Ed Robinson (1946-2014), full name Edward Clay Robinson, also known as Eddie Robinson and Eddie Robinson GM. During a long career he also worked as a producer, arranger and session player.
Temptation's 'Bout To Get Me was reissued on Our Turn To Cry (2001), an Atlantic compilation on Ace Records' Kent label. Further Atlantic sessions produced one more single, with Robinson's composition Ivory as the B-side (1971).
Eddie Robinson had been a member of Chicago gospel group The Duncanaires (formed c.1962) who recorded two of his songs on their 1963 album One Step Closer! . . . The Exciting Gospel Sound Of The Duncanaires. One of them was the song in the title, One Step Closer, also released as a single (1963) with his arrangement of a traditional song from the album on the B-side.
Robinson was a prolific songwriter. His songs include his own local hit Hey Blackman (1970), recorded when he was appearing in the Detroit production of Hair, and a large portfolio of gospel songs recorded over the years by himself and other artists. He has over 260 songs listed by copyright organisation BMI.
He composed the songs for his two gospel albums from the 1970s, Reflections Of The Man Inside (1974) produced by the notable Detroit independent producer Ernest Kelley, and You In My Life (1979), produced by Robinson himself.
In 2010, after many years working in Europe and other regions he released the album Back On Track. His name was styled as Eddie Robinson GM to "help distinguish this Eddie Robinson from others with a similar name". GM stands for Global Man.* Loretta Oliver from their group The Duncanaires almost fifty years earlier was one of the guests on the album.
*Hey Blackman was released on the GM label in 1970, but those initials were from its owner Guido Marasco.
The producer is Arif Mardin whose credits as producer or arranger take in numerous famous artists and records including The Bee Gees, The Rascals, Bette Middler, Dusty Springfield, Brook Benton.
Arif Mardin had co-produced The Rascals' album See (1969) which included their version of Temptation 'Bout To Get Me (see above).
---
Note on sources: There are other musicians and public figures named Edward/Ed/Eddie Robinson. This is a challenge for the researcher. He is not, for example, Chicago gospel pianist Eddie Robinson who also died in 2014, aged 81.
References, further reading:
1. Eddie Robinson: biographical notes and partial discography at Discogs.com.
2. Notes about Back On Track (2010) at CD Baby.
3. Journal of Gospel Music tribute to Ed Robinson. Several of his recorded works are listed.
4. Eddie Robinson GM: profile at Airplay Direct. (This has been copied and pasted into several sites and I do not know where it originated.)
5. Ed Robinson 45s and composer credits at 45cat.com.
6. Edward Clay Robinson: copyrighted compositions at BMI (over 260 titles).
7. Ed Robinson at Internet Broadway Database: Hair in Detroit.
8. Hey Blackman in "Best Selling Soul Singles", Billboard, several issues, Aug-Sept 1970: see for example 5 September 1970 issue.
9. The Duncanaires at Discogs.com.
10. John Ridley, liner notes to Our Turn To Cry (2001), compilation of Atlantic soul tracks on Ace Records' Kent label. The full notes can be read as images at 45worlds.com.
11. New Chicago gospel group The Duncanaires mentioned in Cash Box 29 December 1962.
I usually avoid critical commentary, but this is a superb performance.