Single on Parlophone, September 1968. YouTube
Double-sided hit in Brisbane with the B-side, Shake Me, Wake Me, a version of The Four Tops song (1966, #18 USA), a Holland-Dozier-Holland composition. YouTube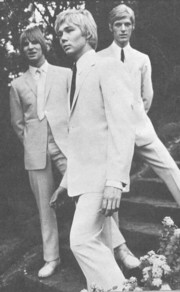 Melbourne vocal group The Virgil Brothers were not brothers, but nor were The Walker Brothers or The Righteous Brothers, the successful vocal groups who were clearly an inspiration.
Here I Am didn't even register in Melbourne although Brisbane, always supportive of Peter Doyle and Python Lee Jackson, not to mention The Loved Ones, sent the single to number three.

David Johnston, The Music Goes Round My Head (2010), p.225.
References, further reading: 1. The Virgil Brothers page at the comprehensive and highly recommended PeterDoyleWebsite.net. 2. Virgil Brothers history at Milesago.
For more on The Virgil Brothers, see their best-known record Temptation 'Bout To Get Me (1968, #6 Brisbane #13 Melbourne).
Gene Hughes And The Casino's - (Where Am I) Here I Am (1968)
Single on United Artists, February 1968.
Other singles by The Casinos do without an apostrophe in the group's name.
Some pressings have the title as Here I Am, also used on the Australian cover version.
The Casinos were a vocal group from Cincinatti who had one hit, Then You Can Tell Me Goodbye (1967, #6 USA YouTube), the much-recorded John D. Loudermilk composition. (You might recognise it by its prominent repeated line Then if it don't work out…) Gene Hughes, here given top billing, was lead singer for most of the group's career, including on their hit.
The writers.
Donna Weiss is a prolific songwriter and session singer who sang back-up on Mad Dogs And Englishmen. She is best known for Bette Davis Eyes, written with Jackie DeShannon, a big hit for Kim Carnes (1981, #1 USA). Weiss was nominated for Emmy and BAFTA awards for her song Crippled Crow, sung by Kris Kristofferson in A Star Is Born (1976) YouTube.
Ronnie Wilkins (b. 1941) had a long and prolific songwriting partnership with John Hurley (1941-1986). Their compositions, recorded by many major pop, soul and country artists, include Son of A Preacher Man (Dusty Springfield hit), and Love Of The Common People (Waylon Jennings, Paul Young and others).
References, further reading: 1. The Casinos by Michael Jack Kirby at WayBackAttack. 2. "Music Executive Gene Hughes, Casinos' Lead Singer, Dies", CMT.com. 2004. 3. John Hurley & Ronnie Wilkins at Wikipedia. 4. Donna Weiss, Jackie DeShannon: see Jack Doyle, "Bette Davis Eyes, 1981," PopHistoryDig.com, June 27, 2008.
Dionne Warwick - Here I Am (1965)
Same title but not the same song as
'Here I Am' by The Virgil Brothers.
Single on Scepter, from the soundtrack of What's New Pussycat? (1965). Dionne Warwick worked closely with the writers and often recorded the definitive versions of their songs. This was produced by Bacharach and David, arranged by Bacharach.

This is a ridiculously common song title.
Some other red herrings:
• Betty Lavett – Here I Am (Thornton-Thomas)
USA 1963 B-side on Atlantic. Enduring soul singer aka LaVette, other variations.
• Glen Campbell – Here I Am (Mark Douglas, Glen Campbell)
USA 1962 Single on Capitol.
• Billy Guy – Here I Am (Billy Guy)
UK 1962 Single on ABC-Paramount. Lead singer of The Coasters.
• The Righteous Brothers – Here I Am (Stevenson-Brown)
USA 1965 Single on Verve
• Ann Byers – Here I Am (Fred Smith-Phil Hurtt)
USA 1965 Single on Academy. R&B-soul singer best known in Philadelphia
• The Secrets – Here I Am (Chester Pipkin-Lelan Rogers)
USA 1966 Single on Omen (A&M Subsidiary). Many bands called The Secrets.
• Charles Drain – Here I Am (C. Drain)
USA 1967 Single on Checker. Soul singer, worked with brother William Drain.
• Jackie Moore – Here I Am (L. Bishop-J. Moore)
USA 1968 B-side on Shout. Soul singer from Florida on several labels.
• Linda Lyndell – Here I Am (Dave Crawford)
USA 1968 B-side on Volt; singer known for 'What A Man', sampled by Salt-N-Pepa.
• Dale Wright With The Heywoods – Here I Am (Chip Taylor)
USA 1968 Single on Queen-B, Cincinnati, wr. by 'Wild Thing' composer.
• Lyn Roman – Here I Am (Victor Millrose-Mark Barkan)
USA 1968 Single on Dot, co-wr. by 'Pretty Flamingo' composer Barkan.
• The Swordsmen – Here I Am (Sam Waymon)
USA 1969 Single on RCA Victor; not the only band called Swordsmen.
Composer's sister Eunice Waymon was better known as Nina Simone.