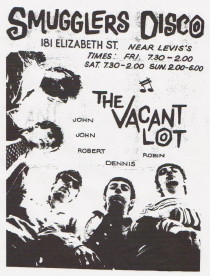 Single on Columbia by Sydney band. Image: From top left, John Hayes, Johnny Litchfield, Robert Chapman, Dennis Hayes, Robin O'Connor (thanks to Robert of The Vacant Lot). See also the B-side Don't Let Me Sleep Too Long for a publicity shot of the band.
---
The Vacant Lot, formed in Sydney in 1967, should not be confused with 21st Century bands Vacant Lot from Brisbane or The Vacant Lot from Melbourne. Nor, for that matter, with early-80s Sydney punk band The Vacant Lot. Then there's the Australian contemporary choir Voices from the Vacant Lot.
---
Eddie Holland - Leaving Here (1963)
Single on Motown written by Eddie Holland with his regular collaborators Brian Holland (his brother) and Lamont Dozier. The team of Holland-Dozier-Holland became famous for the hits they wrote for Motown, but Eddie was also an active recording artist 1958-1964. Four of his singles charted on the Billboard R&B chart, including Leaving Here (#27 R&B) and Jamie, which also crossed over to the Hot 100 (1962, #30 USA).
---
Motörhead - Leaving Here (1977)
This track by influential London heavy metal trio Motörhead first appeared in the UK on a Stiff Records compilation Hits Greatest Stiffs (1977).
It was also released as a single on Skydog (France 1977) and on Blitz (Sweden 1977).
It was scheduled to be released in the UK as a single, and there is an unreleased and collectable UK single around, but at the time only the French and Swedish singles were released.
See the notes and comments at 45cat.com, and the detailed Wikipedia account of the Motörhead version.
That umlaut over the second o in Motörhead (formed 1975) is a fairly early example of the Metal Umlaut.
---
The Birds [UK] - Leaving Here (1965)
Single on Decca by West London R&B beat band distinguished by the membership of Ron Wood (later of The Faces and The Rolling Stones) and Kim Gardner (later of Ashton Gardner & Dyke).
---
Ronnie Wood released his own version of Leaving Here on his album Not For Beginners (2001). Listen at YouTube
There was also an Australian band called The Birds. Two of its members are said to have been in a later, touring line-up of the UK Birds before migrating to Australia. See under I Can't Let Maggie Go for more details.
---
---
The D-Coys - Leaving Here (1965)
B-side on Columbia, one of three singles released 1965-66 by Adelaide vocal duo Alistair Innes and Kevin Smith. By this time The D-Coys were based in Melbourne. Back in Adelaide they had been a trio led by founding member Innes, reduced to Innes alone until Smith joined. Smith later became lead singer of The Cherokees in time for their hits Minnie The Moocher and Oh Mona.
Now Comes A Day, the A-side of this second single by The D-Coys, was written by Alistair Innes. He also wrote both sides of their first single (billed as The Decoys), with the B-side I Don't Want That charting Top 20 in Melbourne. On the third single, the B-side was written by Innes and Smith, but the A-side Bad Times (plural) was a remake of The Roulettes' Bad Time (singular, UK 1964), written by Chris 'Yesterday Man' Andrews.
The D-Coys made a lasting impression with their three singles. Glenn A. Baker, who included Bad Times on his landmark Ugly Things Vol.1 collection (1980), wrote that they were remarkably adept at producing both great pop and great punk on either side of the one single, and noted that Innes was a fine songwriter.
Ian McFarlane in his Encyclopedia of Australian Rock and Pop (1999) digresses from his entry on The Cherokees to devote a paragraph to The D-Coys, and to echo Baker's sentiments almost word for word, finding jubilant pop and tough garage-punk on either side of one single.
Bad Times was later included on another anthology (2012), Down Under Nuggets (Original Australian Artyfacts 1965-1967), with extensive liner notes by co-compiler Glenn A. Baker.
See also: The D-Coys at Kimbo's History Of Australian Music From 1960 Until 2010.
---
---
The Rustix - Leaving Here (1968)
B-side on Cadet by Rochester NY band, their only single on that label before being signed to Motown's Rare Earth label for a few more singles and an album, Come On People, produced by R. Dean Taylor, the Canadian singer-songwriter-producer best known for his own hit Indiana Wants Me (1970).
The Rustix were inducted into the Rochester Music Hall of Fame as an "R&B/blue-eyed soul band".
Listen at YouTube
---
The Who - Leaving Here
This is one of several recordings of Leaving Here by The Who from April 1965, a few months before the release of their first album My Generation (1965). The song remained unreleased until Who's Missing (1985). A recording of the song was also on the Thirty Years of Maximum R&B box set (1994) where it was wrongly attributed to The High Numbers, an earlier name for The Who. (It's a tangled history: email me if you think I've got it wrong.)
---
The Rationals - Leaving Here (1966)
Single on the A² label (also styled as A-Square or A2).
The Rationals were an accomplished r&b-soul-Britbeat-influenced band from Ann Arbor, Michigan. They had local hits but no national chart success beyond a #92 Billboard with their version of Otis Redding's Respect.
The band and their frontman Scott Morgan are still held in high esteem long after they broke up in 1970, especially by those who remember them from that same Michigan music scene that produced the likes of MC5, Iggy & The Stooges, and Bob Seger.
The Rationals are now well-served by reissues, after years of absence. Listen on SPOTIFY
Watch a live TV performance of Leaving Here YouTube
---
If you weren't there, these pages cover everything you need to know about The Rationals:
Richie Unterberger's biography of The Rationals at all Music: When serious collectors compose lists of the top shoulda-been-bigger bands of the '60s, the Rationals are often among them.
Steve Geer's Southeast Michigan bands & musicians page [archived]: Of all the Michigan talent that flirted with stardom but never got invited to the party, there is probably no other band of the era so beloved and still so mourned as Ann Arbor's The Rationals.
Ken Shimamoto's Let's Get Rational: Scott Morgan's Garage Days Revisited [archived]: As garage bands go, the Rationals were almost too good to be true…; [they left] in their wake a half-dozen killer singles on almost as many labels and an album that's an ignored classic.
Michigan Rock and Roll Legends Hall of Fame: ...they produced a batch of excellent songs that displayed the powerful instrumental attack of drummer Bill Figg, bassist Terry Trabandt, and guitarist Steve Correll, along with the best Michigan vocalist west of Bob Seger in Scott Morgan…
---
---
Tages - Leaving Here (1966)
B-side on Platina by popular and prolific British-beat influenced band from Gothenburg, Sweden. Also on album Tages 2 (1966).
Tages were pop stars in Sweden with thirteen Top 10 hits 1964-68, including two at #1 and five at #2, but they were never well-known beyond that region. (See their Top 10 chart history at Svensk pophistoria.)
Their covers were astutely chosen and took in a variety of genres, including rock'n'roll, skiffle, soul, and blues, but they also wrote their own songs and moved with the times. Listen, for example, to their original #2 hit Every Raindrop Means A Lot (1967) YouTube.
Their original song I Read You Like An Open Book was included on the landmark Rhino collection Nuggets II (Original Artyfacts From The British Empire And Beyond 1964-1969) (2001).
Tages recorded a version (1967) of The Easybeats' Friday On My Mind (1966). Listen at YouTube
Further reading: 1. English Wikipedia's Tages article seems to be a solid introduction to the band. 2. Tages history and data at Stefan Joveslou's Svensk Pophistoria.
---
The group name is simply Tages. The -s in Tages indicates possession (genitive case, like 's in English). This was a common naming convention for Swedish bands, using the name of a band member, in this case Tages guitarist-vocalist Danne Tage Larsson. (See Swedish Wikipedia's Tages article on this.) In any case, Swedish uses suffixes instead of an equivalent to the English definite article the, and -s is not one of them.