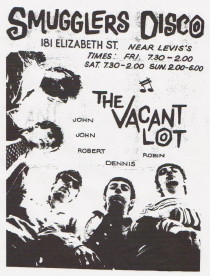 Single on Columbia by Sydney band (not the 80s Sydney punk band).
For more details see the B-side Don't Let Me Sleep Too Long
Image from Robert of The Vacant Lot.
---
The Birds [uk] - Leaving Here (1965)
Single on Decca YouTube by West London R&B beat band distinguished by the membership of Ron Wood (later of The Faces and The Rolling Stones) and Kim Gardner (later of Ashton Gardner & Dyke).
There was also an Australian band called The Birds. Two of its members had been in a later, touring line-up of the UK Birds before migrating to Australia. See under I Can't Let Maggie Go for more details.
---
Eddie Holland - Leaving Here (1963)
Single on Motown YouTube written by Eddie Holland with his regular collaborators Brian Holland (his brother) and Lamont Dozier. The team of Holland-Dozier-Holland became famous for the hits they wrote for Motown, but Eddie was also an active recording artist 1958-1964. Four of his singles charted on the Billboard R&B chart, including Leaving Here (#27 R&B) and Jamie, which also crossed over to the Hot 100 (1962, #30 USA).
---
Motorhead - Leaving Here (1978)
Scheduled to be released as a single on Stiff in December 1976 but unreleased until a 1978 compilation included it. See notes and comments at 45cat.com YouTube