The Kal-Q-Lated Risk - Looking Through The Eyes Of A Beautiful Girl (1971)
Popular lower North Island band from Featherston that relocated to Wellington and recorded a number of singles for HMV, including three national hits. The band released one album, Holding Our Own (1972).
Reference: Bruce Sergent's Kal-Q-Lated Risk page at his NZ Music site.

---
Autumn - Looking Thru The Eyes Of A Beautiful Girl (1970)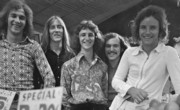 Double-sided hit in Sydney with Song To Raymondo.
Sydney pop band often on ABC-TV pop program GTK, most popular in their home city where they had four charting singles, 1970-71. More details at Milesago. See also Yellow River.
Thanks to Ami for asking about this one.
---
The Times - Looking Through The Eyes Of A Beautiful Girl (1970)
The writer Tommy Swarbrigg (trumpet) and his brother Jimmy (vocals) were members of The Times, an Irish showband that had a number of hits in Ireland from the late-60s to the mid-70s.
The Times were formed by five former members of Joe Dolan's showband The Drifters. With a new line-up of The Drifters, Joe Dolan had a number of international hits, including Make Me An Island, You're Such A Good Looking Woman and Lady In Blue. Apart from Joe Dolan, the best-known product of the Irish Showband era in Australia is Brendan Bowyer and the Royal Showband, through their hit The Hucklebuck.
References, further reading: More on The Times, The Drifters and the Irish Showband phenomenon in general at Irish-Showbands.Com and Ian Gallagher's Irish Showbands site.
---
The Strangers - Looking Through The Eyes Of A Beautiful Girl (1970)
Double-sided hit in Brisbane with Mr President.
This version charted a few weeks before the Autumn version.
The Strangers: Melbourne band, formed in 1961, started out playing instrumentals after the fashion of The Shadows but went through several stylistic and personnel changes until breaking up in the mid-70s. The Strangers backed numerous local and Australian artists, notably Colin Cook with whom they released the LP Colin Cook and the Strangers (1964). In 1966 they became resident backing band on the TV pop show Go!!
See also: Cry Of The Wild Goose (one of their early instrumentals), If You Gotta Make A Fool Of Somebody, and their later vocal hits Western Union, Happy Without You and Melanie Makes Me Smile.