The Strangers - The Cry Of The Wild Goose (1963)
Single on W&G, an instrumental by Melbourne band, formed in 1961, one of a number of Aussie bands who played instrumentals after the style of The Shadows or The Ventures in the pre-Beatles years of the early 60s. The Strangers, however, went through several stylistic and personnel changes, evolving into a hip pop band with vocals in the late 60s, until breaking up in the mid-70s.
Further reading: 1. Milesago's Strangers page. 2. Strangers history (2000) by Geoff Jermy (read or download pdf). 3. My blog post Bizarro Shadows World Down Under.
More songs by The Strangers: See also If You Gotta Make A Fool Of Somebody (1965), Looking Through The Eyes Of A Beautiful Girl (1970) and Mr President (1970). For more background on the late period Strangers, see Western Union (1967), Happy Without You (1968) and Melanie Makes Me Smile (1970).
---
Terry Gilkyson - The Cry Of The Wild Goose (1949)
On Decca label.
Folksinger Terry Gilkyson later joined with Richard Dehr and Frank Miller to form The Easy Riders.
Among the better-known songs written by Gilkyson, Dehr and Miller are:
The Easy Riders sang backing vocals on Dean Martin's version of Memories Are Made Of This.
In the 60s Terry Gilkyson wrote music for Walt Disney films. He was nominated for an Academy Award for his song The Bear Necessities from The Jungle Book.
Further reading: 1. Terry Gilkyson biography by Don Richardson [archived]. 2. Tom Simon's Terry Gilkyson and the Easy Riders page. 3. Terry Gilkyson's filmography at Internet Movie Database. 4. Love Is A Golden Ring at The Originals by Arnold Rypens.
---
Frankie Laine - The Cry Of The Wild Goose (1950)
Best-selling version on Mercury label.
Several other versions were released in 1950: Tennessee Ernie Ford (on Capitol label), Art Mooney (MGM), Bill Darnel (Coral), Duke Bowman (King), Joe Marine (Decca) and Merv Shiner (Decca). When they covered a song in those days, they really covered it.
Later versions include those by Les Compagnons de la Chanson (Columbia, 1952), John Ashley (Silver, 1960), Bobby One (NRC, 1960), The Brigadiers (Mala, 1961), The Challengers (Triodex, 1961), Tompall & Glaser Brothers (Rich, 1961), and The Baja Marimba Band (A&M, 1967).
---
The Sunsets - The Cry Of The Wild Goose (1961)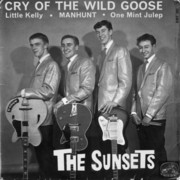 Instrumental single on Ember, also on EP of the same title by London band, also known as Grant Tracey & The Sunsets. Members included Pete Dello and Ray Cane, later the heart of Honeybus, who first played together in The Sunsets. The B-side of this single, Manhunt, was co-written by Pete Dello. See also Under The Silent Tree.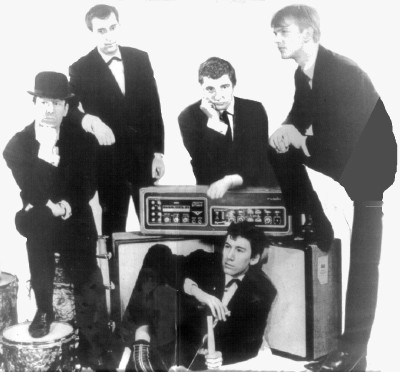 Above: The Sunsets with Grant Tracey
Merci encore à Gérard Besson.