Autumn - Song To Raymondo (1970)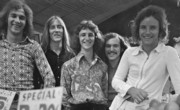 Single on Chart, double-sided hit with Looking Through The Eyes Of A Beautiful Girl. Also on Autumn's 1973 album on Chart, also entitled Song To Raymondo.
Autumn: Sydney pop band often on ABC-TV pop program GTK, most popular in their home city where they had four charting singles, 1970-71. See also Yellow River.
Further reading: Milesago's feature on Autumn.
Suggestion from Mike Robbins, David Lavender and Jeff Smith.
---
John Braden - Song To Raymondo (1969)
Track on A&M album John Braden, probably recorded in 1968 and released early in 1969. Some notable personnel played on the album, including Ry Cooder, and Chris Etheridge from The Flying Burrito Bros.
That was the only album by singer-songwriter John Braden (1946-1987), but he later wrote music and lyrics for many theatrical productions, especially at the off-off-Broadway La MaMa Experimental Theatre Club. He also wrote stories and music for video games and for several successful children's albums, many of them spin-offs from TV series (see, for example, his Transformers story and music YouTube).
Sources, further reading: 1. The definitive source on John Braden is probably Windfarm, a now inactive blog. An initial post from 2009 is followed up in three instalments (here, here and here) after Braden's sister and other associates contacted the blogger. It also helps to sort out the confusion over some other John Bradens, none of whom seem to be the composer of Song To Raymondo. 2. The Wikipedia article on Braden lists many of his works for the theatre and for children's albums. It has a link to: 3. John Braden page at La Mama Archives.
---
The Charade - Song To Raymondo (1969)
On Parlophone album The Charade, October 1969, by Sydney folk trio seen on Australian TV pop show Bandstand YouTube. The album sleeve lists the personnel as founding members David Cooper, Brian O'Toole and Siobhan Sheppard.
The album includes Hand-Me-Down Man, a cover of a second song from composer John Braden's US A&M album.
Some sources note Linda Keene as The Charade's female voice, but in a Southern FM interview [listen online] David Cooper says that it was Siobhan Sheppard at the band's formation and on its album.
Thanks to Terry Stacey for version alert.