The Executives - My Aim Is To Please You (1967)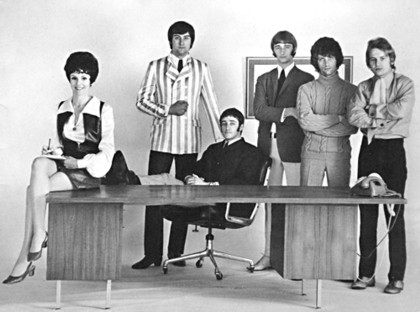 L→R Carole King, Rhys Clarke, Brian King (seated), Gary King, Ray Burton, Gino Cunico.
Single on Festival label by polished Sydney band with fine pop sensibility, formed by vocalist Carole King with her husband Brian in 1966.
The Executives went to the USA in 1968 and were signed to Buddah Records without success, and returned there in 1969 using the band name Inner Sense.
Ray Burton, who was later in Ayers Rock and Crossfire, went on to write I Am Woman with Helen Reddy and wrote scores for stage and screen in Australia and the US, among numerous other projects as composer and performer.
Would you believe… a #2 hit in Louisville Kentucky? Well, at least at WKLO. (Thanks to Terry Stacey.)
Further reading: 1. Thorough band biography and discography at Milesago. 2. Ray Burton's website and MySpace page.
Image: Thanks to Ray Burton
Thanks to Gillian for corrections.
See also: It's A Happening World, Sit Down I Think I Love You and Windy Day.
Kenny Young - My Aim Is To Please You (1966)
Single on United Artists label, B-side of Little Sister.
Kenny Young is perhaps best known for writing – with Artie Resnick – the Drifters/Rolling Stones song Under The Boardwalk. He also wrote, for example, Herman's Hermits' Just A Little Bit Better and The Seekers' When Will The Good Apples Fall.
See Miguel Terol's page on Kenny Young at his Musicians' Olympus site.
Kenny Young was the subject of a discussion thread at Spectropop Group, November 2004. See also Brent Cash's interview with Kenny Young at Spectropop.
There is another Australian connection: the vocalist for Kenny Young's 70s band Fox was an Australian, Susan Traynor, aka Noosha S-S-S-Single Bed Fox. (See Milesago's Executives page.)
See also Judy Stone – And The Trouble With Me Is You, another Young-Resnick composition.