The Executives - It's A Happening World (1968)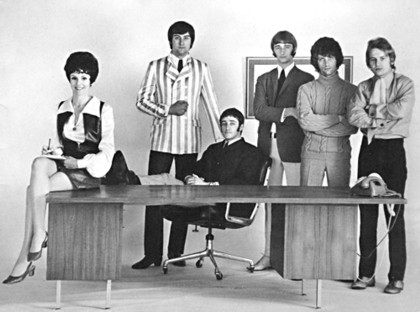 L→R Carole King, Rhys Clarke, Brian King (seated), Gary King, Ray Burton, Gino Cunico.
Single on Festival label by polished Sydney band with fine pop sensibility, formed by vocalist Carole King with her husband Brian in 1966.
The Executives went to the USA in 1968 and were signed to Buddah Records without success, and returned there in 1969 using the band name Inner Sense.
Ray Burton, who was later in Ayers Rock and Crossfire, went on to write I Am Woman with Helen Reddy and wrote scores for stage and screen in Australia and the US, among numerous other projects as composer and performer.
Further reading: 1. Thorough band biography and discography at Milesago. 2. Ray Burton's website and MySpace page.
Image: Thanks to Ray Burton
Thanks to Gillian for corrections.
See also: My Aim Is To Please You, Sit Down I Think I Love You and Windy Day.
The Tokens - It's A Happening World (1967)
Single on Warner Brothers label.
New York band with members experienced in the Brill Building milieu, best known for their 1961 hit The Lion Sleeps Tonight.
Three members of The Tokens went on to form Cross Country in the 70s.
Songwriters Barry Mann & Cynthia Weil were amongst the most prolific and successful of the 1960s. To get an idea of their output, browse Hiroto Yanagida's Barry Mann discography at his Magic Town site.
Further reading: For a good summary, see Tom Simon's Tokens Page. See TheTokens.com for news of the present-day incarnation of the band.
Lesley Gore - It's A Happening World (1968)
Single on Mercury label, B-side of Magic Colors. See the comprehensive Lesley Gore discography at Pat Swayne's fansite, Lesley's Place.
Also recorded by:
Grace Markay

(Capitol label, 1967)

Pat Boone

(B-side of Emily, Dot, 1968)

Sammy Davis, Jr.

(on album Sammy Steps Out, Reprise, 1970).