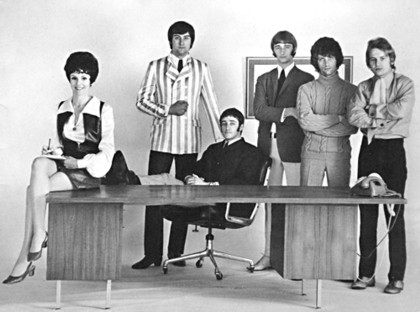 L→R Carole King, Rhys Clarke, Brian King (seated), Gary King, Ray Burton, Gino Cunico.
Single on Festival label by polished Sydney band with fine pop sensibility, formed by vocalist Carole King with her husband Brian in 1966.
The Executives went to the USA in 1968 and were signed to Buddah Records without success, and returned there in 1969 using the band name Inner Sense.
Ray Burton, who was later in Ayers Rock and Crossfire, went on to write I Am Woman with Helen Reddy and wrote scores for stage and screen in Australia and the US, among numerous other projects as composer and performer.
Further reading: 1. Thorough band biography and discography at Milesago. 2. Ray Burton's website and MySpace page.
Image: Thanks to Ray Burton.
Thanks to Gillian for corrections.
See also: It's A Happening World, My Aim Is To Please You and Sit Down I Think I Love You.
The Lewis And Clarke Expedition - Windy Day (1967)
On The Lewis and Clarke Expedition, the only album by this Los Angeles-based country-rock band, on the Colpix label.
The B-side of The Executives' Windy Day was This Town Ain't The Same Anymore, another Lewis-Clarke song from the same album.
The songwriters' names Lewis and Clarke were adopted by band members Michael Martin Murphey and Owens "Boomer" Castleman, matching the band's name which was borrowed from a famous American exploration partnership.
Murphey and Castleman wrote the Monkees song What Am I Doin' Hangin' Round, sung by Michael Nesmith who had performed folk music with Murphey, Castleman and another Lewis & Clarke Expedition member, John London.
Michael Murphey's solo career produced five Billboard Top 40 entries, notably Wildfire (1975, #3 USA), also popular in Australia, particularly in Brisbane (#2) and Adelaide (#3).