Single on Go!! YouTube, July 1965 by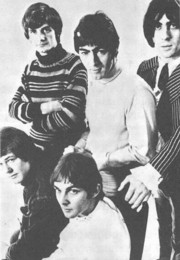 adaptable Melbourne band whose career ranged from Shadows-style instrumentals to comic jugband revivals. See Moon In The Afternoon (1964), Oh, Monah (1967) and Minnie The Moocher (1967).
Cherokees guitarist Pete 'Rattlebone' Tindal, now in the UK, runs Bluesola Music. Its website includes a section featuring the The Cherokees' music and history as well as Pete's own solo recordings.
Suggestion and initial research from Terry Stacey. Thanks also to Pete Tindal.
---
Jerry Butler - I've Been Trying (1964)
Single on Vee Jay, March 1964, B-side of Giving Up On Love, by smooth soul singer (b. 1939) formerly of The Impressions, then known as Jerry Butler & the Impressions.
Known as The Ice Man, Jerry Butler left The Impressions for an enduring solo career soon after their first hit, For Your Precious Love (1958, #11 USA), written by Butler with group members Arthur and Richard Brooks. He had a number of Top 40 hits 1958-1969 including He Will Break Your Heart (1960, #7 USA, wr. Curtis Mayfield), Moon River (1961, #11) and Only The Strong Survive (1969, #4).
---
The Impressions - I've Been Trying (1964)
On album Keep On Pushing, July 1964, later on ABC-Paramount single, B-side of People Get Ready (#14 USA), February 1965.
Written by the influential soul-funk producer, arranger and singer-songwriter Curtis Mayfield (1942-1999), at this time a member of The Impressions.
---
Two schools of soul were started in the late '50s by The Falcons, who promulgated a ragged-edged shouting style, and The Impressions, who gave birth to soul's intense-yet-soft side. – Jay Warner, American Singing Groups, 2006, p.394
---
Curtis Mayfield and Jerry Butler were founding members of the group, formed in Chicago in 1957 and first charting in 1958 with For Your Precious Love(#11 USA) as Jerry Butler And The Impressions.
Butler (see below) left soon after, but Mayfield stayed on till 1970 as lead singer, guitarist and writer for a string of charting records beginning with Gypsy Woman (1961, #11 USA), and including It's All Right (1963, #4), Keep On Pushing (1964, #10), and Amen (1964, #7).
During this period he also wrote charting songs for other artists, including Jerry Butler's He Will Break Your Heart (1960, #7 USA, co-wr. Butler & Calvin Carter), Major Lance's Um, Um, Um, Um, Um, Um, Um (1964, #5 USA) and Gene Chandler's Just Be True, What Now, and Nothing Can Stop Me.
Further reading: Curtis Mayfield biography by Richie Unterberger at All Music.
---
Max Merritt & The Meteors - I've Been Trying (1965)
Single on Parlophone, July 1965, B-side of Zip-a-dee-doo-dah (#38 Brisbane), recorded in Sydney by band with New Zealand origins. Also released in New Zealand on Parlophone. See also their 1969 hit Western Union Man.
The first Meteors were brought together by Max Merritt in Christchurch, New Zealand, in 1956. After becoming one of the country's top bands while based in Auckland, they moved to Australia in 1964. The Meteors went through many personnel changes along the way, before arriving at their classic late-60s line-up of Max Merritt, Bob Bertles, Stewie Speer and John 'Yuk' Harrison. Their biggest hit didn't come till 1976, with Merritt's own composition Slipping Away (#2 Sydney, #6 Melbourne, #1 Brisbane, #2 Adelaide, #1 Perth, #5 NZ).
Further reading: Max Merritt and the Meteors page at Bruce Sergent's New Zealand Music site. The Max Merritt & The Meteors site has a detailed biography.
---
---
The Yardbirds - I've Been Trying
UK 1964, RELEASED 2011
Rare track released on Glimpses 1963-1968, a 5-CD compilation of tracks from various sources, most of them unreleased in the 60s.
---
Little Ray - I Been Trying (1966)

SIMILAR TITLE BUT NOT THE SAME SONG AS
'I'VE BEEN TRYING' BY THE CHEROKEES.
B-side on Donna, written by Arthur Lee of influential US rock band Love.
Reference: Love at Garage Hangover.