The Cherokees - Minnie The Moocher (1967)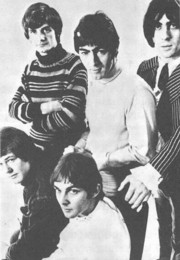 Single on Go!! YouTube by adaptable Melbourne band whose career ranged from Shadows-style instrumentals to comic jugband revivals. See Moon In The Afternoon (1964), I've Been Trying (1965) and Oh, Monah (1967).
Also recorded, for example, by The Gaylords (1955), Barry Martin (1959), Gary 'U.S.' Bonds (1961) and Bobby Darin (1965). See also the list of versions at The Originals.
Cherokees guitarist Pete 'Rattlebone' Tindal, now in the UK, runs Bluesola Music. Its website includes a section featuring the The Cherokees' music and history as well as Pete's own solo recordings.
Thanks to Pete Tindal.
---
Cab Calloway And His Orchestra - Minnie The Moocher (1931)

Minnie The Moocher was the theme song of Cab Calloway (1907-1994), 'The Hi-De-Ho Man', whose Orchestra was one of the most popular of the swing era, enlivened by Cab's physical and verbal humour and the type of big band R&B that was one of the many roads leading to rock'n'roll.
---
In 1980, Cab Calloway played the part of Curtis in the film The Blues Brothers and performed Minnie The

Moocher, one of numerous film appearances throughout his career.

---
The Abrams Database at 78online lists (listed?) numerous releases of Minnie The Moocher between 1931 and 1942, including those by The Blue Rhythm Boys (1931), The Boswell Sisters (1932), Jimmy Lunceford & his Orchestra (1941) and Danny Kaye (1942).
References: 1. Cab Calloway at Donald's Encyclopedia of Popular Music. 2. Cab Calloway at Solid! 3. JohnnyFerreira.com on Louis Jordan and contemporaries and their influence on rock'n'roll. 4. The Abrams Database (no longer online early 2009. The Online Discographies Project carries much the same data).
Thanks to Terry Stacey for bringing this up to the 1980s.
---
[traditional] - Willie The Weeper
A traditional American folk song collected, for example, by Carl Sandburg in The American Songbag (1927).
The song about Willie, the chimney sweeper who 'had the drug habit and he had it bad', is clearly a source for Minnie The Moocher. See the lyrics to the recent version by Dan Zanes at Festival Five Records.
Bill Casey suggests that Minnie is the preserve of the more populist jazz bands… while Willie gets the nod from the purists. (Email to PopArchives.)
Willie The Weeper has been recorded by Ernest Rogers (1925), Louis Armstrong (1927), Half-Pint Jaxon (1927) and several others, particularly around 1927-28. In Australia, there have been recordings by the Graeme Bell All-Stars (late 40s) and Paul Marks & the Melbourne New Orleans Jazz Band (1960).
References: 1. Research contributed by Bill Casey 2. Entry at the Originals 3. Abrams Database at 78online (offline early 2009: see the Online Discographies Project instead).